Gambini: 8 Chamber Romances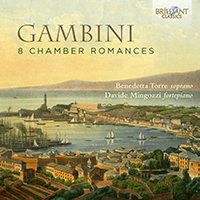 Download booklet
Composer
Carlo Andrea Gambini
Artist
Benedetta Torre soprano
Davide Mingozzi fortepiano
Format
1 CD
Cat. number
95888
EAN code
5028421958880
Release
April 2019
About this release
First recordings of songs and scenas by a neglected Romantic-era Italian composer.

Born in Genoa in 1819, Carlo Andrea Gambini began his career as a piano teacher to local aristocracy thanks to his family's privileged connections. Showing equal energy and invention in both words and music, however, he soon pursued parallel activities as a composer and a critic. He was friends with both Rossini and Mercadante but held Verdi's music in little esteem.

His own music looks to the north of the Alps for its inspiration: to Chopin and Schumann, Thalberg and Liszt. Though he engaged in operatic composition – writing a Christopher Columbus drama, for example – Gambini focused his compositional energies on piano music and vocal chamber works such as the Romanzas recorded for the first time on this album.

This genre enjoyed huge popularity at the time in Italy, though its format did not translate readily or survive well beyond the 19th century: the nearest equivalents would be English and German ballads, at least until Reinaldo Hahn cast a spell over the drawing rooms of fin-de-siècle Paris. Cast between a song and an operatic scena, Gambini's romanzas set texts by contemporary lyricists such as Felice Romani (librettist for Bellini's Norma and much else besides) and the Genovese poet Giuseppe Torre. They talk of love and loneliness, the sea and the shore, and Gambini's settings burn with declamatory fire and passionate confession.

This is the second album of Gambini's music on Brilliant Classics, following an absorbing 2CD survey of his organ music, played by Marco Ruggeri (BC95515). The soloist here is soprano Benedetta Torre, whose career highlights include singing the High Priestess in Aida under Riccardo Muti at the 2017 Salzburg Festival, as well as Amelia Grimaldi (Simon Boccanegra) at the Teatro Carlo Felice in Naples, and Mimi (La bohème) in theatres across Europe.

Carlo Andrea Gambini (1819-1865) was born in Genua, Italy. His talent was recognized at an early age and he developed into one of the most prominent concert pianists of his time.
As a composer Gambini was a son of his time, his style is highly romantic, influenced by the Italian opera and its grandiloquence, pomp and sentiment. He composed a substantial oeuvre of operas, chamber music, piano works and vocal music.
This CD presents the first recording of 8 Chamber Romances by Gambini, for soprano and piano. Alternating charm and drama they imbue the chamber music setting with a style rich in theatrical references, simulating (for example in the ballad Zulima) real opera scenes in the form of recitative and aria (Sola...!; La vedova).
Beautifully sung by soprano Benedetta Torre, winner of the Concorso Renata Tebaldi. She sang a.o. at the Salzburg Festival and with the Chicago Symphony Orchestra conducted by Riccardo Muti (Mozart Requiem). The pianist Davide Mingozzi plays a superb Pleyel piano from 1842.
The booklet contains liner notes in English and Italian, as well as the original song texts.
Listening
Track list
Disk 1
Carlo Andrea Gambini: 8 Chamber Romances: I. Invito al mare

Carlo Andrea Gambini: 8 Chamber Romances: II. Sola…!

Carlo Andrea Gambini: 8 Chamber Romances: III. Al lido

Carlo Andrea Gambini: 8 Chamber Romances: IV. La viola

Carlo Andrea Gambini: Album vocale: I. La vedova

Carlo Andrea Gambini: Album vocale: II. Il salice

Carlo Andrea Gambini: Album vocale: III. Zulima

Carlo Andrea Gambini: Album vocale: IV. È morta!

Carlo Andrea Gambini: Pensieri melodici, Op. 39: I. Notturno

Carlo Andrea Gambini: Pensieri melodici, Op. 39: III.Menuetto et trio