Gangi: Complete Music for 2 Guitars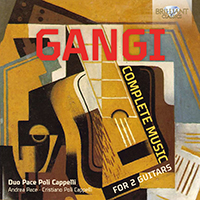 Composer
Mario Gangi
Artist
Duo Pace Poli Cappelli
Andrea Pace guitar
Cristiano Poli Cappelli guitar
Format
1 CD
Cat. number
95818
EAN code
5028421958187
Release
February 2021
About this release
Mario Gangi (1923-2010) was among the pre-eminent Italian guitarists of his generation. Born in Rome to a professional jazz-musician father, Gangi graduated from the city's Accademia della Santa Cecilia and soon followed in his father's footsteps as both an orchestral bassist (with the local radio orchestra) and a guitarist. This latter career took off in the 50s: Gangi gave several important first performances of concertos by the likes of Petrassi and even the 19th-century Giuliani. His teaching method became an essential study for young guitarists, and he edited the music of Sor, Tarrega and J.S. Bach for modern guitar editions.
With this recording, the Duo Pace Poli Cappelli present Gangi's music for two guitars, comprising a trio of suites – the Suite Italiana, the Suite Spagnola and Suite Barocca – and a pair of standalone rhapsodies in a more contemporary idiom, the Fantas and Fabulae. The three suites evoke their titled points of inspiration. An Andalusa, Fandango and Sevillana capture the idiom of Spanish folk-music; a Saltarello, Adagio and whirling Tarantella present musical snapshots of Italy; and the Minuet and Gigue of the Suite Barocca return to the courtly world of the 18th century without parody.
The Fantas and Fabulae plough a more modern furrow: still essentially lyrical in style, rhapsodic in form but more flecked with dissonance and less dependent than the suites on the specifics of a national idiom. The influence of modern popular styles imbues the Fantas in particular with sunshine and contemporary energy.
This is the second Brilliant Classics album by the Italian Duo Pace-Poli Cappelli after their well-received album of Castelnuovo-Tedesco (94833), but no less pertinently it is also the third Brilliant Classics album dedicated to the music of Gangi after Andrea Pace's recording of the 22 Studies (95204) and Alessandro Minci interpreting many of his best-known jazz-inflected songs without words (95724).

- Mario Gangi was one of the most important protagonists of the guitar in 20th century Italy. A performer of world rank. He also did extensive scholarly work to promote the publication and performances of contemporary guitar works.
Gangi's compositions for guitar deal with every technical aspect of the guitar technique: scales, arpeggios, repeated notes, polyphony, melodic use of the thumb. The music is inspired by 20th century elements of Jazz, Latin-America, and the European guitar tradition, music written by a warm and deeply feeling person with a passion for his instrument.
- This new recording presents Gangi's complete works for two guitars, which count among his best works. The Suite Spagnola and Suite Italiana pay homage to these respective countries, drawing on their rich folklore and culture. The Suite Barocca is a delightful re-creation of the Baroque style in its formal gestures, embellishments and brilliance.
- Played with affection and dedication by the guitar Duo Pace Poli Cappelli, who already successfully recording for Brilliant Classics works by Castelnuovo-Tedesco.
Listening
Track list
Disk 1
Mario Gangi: Suite Italiana: I. Allegro vivo

Mario Gangi: Suite Italiana: II. Adagio

Mario Gangi: Suite Italiana: III. Allegro spigliato

Mario Gangi: Suite Spagnola: I. Andalusa

Mario Gangi: Suite Spagnola: II. Fandango

Mario Gangi: Suite Spagnola: III. Sevillana

Mario Gangi: Suite Barocca: I. Adagio

Mario Gangi: Suite Barocca: II. Minuetto

Mario Gangi: Suite Barocca: III. Allegro

Mario Gangi: Suite Barocca: IV. Giga

Mario Gangi: Fantas

Mario Gangi: Fabulae