Gatti: Six Sonatas for Violin & Viola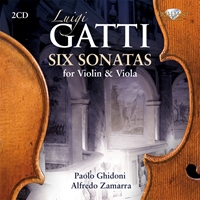 Composer
Luigi Gatti
Artist
Paolo Ghidoni violin
Alfredo Zamarra viola
Format
2 CD
Cat. number
94145
EAN code
5028421941455
Release
March 2011
About this release
The sonatas presented in this recording, labelled as Sonate à Violino e Viola in the autograph score at the Biblioteca Musicale Greggiati in Ostiglia and as Sonate Per Violin solo con accompagnamento di Viola in the parts at the Salzburg Museum, are likely to date back to the very beginning of Gatti's stay in Salzburg. The autograph is written on paper whose watermarks suggest a date of about 1783. If so, the works were probably commissioned by archbishop Colloredo, for whom a similar cycle of six sonatas was composed in the same year by Michael Haydn, MH 335–38, and W. A. Mozart, K 423–24. (Another set of six by Joseph Hafeneder in the Toggenburg Collection of Bolzano, minus the first sonata, may share the same origin). In which case, the violin part was probably intended for Colloredo himself, a "good performer on the violin" according to Charles Burney. The archbishop was also said to "enjoy performing on the violin, which he played very well" and to be in the habit of "mingling with the court musicians and playing the violin with them" before dinner.

Other information:
• Recorded in 2009
• Liner notes by Alessandro Lattanzi, the world's leading authority on Luigi Gatti
• These sonatas have been played and recorded on two of the most beautiful instruments from the Violins Collection of the Municipality of Cremona: a Stradivari 1727 violin (the so-called "Vesuvius") and an Amati 1615 viola ("La Stauffer").
Track list
Disk 1
Sonata in B-Flat Major, No. 1: Allegro aperto

Sonata in B-Flat Major, No. 1: Adagio

Sonata in B-Flat Major, No. 1: Rondo: Allegro con moto

Sonata in D Major, No. 2: Andante

Sonata in D Major, No. 2: Adagio cantabile

Sonata in D Major, No. 2: Tempo di minuetto

Sonata in A Major, No. 3: Allegro aperto

Sonata in A Major, No. 3: Adagio

Sonata in A Major, No. 3: Rondo: Allegretto
Disk 2
Sonata in F Major, No. 4: Cantabile - Allegro con spirito

Sonata in F Major, No. 4: Minuetto

Sonata in F Major, No. 4: Finale: Allegro assai

Sonata in E-Flat Major, No. 5: Moderato

Sonata in E-Flat Major, No. 5: Larghetto espressivo

Sonata in E-Flat Major, No. 5: Allegretto grazioso

Sonata in C Major, No. 6: Un allegro vivace

Sonata in C Major, No. 6: Adagio cantabile

Sonata in C Major, No. 6: Rondo: Allegretto