Gems of the Polish Baroque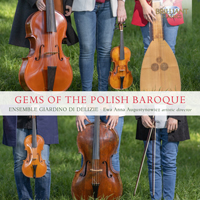 Download booklet
Artist
Ensemble Giardino di Delizie
Ewa Anna Augustynowicz artistic director
Format
2 CD
Cat. number
95955
EAN code
5028421959559
Release
March 2020
About this release
Vibrant chamber music by little-known 17th-century composers including world-premiere recordings.

Italy was a reference point for the cultural élite of the Polish-Lithuanian Commonwealth, which looked to Venice for its republican system, and to Rome for its Christian heritage. Seventeenth-century Polish singers, players and composers soon adopted Italian manners, both at home and abroad, and many courts established Polish-Italian ensembles, to which the all-female Ensemble Giardino di Delizie is a unique modern counterpart.

Mikolaj Zielenski was the first Polish composer to publish his works in Italy: a huge collection of sacred works originating from Venice in 1611 and including a pair of instrumental fantasias featured on this album. Adam Jarzebsky (1590-1649) was another cosmopolitan figure, a violinist who worked in royal courts in Germany and Italy and whose music naturally absorbs the idioms of his adopted countries. Marcin Mielczewski (c. 1651) was a colleague of Jarzebsky's at the royal Polish court under the period of Swedish occupation, and Kaspar Förster (1616-1673) studied under Carissimi in Rome before returning to Warsaw and then to Danzig, the city of his birth; his Italianate compositions include the trio sonatas which here receive their first recordings.

The musicians of Ensemble Giardino di Delizie aspire to the Baroque aesthetic of 'saper ben parlare per ben suonare'; thus they take their cue from their fluency in both Polish and Italian, and a phonetic analysis of each language, in order to inflect their interpretations. Full of both suave, Corellian phrasing and lively Polish rhythms, their performances are unfailingly intense and exciting. Founded in 2014 by the violinist Ewa Anna Augustynowicz, the ensemble is joined here by a quartet of guests: Elena Bianchi (dulcian), Fabrizio Carta (theorbo), Amalia Ottone (viola da gamba) and Marco Contessi (violone).

The Ensemble Giardino di Delizie made its debut on Brilliant Classics with trio sonatas by Carlo Ambogio Lonati. The album met with an enthusiastic response from the critics: 'The performance sounds completely natural, full of spontaneity and bursting energy… An album of real discovery, then, superbly played and well recorded, in a close yet resonant sound well suited to the interpretation.' (The Classic Review)

'There's a fluidity in the ensemble's playing that makes Lonati's music sparkle… Violinists Ewa Anna Augustynowicz and Katarzyna Solecka play with equal skill, letting the listener enjoy the exchange between them… A delightful listening experience from beginning to end.' (WTJU.fm)

The close relationship between Italy and Poland goes back many centuries. Especially during the Baroque era the contact was intense. The republic of Venice was seen as a role model of political innovation, whereas Rome was firmly established as the international center of the powerful Catholic Church. Young Poles visited and studied at the universities of Bologna and Padua, imbibing knowledge and culture, whereas the Polish nobility invited Italian musicians at their courts.
This new recording presents Polish composers from the Baroque, in whose works influences from their Italian contemporaries can be found. The composers presented are Marcin Mielczewski, Kaspar Foerster, Mikolai Zilenski, Adam Jarzebski, Stanislav Szarzinski, in Sonatas, Canzonas, Fantasias and other Baroque forms.
Played on period instruments by Giardino di Delizie, a female Polish-Italian Early Music group, researching and performing forgotten treasures from the Italian and Polish Baroque. They played in such ensembles as Europa Galante, Les Eléments, Quatuor Mosaiques and others. They successfully recorded previously for Brilliant Classics a CD with Sinfonias by Lonati.
Listening
Track list
Disk 1
Marcin Mielczewski: Canzon seconda a 2

Kaspar Foerster: La sidon sonata a 3 in F Major

Mikolaj Zielenski: Communiones totius anni. Fantazja II

Adam Jarzebski: Chromatica – concerto a 3

Kaspar Foerster: Sonata a 3 in C Minor

Adam Jarzebski: Cantate domino – concerto a 2

Kaspar Foerster: Sonata a 3 in G Major

Adam Jarzebski: Berlinesa – concerto a 3
Disk 2
Kaspar Foerster: La Pazza. Sonata a 3 in D Minor

Marcin Mielczewski: Canzon prima a 2

Kaspar Foerster: Sonata a 3 in C Minor

Adam Jarzebski: Tamburetta – concerto a 3

Stanislaw Sylwester Szarzynski: Trio Sonata in D Major

Mikolaj Zielenski: Communiones totius anni. Fantazja III

Kaspar Foerster: Sonata a 3 in B Major