Gerhard & Mompou: Complete Music for Solo Guitar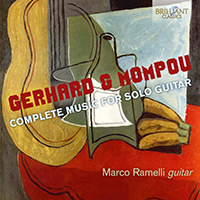 Download booklet
| | |
| --- | --- |
| Composer | Federico Mompou, Roberto Gerhard |
| Artist | Marco Ramelli guitar |
| Format | 1 CD |
| Cat. number | 95679 |
| EAN code | 5028421956794 |
| Release | December 2018 |
About this release
The contrasting voices of two Catalan composers, friends in life, now joined together in recording for the first time.

Federico Mompou was the shy post-Romantic, Roberto Gerhard the gregarious Modernist. Quite unalike in personality, in artistic aims and language, the two nonetheless held each other in high esteem.

Like so many other composers, Mompou began to write guitar music having met and been inspired by Andres Segovia. This friendship principally yielded the six-movement Suite Compostelana. A Baroque construction enclosing a flowing, arpeggiated Prelude, a crystalline Chorale, a searching Recitative and a deftly embroidered Cancion, the Suite is entirely original in its themes with the exception of the joyful stamp of the finale which is based on the Muiñeira de Lugo, a typical Galician dance usually played on a form of bagpipe known as a gaita.

In complement to the Suite Compostelana, Marco Ramelli adds a pair of the Cançons i danses, transcribed from the piano originals for solo guitar. These poetic miniatures, mostly gentle in mood, were a kind of diary for Mompou, compiled one by one throughout his career. Their reserved Impressionism perfects a particular personality belonging to 'The Spanish Guitar'. Roberto Gerhard brought its more extrovert side to life with a sequence of incidental music written for a TV adaptation of Ernest Hemingway's novel For Whom The Bell Tolls – made in England, shortly after the composer had moved there as an exile from the Spanish Civil War.

For this recording, Marco Ramelli has used a guitar built in 1931 in Barcelona by Francisco Simplicio, one of the most important Catalan luthiers. Its intense and raw sound forms a native counterpart to both the poetic moods of Mompou and Gerhard's dissonances.

This recording brings together the complete solo guitar music of two of the most important Catalan composers of the 20th century: Federico Mompou (1893-1987) and Roberto Gerhard (1896-1970). Two different musicians with a strong personality, profound and charismatic who developed a personal and individual language in 20th century Spanish music. Despite (or because of..?) their diversity in character and musical style they were close friends, working together on several occasions.
Mompou's music is the "Music of silence", reflective, intimate with a tinge of melancholy ("less is more"), Gerhard's music is more expressive, especially in his setting of Hemingway's "For Whom the Bell Tolls", depicting the horrors of the Spanish Civil War.
Marco Ramelli is an Italian guitarist and composer, he won the prestigious World Guitar Composition Competition in Serbia. He plays a 1931 Francisco Simplicio guitar, one of the most important Catalan luthiers.
Listening
Track list
Disk 1
Federico Mompou: Cançó i dansa, No. 10: I. Cançó

Federico Mompou: Cançó i dansa, No. 10: II. Dansa

Federico Mompou: Cançó i dansa, No. 13: I. Cançó

Federico Mompou: Cançó i dansa, No. 13: II. Dansa

Federico Mompou: Suite compostelana: I. Preludio

Federico Mompou: Suite compostelana: II. Coral

Federico Mompou: Suite compostelana: III. Cuna

Federico Mompou: Suite compostelana: IV. Recitativo

Federico Mompou: Suite compostelana: V. Canción

Federico Mompou: Suite compostelana: VI. Muñeira

Emilio Pujol: El cant dels ocells

Emilio Pujol: La plume de perdreau

Roberto Gerhard: Fantasia

Roberto Gerhard: For Whom the Bell Tolls: I. Recoinnaisance. a. The Bridge

Roberto Gerhard: For Whom the Bell Tolls: I. Recoinnaisance. b. Pablo

Roberto Gerhard: For Whom the Bell Tolls: I. Recoinnaisance. c. Pilar

Roberto Gerhard: For Whom the Bell Tolls: I. Recoinnaisance. d. Recoinnaisance

Roberto Gerhard: For Whom the Bell Tolls: II. The Moon of May

Roberto Gerhard: For Whom the Bell Tolls: III. Verdict on Pablo. a. Un galán y su Morena

Roberto Gerhard: For Whom the Bell Tolls: III. Verdict on Pablo. b. The Bell

Roberto Gerhard: For Whom the Bell Tolls: III. Verdict on Pablo. c. La muerte y la doncella

Roberto Gerhard: For Whom the Bell Tolls: IV. The Bridge