Gernsheim: Violin Sonatas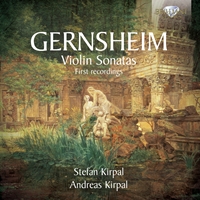 Composer
Friedrich Gernsheim
Artist
Stefan Kirpal violin
Andreas Kirpal piano
Format
2 CD
Cat. number
94403
EAN code
5028421944036
Release
July 2012
About this release
The music of the German composer, conductor, performer and musical director, Friedrich Gernsheim (1839–1916), unlike his more successful contemporaries, Camille Saint-Saëns and Max Bruch, has never achieved the popularity that its quality merits. Although his compositions display the intelligence, discipline and complexity of his great friend and inspiration, Johannes Brahms, Gernsheim's music fell out of fashion after his death, as avant-garde composers ushered in a new style that overshadowed his Romantic masterpieces.

However, as this excellent new recording of music for violin and piano demonstrates, Gernsheim's decline in popularity is even more surprising when his music is considered. Spanning his entire musical career, this release traverses youthful promise (the early Andante, composed when he was just 14 years old), energetic virtuosity (Introduction and Allegro appassionato), yearning beauty (Violin Sonata No.1), and mature, masterful control of artistic means (Violin Sonata No.4). All the while, Gernsheim's skill as both a violinist and a virtuoso pianist can be felt, given ample expression by the duo of brothers Stefan and Andreas Kirpal, whose perfectly-matched techniques and timbres combine to create a recording of finesse and polish.

Other information:
- Recorded in April and December 2011, in Heideck-Selingstadt, Germany, the Second issue on Brilliant Classics of works by German composer Friedrich Gernsheim: first recordings on CD!
- An indispensable opportunity for listeners to delve deeper into the chamber music of Friederich Gernsheim. His grand, Romantic compositions will be particularly admired by any fans of Gernsheim's great friend and mentor, Johannes Brahms.
- Gernsheim was a close friend of Johannes Brahms, whose influence is evident in the formal discipline, the harmonic language and the grand-scale "Romanticism" of these highly accomplished and attractive works.
- Excellent performances by the brothers Stefan and Andreas Kirpal, who won prizes at the Brahms Chamber Music Competition in Austria, and won a Diapason d"or for their recording of Weinberg's Violin Sonatas.
- Includes booklet notes in English and German, providing an in-depth overview of Gernsheim's life and works for violin and piano.
- Gernsheim's Piano Quartets are available on Brilliant Classics 93997.
Track list
Disk 1
Introduction & Allegro appassionato, Op. 38: Andante sostenuto – Allegro appassionato

Violin Sonata No. 1 in C Minor, Op. 4: I. Andante con moto – Più lento

Violin Sonata No. 1 in C Minor, Op. 4: II. Allegretto scherzando

Violin Sonata No. 1 in C Minor, Op. 4: III. Allegro

Violin Sonata No. 2 in C, Op. 50: I. Allegro moderato

Violin Sonata No. 2 in C, Op. 50: II. Andante sostenuto

Violin Sonata No. 2 in C, Op. 50: III. Allegro energico

Fantasiestück, Op. 33: Andante molto sostenuto
Disk 2
Violin Sonata No. 4 in G, Op. 85: I. Allegro moderato assai

Violin Sonata No. 4 in G, Op. 85: II. Andantino dolente – In moto giocoso ma ben marcato – Andantino dolente

Violin Sonata No. 4 in G, Op. 85: III. Allegro con brio

Violin Sonata No. 3 in F, Op. 64: I. Allegro con brio

Violin Sonata No. 3 in F, Op. 64: II. Allegro agitato

Violin Sonata No. 3 in F, Op. 64: III. Andante molto espressivo

Violin Sonata No. 3 in F, Op. 64: IV. Moderato e sempre cantabile

Andante (1853)