Gershwin: Orchestral Music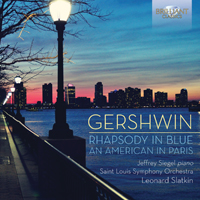 Composer
George Jacob Gershovitz Gershwin
Artist
Saint Louis Symphony Orchestra
Leonard Slatkin conductor
Jeffrey Siegel piano
Format
2 CD
Cat. number
94861
EAN code
5028421948614
Release
April 2015
About this release
George Gershwin had a reputation for not following the rules. He began to take piano lessons as a child and enjoyed a fairly substantial musical education thereafter – with his teacher Charles Hambitzer hailing him a 'genius'. Hambitzer acknowledged that Gershwin was particularly interested in 'jazz and whatnot', but made a point of teaching him the foundations in classical music first. Despite this, and to their great advantage, Gershwin's compositions frequently relied on intuition rather than the rule book. This gave way to the creation of many celebrated works that continue to delight audiences around the world.

This special collection is a must-have for the Gershwin enthusiast and lovers of American orchestral music. Take a musical tour through the compositional life of one of the most popular composers of the 20th century and revel in the unmistakeable jazz and blues influences of each of the works. The collection comprises many favourites from the great composer's oeuvre, including Lullaby, Gershwin's first 'serious' work, a composition for strings; Catfish Row, the suite from the acclaimed opera Porgy and Bess; the famed Rhapsody in Blue and An American in Paris. The works are performed by the renowned Saint Louis Symphony Orchestra and eminent conductor, Leonard Slatkin.

This release set presents the reissue of a Classic, the golden standard set by the St. Louis Symphony Orchestra conducted by Leonard Slatkin of orchestral music by George Gershwin.
Included are the Rhapsody in Blue, An American in Paris, the Piano Concerto, Catfish Row, Cuban Overture and "I got rhythm variations".
Slatkin and his St Louis forces play with infectious drive and brilliance, without overdoing the "jazzy" character, a perfect symbiosis of classical and jazz. Pianist Jeffrey Siegel has the right stamina, bravura, wit and guts.
Originally released on the legendary VOX label.

Other information:
Recorded in 1974.
Contains extensive liner notes on the works.
Track list
Disk 1
Concerto in F Major: I. Allegro

Concerto in F Major: II. Andante con moto

Concerto in F Major: III. Allegro agitato

Lullaby (Arr. for Strings)

Cuban Overture

Second Rhapsody for Piano and Orchestra

Promenade (Arr. for Orchestra)
Disk 2
Rhapsody in Blue

Variations on "I Got Rhythm"

Porgy and Bess, Act 1: Introduction

Porgy and Bess, Act 1: Porgy Sings

Porgy and Bess, Act 1: Fugue

Porgy and Bess, Act 2: Hurricane

Porgy and Bess, Act 3: Good Morning, Brother

An American in Paris