Gesualdo: Madrigals book I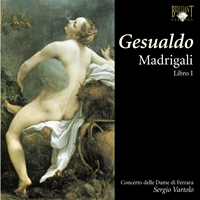 Composer
Carlo Gesualdo Da Venosa
Artist
Concerto delle Dame di Ferrara
Sergio Vartolo harpsichord and concert master
Format
1 CD
Cat. number
92635
EAN code
5028421926353
Release
April 2006
About this release
Late-Renaissance Italian composer Carlo Gesualdo (1561 - 1613) has become far better known than many of his contemporaries. This probably has something to do with his murdering his wife and her lover. At the time this attracted a great deal of publicity and kept giving rise to publications even in the twentieth century.

After that incident, Gesualdo, Prince of Venosa and Count of Conza, remained unpunished and retreated into his castle to openly devote himself to music. His considerable oeuvre mainly consists of vocal works which today have been performed by several of the "authentic" ensembles. Especially the secular items have proved to be popular.

Gesualdo originally published his first Book of Madrigals under a pseudonym. It contains (15) five-part songs with instrumental accompaniment in sometimes "bold" polyphony as do a further five books of madrigals he wrote. The first set is often overlooked. Here the composer set (tormented) texts by contemporary poets like Gatti and Tasso. As in all madrigals by Gesualdo here images from the text are translated into music. Dissonants are plentiful.

Other information:
- This recording is a production of the Festival Gesualdo Oggi - Tracce 2004 (Potenza, Italy).
- Extensive information and all texts in Italian with English translation in booklet.
Track list
Disk 1
Baci soavi e cari

II parte Quanto ha di dolce

Madonna io ben vorrei

Come esser può

Gelo ha Madonna il seno

Mentre Madonna il lasso

II parteAhi troppo saggia

Se da sì nobil mano

II parteAmor pace non chero

Sì gioioso mi fanno i dolor miei

O dolce mio martire

Tirsi morir volea

II parteFrenò Tirsi il desìo

Mentre mia stella miri

Non mirar di questa bella imago

Questi leggiadri odorosetti

Felice Primavera

II parteDanzan le Ninfe oneste

Son sì belle le rose

Bella Angioletta