Gilardino: Sicilian Guitar Music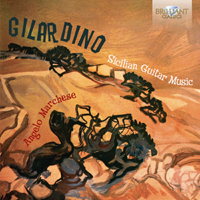 Composer
Angelo Gilardino
Artist
Angelo Marchese guitar
Adalgisa Badano harpsichord
Winds of Orchestra Sinfonica Siciliana
GliArchiEnsemble
Giuseppe Crapisi conductor
Format
1 CD
Cat. number
95266
EAN code
5028421952666
Release
July 2016
About this release
A native of Sicily, the composer Angelo Gilardino has been inspired by the landscape to compose the works on this disc, but as he says, 'I am not concerned whether my compositions conjure for the listener images of Sicily: I wrote them with Sicilian myths and locations in mind. I don't know exactly how this came about, and I am not particularly interested in finding out. But I was definitely not thinking consciously about folk music.'

Au pays parfumé is a set of five inventions for guitar and harpsichord (2013), taking its title from the poetry of Baudelaire. The instruments are not timbrally contrasted but woven to create a composite texture of constantly changing hues. Parthenicum and Capriccio Etneo are both solo works dating from 2014, the former an abstractly structured sonata, the latter a more free-form fantasia loosely based on a Classical rondo.

The Concertino di Hykkara (2012) is named after a legendary city between Palermo and Partinico. Designed by the architect Daedalus, who immortalised the name of his tragic son Icarus. Thus the concertino aims to celebrate the guitar as a bird in flight and surrounded by a light-filled accompaniment for chamber orchestra.

Previous well-received Gilardino albums on Brilliant Classics have featured both solo and orchestral works with the idiomatic musicianship of Angelo Marchese on the composer's own instrument. When the concertino was originally released in 2014, MusicWeb reported that 'This is often soloistic, surreal in nature and open in texture. It is never congested… The guitar part is virtuoso but is not called on to produce outlandish effects at odds with the instrument's nature. This is a treat for adventurous pursuers of the guitar concerto on the look-out for refreshing and distinctive contemporary additions to the repertoire.'

Angelo Gilardino is one of the most important guitar composers of the last half century. His unique style is a blend of the old and new, folk art and contemporary music, from Mozart to Messiaen, all his works are illuminated by a warm and mediterranean glow, a feeling of humanity and love for life.
This new recording shows Gilardino's special affinity to Sicily, the island of beauty and darkness. The first title, Aux Pays Parfumé, says it all: written for the unusal combination of guitar and harpsichord is draws a subtle and scented image of the enchanted island. Also included are the solo guitar work Capriccio Etneo (a musical image of mount Etna) and the Concertino di Hykkara for guitar and chamber orchestra.
Excellent performance by guitarist Angelo Marchese and the "local" Orchestra Sinfonica Siciliana.
Illuminating liner notes written by the composer.
Listening
Track list
Disk 1
Angelo Gilardino: Au pays parfumé : I. Andantino grazioso

Angelo Gilardino: Au pays parfumé : II. Adagio quasi grave

Angelo Gilardino: Au pays parfumé : III. Presto

Angelo Gilardino: Au pays parfumé : IV. Andante quasi adagio, in preghiera

Angelo Gilardino: Au pays parfumé : V. Allegro

Angelo Gilardino: Parthenicum: I. Allegro vivo

Angelo Gilardino: Parthenicum: II. Non troppo lentamente

Angelo Gilardino: Parthenicum: III. Allegretto

Angelo Gilardino: Capriccio etneo for Solo Guitar

Angelo Gilardino: Concertino di hykkara: I. Allegro solare

Angelo Gilardino: Concertino di hykkara: II. Adagio

Angelo Gilardino: Concertino di hykkara: III. Un poco mosso