Ginastera: Complete String Quartets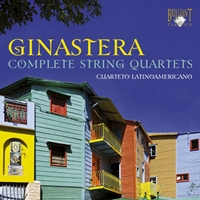 Composer
Alberto Evaristo Ginastera
Artist
Cuarteto Latino-Americano
Saúl Bitrán violin
Arón Bitrán violin
Javier Montiel viola
Alvaro Bitrán cello
and Claudia Montiel soprano
Format
1 CD
Cat. number
9119
EAN code
5029365911924
Release
May 2009
About this release
Alberto Ginastera (1916–83) the foremost 20th century Argentinean composer began composing in 1930, but destroyed many of his early works. The one work to survive from this period was the ballet 'Panambi', which catapulted him to fame, and resulted in a commission for another ballet 'Estancia' based on rural Argentinean life. Aside from his stage and orchestral music, chamber music played a big role in his creative output. The string quartets span the various stages of his musical development, and can be clearly assigned to these periods. Ginastera's music up to the first quartet is nationalistic, and evokes the Argentine 'gaucho' tradition of the pampas. The one exception is 'Panambi' which depicts primitive Indian rites. The second quartet presents a rather Bartok like visage, with microtones and a ghostly scherzo played at the edge of sound. This represents Giasteras' serial period, which would lead to the third and final of his string quartets. This work dates from 1973, and the inspiration was Schoenberg's second quartet – they both have a part for a soprano of the utmost virtuosity. Ginasteras' use of the serial 12 note form of writing is more closely allied to that of Berg and Schoenbrg rather than the austere style of Webern. The third quartet alludes to the horrors of war, and the singer is asked to 'sing with madness'. As in the second quartet, the scherzo is the movement that remains in the mind of the listener. It is a fantastic hallucinatory bergian moment.

Other information:
- Recorded by Elan in 1989, 1990 and 1997.
- Unusual repertoire, and a significant addition to the catalogue of Ginastera recordings. Only one rival recording available.
- Cuarteto Litinoamericano was founded in Mexico 1981 and is dedicated to promoting the music of Latin American composers as well as the traditional quartet repertoire.
- "An exceptional group because of their clean playing, energy, and freshness" (Le Monde de la Musique).
- "Among the most fascinating and exciting string quartet discs I have heard in a long time, with vital, fresh, imaginative music and sensitive, brilliant performances" (The Washington Post reviewing the Elan CD of Latin American Quartets).
Track list
Disk 1
String Quartet No. 1, Op. 20: I. Allegro violento ed agitato

String Quartet No. 1, Op. 20: II. viVacissimo

String Quartet No. 1, Op. 20: III. Calmo e poctico - .....

String Quartet No. 1, Op. 20: IV. Allegramente rustico

String Quartet No. 2, Op. 26 (revised version): I. Allegro rustico

String Quartet No. 2, Op. 26 (revised version): II. Adagio angoscioso

String Quartet No. 2, Op. 26 (revised version): III. Presto magico

String Quartet No. 2, Op. 26 (revised version): IV. Libero e rapsodico

String Quartet No. 2, Op. 26 (revised version): Furioso

String Quartet No. 3, Op. 40: I. ContemplatIVo

String Quartet No. 3, Op. 40: II. Fantástico

String Quartet No. 3, Op. 40: III. Amoroso

String Quartet No. 3, Op. 40: IV. Drammatico

String Quartet No. 3, Op. 40: V. Di nuovo ContemplatIVo