Giordani: 6 Sonatas Op.4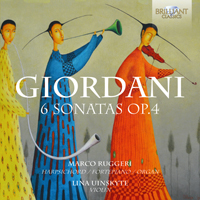 Composer
Tommaso Giordani
Artist
Marco Ruggeri harpsichord
Lina Uinskyte violin
Format
1 CD
Cat. number
95149
EAN code
5028421951492
Release
March 2016
About this release
Naples-born, Tommaso Giordani (c. 1730-1806) travelled across Europe with his artistically talented family, which formed a small opera troupe of its own. While Tommaso was still a teenager, the Giordanis gave performances in Ancona, Graz, Frankfurt and Salzburg, and were eventually invited to perform as part of the 1753-4 season of sundry entertainments at the theatre in Covent Garden which was later rebuilt as the Royal Opera House.

A decade later they settled in Dublin, where Tommaso's career as a composer got off to an inauspicious start with an 'Italianized' version of The Beggars' Opera which did not go down well with audiences who were quite content with John Gay's bawdy original. However, in subsequent years he produced several more comic operas which fared much better, and by the early 1770s Giordani was very active with the Italian Opera at the King's Theatre. It is from this period that this set of six agreeable chamber sonatas is dated, being published in 1773.

Bobbing in the wake of J.C. Bach's 'galant' style, Giordani's sonatas nonetheless have a distinct personality of their own. Their cantabile qualities are underpinned by the not inconsiderable measure of technical virtuosity required by the violinist and the keyboard player. The dialogue between the two instruments is compelling and heralds a composer of considerable stature.

Commercial considerations may have led Giordani to write the florid keyboard parts in such a way that they may be played on any appropriate instrument – an option taken up by Marco Ruggeri in these stylish, historically informed recordings, which are played on a 'chest'-type Positive Organ built 1998 by Giorgio Carli with four stops; a two-manual harpsichord after Pascal Taskin (1768), built in 2005 by Keith Hill (Michigan); and a Fortepiano after the Viennese maker J. J. Koennicke (1795), also built by Hill.

Tommaso Giordani (1730-1806) was born in Naples, Italy, but his extensive travels brought him to London, where he built his career until his death. He wrote an immense amount of music: best known as an opera composer he also wrote chamber music for various instruments. Giordani's sonatas Opus 4 are for violin and keyboard, either harpsichord, fortepiano or organ. They are delightful 2-movement works in the Galante Style, like his fellow émigré Johann Christian Bach. The writing for the instruments, especially the keyboard, is of an advanced virtuosity, rich in scales, arpeggios, octave runs and fast passage work.

Excellent performances by the Lithuanian violinist Lina Uinskyte and keyboard player Marco Ruggeri, who already made a beautiful recording for Brilliant Classics of sonatas by J.C. Bach (BC 94965).
Track list
Disk 1
Sonata I in C Major, Op. 4: I. Allegro

Sonata I in C Major, Op. 4: II. Minuetto

Sonata II in F Major, Op. 4: I. Allegro

Sonata II in F Major, Op. 4: II. Minuetto

Sonata III in B-Flat Major: I. Allegretto

Sonata III in B-Flat Major: II. Presto

Sonata IV in D Major: I. Spiritoso

Sonata IV in D Major: II. Vivace

Sonata V in G Major: I. Allegro

Sonata V in G Major: II. Aria. Andante

Sonata VI in A Major: I. Allegro maestoso

Sonata VI in A Major: II. Presto