Giuliani: Complete Guitar Concertos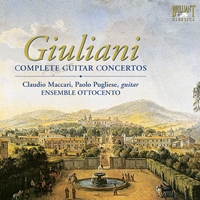 Composer
Mauro Giuliani
Artist
Claudio Maccari guitar
Paolo Pugliese guitar
Ensemble Ottocento
Format
2 CD
Cat. number
92621
EAN code
5028421926216
Release
April 2006
About this release
Ask any guitarist: they will all know Mauro Giuliani. Ask a lover of music in general whether the name Giuliani rings a bell: the answer will most probably be "No". This Giuliani (1781-1829) was one of many Italian guitar virtuosos. Today he is considered Italy's most important guitarist. His oeuvre consists of over 200 works mainly for the guitar.

On these new recordings for Brilliant Classics you can hear five of these pieces. They are the three concertos for solo guitar and orchestra combined with two lesser known chamber works: the Gran Quintetto for guitar and strings in C major op. 65 and the Variazioni ……for guitar "terzina" and string quartet op. 102. The guitarists are Claudio Maccari and Paolo Pugliese. The Ensemble Ottocento provides the accompaniment on period instruments.

Both the third solo concerto and the Variazione su "Nume perdonami in tale instante"(from Generali's Baccanli di Roma) are played here on the terzina guitar. This is a slightly smaller guitar than normally used: its pitch being a third higher.
Track list
Disk 1
Concerto for Guitar and Orchestra No. 1 in A Major, Op. 30: I. Allegro maestoso

Concerto for Guitar and Orchestra No. 1 in A Major, Op. 30: II. Siciliana (Andantino)

Concerto for Guitar and Orchestra No. 1 in A Major, Op. 30: III. Polonaise (Allegretto)

Concerto for Guitar "terzina" and Orchestra No. 3 in F Major, Op. 70: I. Allegro moderato

Concerto for Guitar "terzina" and Orchestra No. 3 in F Major, Op. 70: II. Andantino alla Siciliana con variazioni

Concerto for Guitar "terzina" and Orchestra No. 3 in F Major, Op. 70: III. Polonaise (Allegretto)
Disk 2
Concerto for Guitar and Strings No. 2 in A Major, Op. 36: I. Maestoso

Concerto for Guitar and Strings No. 2 in A Major, Op. 36: II. Andantino

Concerto for Guitar and Strings No. 2 in A Major, Op. 36: III. Rondò (Allegretto)

Gran Quintetto for Guitar and Strings in C Major, Op. 65: I. Introduzione

Gran Quintetto for Guitar and Strings in C Major, Op. 65: II. Theme and Variations (on the aria "Nel cor più non mi sento")

Gran Quintetto for Guitar and Strings in C Major, Op. 65: III. Polonaise

Variazioni su "Nume perdonami in tale istante" from Generali's Baccanali di Roma, for Guitar "terzina" and String Quartet, Op. 102: Introduzione, Thema, Variations