Giuliani: Nocturnes for Clarinet and Harp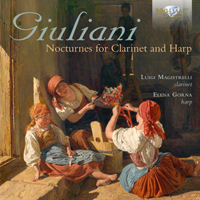 Composer
Giovanni Francesco Giuliani
Artist
Luigi Magistrelli clarinet
Elena Gorna harp
Format
1 CD
Cat. number
95541
EAN code
5028421955414
Release
August 2017
About this release
Giovanni Francesco Giuliani was a Classical-era Italian composer not to be confused with his unrelated, slightly later and
more renowned contemporary, the guitar virtuoso Mauro Giuliani, who is already well represented on Brilliant Classics
with guitar concertos (BC92961), duets (BC93381) and songs for soprano and guitar (BC94779).

Giovanni Francesco was a violinist by training and profession, born and schooled in Livorno but who made his career in Florence, where he became a highly regarded teacher and performer: he led the orchestra in several premieres of Rossini operas such as Il turco in Italia and Il barbiere di Siviglia. Giuliani also composed dramatic music of his own but he was better known in his own time for instrumental pieces which are indebted in style to the galant music of his teacher Pietro Nardini, whose string quartets (BC94438) and sonatas (BC93347) may also be found in Brilliant Classics recordings.

The earlier Giuliani composed 12 nocturnes for clarinet and harp which here receive their first complete recording. They each have the structure of a slow introduction and a cheerful, quick main movement, unpretentious in character but written with brilliance as well as skill for their instruments, taking full advantage of the contrasting tonal qualities of clarinet and harp.

The release is enhanced by contextual notes about this little-known composer by the clarinettist Luigi Magistrelli, who already has a distinguished discography to his credit on Brilliant Classics. He particularly specialises in reviving the work of little-known composers, and has recorded chamber and ensemble music with clarinet by Archduke Rudolph (BC94952), Caspar Kummer (BC94472) and Ferdinand Rebay (BC94171). This release will be of immediate interest to clarinettists and enthusiasts for out-of-the-way chamber music.

Giovanni Francesco Giuliani (not to be confused with Mauro Giuliani, the famous guitar composer) lived from 1760 till 1818, active as violinist, composer and teacher in Florence, which went through a huge boom of theatrical and musical creativity due to the efforts of Pietro Leopoldo as Gran Duke of Tuscany.
The 12 Nocturnes (or Notturnos) for clarinet and harp were found in the New York Public Library and were only recently discovered. They are charming pieces in Galante style, consisting of two movements: a slow introduction of great melodious beauty and a brisk and brilliant allegro. The accompaniment of the harp provides a velvety harmonic sonority which contributes to the pleasing character of the music.
These first recordings are played by Italian clarinetist Luigi Magistrelli, who already discovered many musical gems for his instrument, and harpist Elena Gorna.
Track list
Disk 1
Nocturne No. 1: I. Largo

Nocturne No. 1: II. Allegro

Nocturne No. 2: I. Largo

Nocturne No. 2: II. Allegro

Nocturne No. 3: I. Largo

Nocturne No. 3: II. Allegro

Nocturne No. 4: I. Largo

Nocturne No. 4: II. Allegro

Nocturne No. 5: I. Largo

Nocturne No. 5: II. Allegro

Nocturne No. 6: I. Tema con variazioni

Nocturne No. 6: II. Minuetto I e II

Nocturne No. 7: I. Larghetto

Nocturne No. 7: II. Allegro

Nocturne No. 8: I. Maestoso

Nocturne No. 8: II. Allegro

Nocturne No. 9: I. Andante con variazioni

Nocturne No. 9: II. Minuetto I e II

Nocturne No. 10: I. Andante

Nocturne No. 10: II. Allegro assai

Nocturne No. 11: I. Grazioso

Nocturne No. 11: II. Allegro

Nocturne No. 12: I. Andante

Nocturne No. 12: II. Presto