Giustini: 12 Sonatas Op.1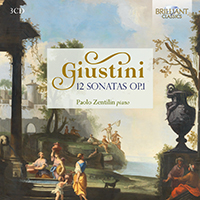 Download booklet
| | |
| --- | --- |
| Composer | Lodovico Giustini |
| Artist | Paolo Zentilin piano |
| Format | 3 CD |
| Cat. number | 96173 |
| EAN code | 5028421961736 |
| Release | January 2021 |
About this release
The very first-ever set of 'piano sonatas' in a new and highly imaginative recording.

Following Andrea Coen's 2010 recording (94021) Brilliant Classics is the only label with two complete versions of Giustini's sonatas on the market, showing its commitment to significant but under-recorded turning points in musical history. Lodovico Giustini (1685-1743) seldom left his native Pistoia, where he worked as organist of the Congregazione dello Spirito Santo. Published in nearby Florence in 1732, this set of 12 elegant sonatas is, in keeping with Scarlattian practice, dominated by movements in binary form, featuring dances and contrapuntal excursions, and displaying hints of the emerging galant style, which replaced busy Baroque continuo textures with a singing, more natural approach. Giustini enjoys high contrasts, soft and loud, and teases out of the new fortepiano technology everything it had to offer.

However, the extant scores are not free of errors, and they leave a good deal up to the performer. Paolo Zentilin makes the most of Giustini's writing. He has corrected the obvious errors, and he exhibits taste and technical mastery in his playing of a modern, beautifully conditioned Fazioli piano. Exploiting the instrument's tonal resources while remaining respectful of a Baroque sensibility, his playing is consistently passionate but never overblown, with an attractive full-bodied tone, and an exquisite sense of dynamic control. Extremely soft passages are executed with no loss of rhythmic vitality. Ornaments are rendered with delicate crispness. The music's character —whether a regal dance or a study in tenderness—is always projected with sincerity and authenticity. No matter how intricate the counterpoint, the result remains genuinely heartfelt, never mechanical.

'I tried to be clear in my articulation,' remarks Zentilin in the booklet note, 'as if I were using an historical instrument, but also to play with a pianistic approach—a wide sound palette and big contrasts, and the use of the pedals. I also improvised some of the ornamentation.'

Lodovico Giustini was born in 1685 (the annus mirabilis in which also Bach, Handel and Scarlatti were born..) in Pistoia, Italy, into a musical family, his father was organist. Upon his father's death Lodovico succeeded him as organist, and spent his life thus at the Pistoia cathedral, writing sacred liturgical works and keyboard music.
Giustini's main fame rests on his work 12 Sonate da cimbalo di piano e forte detto volgarmente di martelletti, Op.1, published in Florence in 1732, which is the earliest music in any genre written specifically for the piano.
These pieces, which are Sonate da Chiesa with alternating fast and slow sections (four or five movements per sonata), predate all other music specifically written for the piano by about 30 years. Giustini used all the expressive capabilities of the instrument, such as wide dynamic contrast: expressive possibilities which were not available on other keyboard instruments of the time. Harmonically the pieces are transitional between late Baroque and early Classical period practice, and include innovations such as augmented sixth chords and modulations to remote keys.
Played by Paolo Zentilin on a modern piano, making full yet retrained use of the instrument's possibilities, in a refined and delicate way.
Listening
Track list
Disk 1
Lodovico Giustini: Sonata No. 1 in G Minor, Op. 1: I. Balletto. Spiritoso, ma non presto

Lodovico Giustini: Sonata No. 1 in G Minor, Op. 1: II. Corrente. Allegro

Lodovico Giustini: Sonata No. 1 in G Minor, Op. 1: III. Sarabanda. Grave

Lodovico Giustini: Sonata No. 1 in G Minor, Op. 1: IV. Giga. Presto

Lodovico Giustini: Sonata No. 1 in G Minor, Op. 1: V. Minuet. Affettuoso

Lodovico Giustini: Sonata No. 2 in C Minor, Op. 1: I. Grave

Lodovico Giustini: Sonata No. 2 in C Minor, Op. 1: II. Corrente. Allegro

Lodovico Giustini: Sonata No. 2 in C Minor, Op. 1: III. Giga. Grave

Lodovico Giustini: Sonata No. 2 in C Minor, Op. 1: IV. Giga. Presto

Lodovico Giustini: Sonata No. 2 in C Minor, Op. 1: V. Minuet

Lodovico Giustini: Sonata No. 3 in F Major, Op. 1: I. Siciliana. Affettuoso

Lodovico Giustini: Sonata No. 3 in F Major, Op. 1: II. Canzone

Lodovico Giustini: Sonata No. 3 in F Major, Op. 1: III. Andante, ma non presto

Lodovico Giustini: Sonata No. 3 in F Major, Op. 1: IV. Giga. Presto

Lodovico Giustini: Sonata No. 4 in E Minor, Op. 1: I. Preludia. Largo

Lodovico Giustini: Sonata No. 4 in E Minor, Op. 1: II. Presto

Lodovico Giustini: Sonata No. 4 in E Minor, Op. 1: III. Sarabanda. Largo

Lodovico Giustini: Sonata No. 4 in E Minor, Op. 1: IV. Giga. Allegro
Disk 2
Lodovico Giustini: Sonata No. 5 in D Major, Op. 1: I. Preludio. Adagio e arpeggiato nell'acciaccature

Lodovico Giustini: Sonata No. 5 in D Major, Op. 1: II. Allegro

Lodovico Giustini: Sonata No. 5 in D Major, Op. 1: III. Affettuoso

Lodovico Giustini: Sonata No. 5 in D Major, Op. 1: IV. Corrente. Allegro

Lodovico Giustini: Sonata No. 5 in D Major, Op. 1: V. Tempo di gavotte

Lodovico Giustini: Sonata No. 6 in B-Flat Major, Op. 1: I. Preludio. Grave

Lodovico Giustini: Sonata No. 6 in B-Flat Major, Op. 1: II. Allegro assai

Lodovico Giustini: Sonata No. 6 in B-Flat Major, Op. 1: III. Dolce

Lodovico Giustini: Sonata No. 6 in B-Flat Major, Op. 1: IV. Giga. Allegro

Lodovico Giustini: Sonata No. 7 in G Major, Op. 1: I. Allemanda. Andante

Lodovico Giustini: Sonata No. 7 in G Major, Op. 1: II. Corrente. Presto assai

Lodovico Giustini: Sonata No. 7 in G Major, Op. 1: III. Siciliana. Affettuoso

Lodovico Giustini: Sonata No. 7 in G Major, Op. 1: IV. Gavotta. Presto

Lodovico Giustini: Sonata No. 8 in A Major, Op. 1: I. Sarabanda. Affettuoso

Lodovico Giustini: Sonata No. 8 in A Major, Op. 1: II. Allegro

Lodovico Giustini: Sonata No. 8 in A Major, Op. 1: III. Rondò. Affettuoso

Lodovico Giustini: Sonata No. 8 in A Major, Op. 1: IV. Giga. Prestissimo
Disk 3
Lodovico Giustini: Sonata No. 9 in C Major, Op. 1: I. Sarabanda. Andante

Lodovico Giustini: Sonata No. 9 in C Major, Op. 1: II. Allemanda. Allegro

Lodovico Giustini: Sonata No. 9 in C Major, Op. 1: III. Rondò. Affettuoso

Lodovico Giustini: Sonata No. 9 in C Major, Op. 1: IV. Gavotta. Allegro

Lodovico Giustini: Sonata No. 10 in F Minor, Op. 1: I. Allemanda. Affettuoso

Lodovico Giustini: Sonata No. 10 in F Minor, Op. 1: II. Canzone. Tempo di gavotte

Lodovico Giustini: Sonata No. 10 in F Minor, Op. 1: III. Allemanda. Grave e affettuoso

Lodovico Giustini: Sonata No. 10 in F Minor, Op. 1: IV. Corrente. Allegro assai

Lodovico Giustini: Sonata No. 11 in E Major, Op. 1: I. Allemanda. Allegro ma non presto

Lodovico Giustini: Sonata No. 11 in E Major, Op. 1: II. Dolce

Lodovico Giustini: Sonata No. 11 in E Major, Op. 1: III. Gavotta

Lodovico Giustini: Sonata No. 11 in E Major, Op. 1: IV. Rondò. Affettuoso

Lodovico Giustini: Sonata No. 11 in E Major, Op. 1: V. Giga. Allegro assai

Lodovico Giustini: Sonata No. 12 in G Major, Op. 1: I. Sarabanda. Largo

Lodovico Giustini: Sonata No. 12 in G Major, Op. 1: II. Canzone

Lodovico Giustini: Sonata No. 12 in G Major, Op. 1: III. Siciliana. Affettuoso

Lodovico Giustini: Sonata No. 12 in G Major, Op. 1: IV. Giga. Presto assai

Lodovico Giustini: Sonata No. 12 in G Major, Op. 1: V. Minuet. Allegro