Giustini: Keyboard Sonatas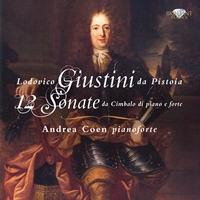 | | |
| --- | --- |
| Composer | Lodovico Giustini |
| Artist | Andrea Coen fortepiano |
| Format | 3 CD |
| Cat. number | 94021 |
| EAN code | 5028421940212 |
| Release | March 2010 |
About this release
Lodovico Giustini da Pistoia's (1685-1743) set of 12 sonatas published in Florence in 1732 was a remarkably important event in the history of music. It is the first set of works composed specifically for the fortepiano, an instrument in the early stages of its development, and therefore these works can claim to being the ancestors of the piano sonatas by Haydn, Mozart and Beethoven. Without these works that tested the new instrument being developed by Bartolemeo Christofori, the history of the modern piano might have been very different indeed. These sonatas, whilst nodding in the direction of Domenico Scarlatti and Archangelo Corelli in places, look forward to the new and exciting world of the stile galante. This set Christoforo many challenges, as the sonatas, with their varied dynamics, tested the new instrument to its limits.

One other interesting fact about this exploratory, indeed revolutionary music is that it was composed by a man who spent his entire life within the walls of The Congregation of the Holy Spirit of his hometown, Pistoia. He became a Jesuit at the age of 10, became the congregation organist in 1725, and then became a priest. However his reputation began to spread beyond the walls of Pistoia, and the publication in Florence of these sonatas is dedicated to the brother of King John V of Portugal, Antonio di Braganza, uncle of the the infanta Maria Barbara, the muse and pupil of Domenico Scarlatti.

Other information:
- Rare repertoire of great importance in history of the development of the piano and its compositions.
- Includes booklet notes written by the performer.
- "He brings good taste and the elegance required for this music, while also maintaining a fine sense of the quirky rhythms and dramatic side (to fine effect, for example, in the opening movement of the first sonata). He never plays down those effects that Giustini specifically asks for in these works—those of dynamics, and specifically, the sudden contrasts from one extreme to the other" (Fanfare Magazine, March/April 2011).
Track list
Disk 1
Lodovico Giustini: Sonata I in G Minor: I. Balletto: Spiritoso, ma non presto

Lodovico Giustini: Sonata I in G Minor: II. Corrente: Allegro

Lodovico Giustini: Sonata I in G Minor: III. Sarabanda: Grave

Lodovico Giustini: Sonata I in G Minor: IV. Giga: Presto

Lodovico Giustini: Sonata I in G Minor: V. Minuet: Affettuoso

Lodovico Giustini: Sonata II in C Minor: I. Grave

Lodovico Giustini: Sonata II in C Minor: II. Corrente: Allegro

Lodovico Giustini: Sonata II in C Minor: III. Giga: Grave

Lodovico Giustini: Sonata II in C Minor: IV. Giga: Presto

Lodovico Giustini: Sonata II in C Minor: V. Minuet

Lodovico Giustini: Sonata III in F: I. Siciliana: Affett[uos]o

Lodovico Giustini: Sonata III in F: II. Canzone

Lodovico Giustini: Sonata III in F: III. Andante, ma non presto

Lodovico Giustini: Sonata III in F: IV. Giga: Presto

Lodovico Giustini: Sonata IV in E Minor: I. Preludio: Largo

Lodovico Giustini: Sonata IV in E Minor: II Presto

Lodovico Giustini: Sonata IV in E Minor: III. Sarab[and]a: Largo

Lodovico Giustini: Sonata IV in E Minor: IV. Giga: Allegro
Disk 2
Lodovico Giustini: Sonata V in D: I. Preludio: Adagio, e arpeggiato nell'acciaccature

Lodovico Giustini: Sonata V in D: II. Allegro

Lodovico Giustini: Sonata V in D: III. Affettuoso

Lodovico Giustini: Sonata V in D: IV. Corrente: Allegro

Lodovico Giustini: Sonata V in D: V. Tempo di Gavotta

Lodovico Giustini: Sonata vi in B flat: I. Preludio: Grave

Lodovico Giustini: Sonata vi in B flat: II. Allegro assai

Lodovico Giustini: Sonata vi in B flat: III. Dolce

Lodovico Giustini: Sonata vi in B flat: IV. Giga: Allegro

Lodovico Giustini: Sonata viI in G: I. Alemanda: Andante

Lodovico Giustini: Sonata viI in G: II. Corrente: Presto assai

Lodovico Giustini: Sonata viI in G: III. Siciliana: Affettuoso

Lodovico Giustini: Sonata viI in G: IV. Gavotta: Presto

Lodovico Giustini: Sonata viII in A: I. Sarabanda: Affettuoso

Lodovico Giustini: Sonata viII in A: II. Allegro

Lodovico Giustini: Sonata viII in A: III. Rondò: Affettuoso

Lodovico Giustini: Sonata viII in A: IV. Giga: Prestissimo
Disk 3
Lodovico Giustini: Sonata IX in C: I. Sarab[and]a: Andante

Lodovico Giustini: Sonata IX in C: II. Alemanda: Allegro

Lodovico Giustini: Sonata IX in C: III. Rondò: Affettuoso

Lodovico Giustini: Sonata IX in C: IV. Gavotta: Allegro

Lodovico Giustini: Sonata X in F Minor: I. Alemanda: Affett[uos]o

Lodovico Giustini: Sonata X in F Minor: II. Canzone: Tempo di Gavotta

Lodovico Giustini: Sonata X in F Minor: III. Alemanda: Grave, e Affett[uos]o

Lodovico Giustini: Sonata X in F Minor: IV. Corrente: Allegro assai

Lodovico Giustini: Sonata XI in E: I. Alemanda: Allegro, ma non presto

Lodovico Giustini: Sonata XI in E: II. Dolce

Lodovico Giustini: Sonata XI in E: III. Gavotta

Lodovico Giustini: Sonata XI in E: IV. Rondò: Affettuoso

Lodovico Giustini: Sonata XI in E: V. Giga: Allegro assai

Lodovico Giustini: Sonata XII in G: I. Sarabanda: Largo

Lodovico Giustini: Sonata XII in G: II. Canzone

Lodovico Giustini: Sonata XII in G: III. Siciliana: Affettuoso

Lodovico Giustini: Sonata XII in G: IV. Giga: Presto assai

Lodovico Giustini: Sonata XII in G: V. Minuet: Allegro