Glass: Mad Rush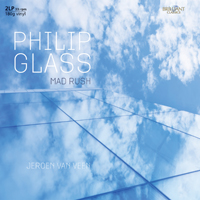 | | |
| --- | --- |
| Composer | Philip Glass |
| Artist | Veen Jeroen van |
| Format | 2 LP |
| Cat. number | 90003 |
| EAN code | 5028421900032 |
| Release | December 2014 |
About this release
Despite its title, this album is anything but a 'mad rush'; indeed, any listener looking to relax and better acquaint themselves with the music of Philip Glass will no doubt be affected by the sheer beauty of the mesmeric works that make up the release.
Jeroen van Veen, a consummate performer and minimalist composer in his own right, has delved into the lesser-known area of
Glass's output to bring together a highly varied repertoire. Beginning with Metamorphosis, a piece made up of five sections that comprise beautifully subtle transformations, and ending with Mad Rush, less 'mad' than the energetic Metamorphosis, the release also includes musical excerpts from the film The Hours – the score for which Glass won the Best Film Music BAFTA in 2002. The American composer has had an unusual career, eschewing traditional paths of classical music to incorporate more exotic elements into his work, such as patterns and rhythms drawn from traditional Indian music. He is now one of the most successful minimalist composers of our time, crossing a wide variety of traditional genres with his music for film and TV as well as the concert hall. This LP release is essentially an abbreviated, or 'best of', version of Van Veen's recent 3CD compilation devoted to Glass's music, Solo Piano Music (9419). Brilliant Classics is proud to present this updated release as part of its new line of vinyl albums, which make up the very best of modern classical music. Jeroen van Veen, described as "the leading exponent of Minimalism in Holland today" (Fanfare), is an ardent fan of Glass's works, believing this repertoire to be the
perfect introduction for those unfamiliar with the composer's style.

This double-LP issue presents a generous selection of the piano works by Philip Glass, probably the most iconic figure of Minimal Music. In Glass' music the element of repetition creates a magical atmosphere, in which the little cells of musical motives shift constantly, seemingly by chance, like clouds in the sky.

Other information:
Jeroen van Veen recorded Glass' complete piano music on 3 CD's, this LP issue reaches out for a new audience, adventurous and open minded.
With extensive notes on the composer.
180 grams audiophile Vinyl, 33 ⅓ rpm.
Recorded in 2006 at St Barbara's Church, Culemborg, The Netherlands.
Track list
Disk 1
Metamorphosis I

Metamorphosis II

Metamorphosis III
Disk 2
Metamorphosis IV

Metamorphosis V

Wichita Vortex Sutra
Disk 3
Glassworks – Opening

'The Hours' from The Hours

'Morning Passages' from The Hours
Disk 4
Olympian

Mad Rush