Glazunov: Music for Piano 4-hands and 2 Pianos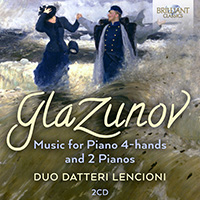 | | |
| --- | --- |
| Composer | Alexander Glazunov |
| Artist | Duo Datteri Lencioni |
| Format | 2 CD |
| Cat. number | 96069 |
| EAN code | 5028421960692 |
| Release | May 2022 |
About this release
A precocious Alexander Kostantinovich Glazunov at 16 took the Russian concert scene by storm. The teenage composer had plentiful musical ideas, a full mastery of form and enviable skill in orchestration, certainly influenced by his teacher, Rimsky-Korsakov. However, unlike his predecessors, the "Mighty Handful", Glazunov lived through the political unrest that ultimately led to the Russian revolution and to communism. His directorship of the St Petersburg Conservatoire straddled Czarism and the first years of communist rule, yet ultimately his Russian musical ideal did not correspond to that of Soviet music (nor did his ideal of Russian life correspond to Soviet life). He consequently he fled the USSR, finding refuge in Western Europe, and Glazunov can now be counted among those unjustly neglected artists whose national pre-eminence was unseated by exile. the sobriety of the piano version can highlight musical details that might go unnoticed in the lush orchestral treatment.

Alexander Glazunov (1865-1936) was one of the most important Russian romantic composers, but he didn't belong to the "Mighty Handful" or "The Five", whose strongly nationalistic tendencies he respected, but did not embrace. Glazunov's music is of "western" charm, lyricism and inner passion. As the Director of the St. Petersburg Conservatoire he led the institution both under Czarism (he reinstated his former teacher Rimsky-Korsakov who had been dismissed for political reasons) and under the first years of communist rule. He influenced a musician of Dimitry Shostakovich's standing, and taught many other great musicians of the early twentieth century.
This new recording presents works for piano 4-hands and for 2 pianos, both original works and arrangements of orchestral works (such as his famous tone poem Stenka Razin). Glazunov's fame in orchestral instrumentation did apply to the piano as well: he perfectly knew how to obtain an almost infinite palette of timbral and dynamic shades on the piano.
The Duo Fabrizio Datteri and Nadia Lencioni attended a master class held by Bruno Canino and summer courses held by Aquiles delle Vigne at the Mozarteum of Salzburg, where they were also invited to play in the Wiener Saal. In 2002 they graduated at the Accademia Pianistica Internazionale Incontri col Maestro di Imola with the special award "Master".

Recorded in Perugia, Italy.
Booklet in English contains notes on the composer and the works, by musicologist and pianist Chiara Bertoglio, as well as a biography of the duo.
Listening
Track list
Disk 1
Alexander Glazunov: Carnaval, Ouverture in F Major, Op. 45: I. Allegro, alla breve

Alexander Glazunov: Serenade No. 1 in A Major, Op. 7: I. Allegretto

Alexander Glazunov: Serenade No. 2 in F Major, Op. 11: I. Allegro scherzando

Alexander Glazunov: Moyen-âge suite, Op. 79: I. Prélude. Allegro

Alexander Glazunov: Moyen-âge suite, Op. 79: II. Scherzo. Allegro assai

Alexander Glazunov: Moyen-âge suite, Op. 79: III. Sérénade du troubadour. Andantino

Alexander Glazunov: Moyen-âge suite, Op. 79: IV. Finale. Allegro

Alexander Glazunov: Russische Fantasie in A Major, Op. 86: I. Andante, vivo

Alexander Glazunov: Concert Waltz No. 1 in D Major, Op. 47: I. Allegro
Disk 2
Alexander Glazunov: Fantaisie in F Minor, Op. 104: I. Moderato tranquillo

Alexander Glazunov: Fantaisie in F Minor, Op. 104: II. Scherzo. Allegro

Alexander Glazunov: Fantaisie in F Minor, Op. 104: III. Moderato. Allegro

Alexander Glazunov: Finnish Sketches in E Major, Op. 89: I. Aus Kalewala. Moderato assai

Alexander Glazunov: Cortège solennel in D Major, Op. 50: I. Moderato

Alexander Glazunov: Stenka rãzine, poème symphonique in B Minor, Op. 13: I. Andante. Allegro con brio. Allegro moderato. Allegro con brio. Poco animato. Tempo I. Andante mosso. Allegro molto