Gnattali: 4 Concertinos for Guitar and Orchestra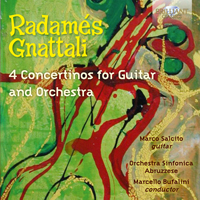 Composer
Radamés Gnattali
Artist
Marco Salcito guitar
Orchestra Synfonica Abruzzese
Marcello Buffalini conductor
Format
1 CD
Cat. number
95491
EAN code
5028421954912
Release
June 2017
About this release
Brazilian composers already feature in the extensive library of guitar music on Brilliant Classics: not only the obvious name of Villa-Lobos (BC9196) but on a more diverse survey by Flavio Apro (BC94810), including lesser-known names such as João Pernambuco and Egberto Gismonti whose work also fused traditional Brazilian genres with elements of jazz, classical, world and contemporary music.

To their names may now be added Radamés Gnattali (1906-1988). Having composed much music of a consciously national flavour in the early part of his career, emulating Villa-Lobos, he sought a broader appeal during the 1950s with works such as these four guitar concertinos, dating between 1951 and 1967, which use neo-Romantic and neo-classical moulds while maintaining the light style often associated with symphonic jazz. The tricky balance between guitar and orchestra is skilfully
handled by means of dialogue and contrast, investing the structure of each work with a degree of intimacy more usually associated with chamber music.

The Second Concertino was written for Aníbal August Sardinha, known as Garoto, one of the creators of the bossa nova sound. Even though the concerto clearly reflects the guitarist's manner of playing, the first movement also reveals the influence of American composers such as Bernstein and Gershwin, the third that of the new trends in symphonic and progressive rock music, with its pressing patterns, while the second embodies something of the melancholy typical of the bossa redolent of saudade. The Third is scored for an unusual ensemble of guitar, flute, timpani and strings, in which the flute also has a soloistic part; the Fourth returns to a string-only ensemble for accompaniment.

These premiere recordings are the work of Marco Salcito, who returned to Gnattali's original manuscripts to edit the scores afresh; all guitar-music enthusiasts will be keen to hear his work.

Nikolay First recording of the complete Concertinos for guitar and orchestra by Radamés Gnattali.
Radamés Gnattali (1906-1988), son of Italian immigrants, is one of the most popular and famous composers of his native Brazil, where he is mentioned in the same breath as Villa-Lobos. His music is the perfect fusion of the high and the low, of formally structured classical music and the vibrant multi-coloured folk culture of Brazil.
The 4 Concertinos for guitar and orchestra are medium-sized, 3-movement works, highly entertaining and brimming with good tunes, groovy rhythms and brilliant instrumentation: a real discovery!
Played with infectious enthusiasm by guitarist Marco Salcito and the Orchestra Sinfonica Abruzzese conducted by Marcello Bufalini.
Listening
Track list
Disk 1
Radamés Gnattali: Guitar Concertino No. 1: I. Moderato

Radamés Gnattali: Guitar Concertino No. 1: II. Andante

Radamés Gnattali: Guitar Concertino No. 1: III. Com espìrito

Radamés Gnattali: Guitar Concertino No. 2: I. Allegro moderato

Radamés Gnattali: Guitar Concertino No. 2: II. Saudoso

Radamés Gnattali: Guitar Concertino No. 2: III. Allegretto com espìrito

Radamés Gnattali: Guitar Concertino No. 3: I. Allegro

Radamés Gnattali: Guitar Concertino No. 3: II. Calmo

Radamés Gnattali: Guitar Concertino No. 3: III. Ritmado

Radamés Gnattali: Guitar Concerto No. 4: I. Allegro moderato

Radamés Gnattali: Guitar Concerto No. 4: II. Lento

Radamés Gnattali: Guitar Concerto No. 4: III. Ritmado