Goedicke: Music for Violin & Piano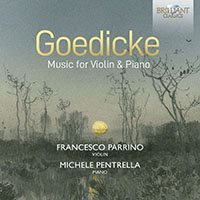 Composer
Alexander Fyòdorovich Goedicke
Artist
Francesco Parrino violin
Michele Pentrella piano
Format
1 CD
Cat. number
95973
EAN code
5028421959733
Release
December 2021
About this release
A Russian musician, born in 1877 and a cousin of Medtner, Goedicke's ephemeral fame was almost completely eclipsed in the Soviet era. He was neither rebel enough to attract the attention of the Western intellectual world, nor ambitious enough to carve out a career within the regime's apparatus.

Having completed his conservatory studies, in 1900 he competed as both composer and pianist in the third Rubinstein Competition in Vienna, winning the composition prize with his Konzertstück for piano and orchestra. Medtner, who also took part in the competition, recalls in his Memoirs that the prize for best pianist was given to the Belgian Emile Bosquet – whom he considered inferior to both himself and Goedicke – because the jury had developed a hostile attitude towards Russian pianists and did not want to bestow two prizes on Goedicke. In fact, Goedicke won in the composers' category with the Violin Sonata Op.10, as well.

That Violin Sonata, composed in 1899 (but published in 1901 by Jurgenson), is dedicated to Jan Hřiìmalyì, a Czech violinist and fellow-professor of Goedicke's at the Moscow Conservatory. The sonata's nickname, "Vesennjaja" (spring), is a clear reference to Rachmaninov's song "Spring Waters" Op.14/11, which is quoted at the beginning of the first and the end of the final movement of Goedicke's sonata. But even greater than the influence of Rachmaninov is that of German Romanticism.

While Op.10 is a youthful work, the Violin Sonata Op.83, composed between 1948 and 1953 (but published only posthumously in 1972), is a clear rebuttal of Tikhon Khrennikov's notorious anti-formalist attacks (on Shostakovich and Prokofiev, among others) from a composer shielded behind decades of academic tenure. The sonata reaches far into the past, even to early Beethoven, with a construction so formally impeccable as to seem almost provocatively anachronistic. On the other hand, the 10 Pieces Op.80 ("of average difficulty, in first position"), also dating from 1948, are wholly different. Effectively combining pleasant melody and the evocation of childhood, they fit with dignity in a line stretching from Schumann's to Tchaikovsky's Albums for the Young, shedding light on Goedicke's prolific didactic side.

Alexander Fyodorovich Goedicke (1877-1957) was a Russian composer and pianist. At the Moscow Conservatory he proved himself as a piano virtuoso, studying with Vasily Safonov, Anatolij Galli and Paul Pabst, while Anton Arensky was his most important composition teacher. Goedicke won the Anton Rubinstein Competition in 1900. Despite his lack of traditional guidance, his compositional efforts were rewarded when he won the Rubinstein Prize for Composition at the young age of 23. Later he became a professor at the Moscow Conservatory himself, teaching, piano, organ and chamber music. He was Nikolai Medtner's first cousin.
The Violin Sonata in A major No. 1 Op. 10, composed in 1899, bears the nickname "Vesennjaja" ("spring"), a clear reference to Rachmaninov's "Spring Waters", the Song composed in 1896 which is quoted at the beginning of the first movement of the Sonata and at the end of the last one, so as to confer cyclical unity. Goedicke's deep admiration for his slightly older colleague is testified by a way of writing in which he recalls not only the fact that his father had taken him to hear all the concerts of that young prodigy but also that, in 1903, "the performance of my symphony [the First, Op.15] was helped by Sergei Vasilevich, who patronised it and gave me the opportunity to conduct it myself".'
The second Violin Sonata was written between 1948 and 1953, in "formalist Soviet" style, with reminiscences from Haydn to Kabalevsky.
Played by Francesco Parrino (violin) and Michele Pentrella (piano). Parrino already recorded the complete violin sonatas by Leo Ornstein for Brilliant Classics, to great critical acclaim, "undeniable technical finesse and emotional commitment… "(Gramophone).

Other information:
All works are world-premiere recordings
Recorded in October 2019 and September 2020 in Castrezzato (Brescia), Italy
Bilingual booklet in English and Italian contains notes on the composer and the works by Nicola Cattò, director of the Italian classical music magazine Musica
Francesco Parrino plays a G. & A. Gagliano violin (Naples, c.1790–1805)
Michele Pentrella plays a Yamaha CFIIIS 9-foot concert grand.
Track list
Disk 1
Alexander Fyòdorovich Goedicke: Violin Sonata No. 1 in A Major, Op. 10: I. Allegro

Alexander Fyòdorovich Goedicke: Violin Sonata No. 1 in A Major, Op. 10: II. Andante sostenuto ma non troppo

Alexander Fyòdorovich Goedicke: Violin Sonata No. 1 in A Major, Op. 10: III. Finale. Allegro molto e con brio

Alexander Fyòdorovich Goedicke: Violin Sonata in No. 2 in D Major, Op. 83: I. Allegro con brio

Alexander Fyòdorovich Goedicke: Violin Sonata in No. 2 in D Major, Op. 83: II. Largo

Alexander Fyòdorovich Goedicke: Violin Sonata in No. 2 in D Major, Op. 83: III. Scherzo. Allegro animato

Alexander Fyòdorovich Goedicke: Violin Sonata in No. 2 in D Major, Op. 83: IV. Finale. Allegro non troppo

Alexander Fyòdorovich Goedicke: 10 Pieces for Violin and Piano, Op. 80: I. Gavotte

Alexander Fyòdorovich Goedicke: 10 Pieces for Violin and Piano, Op. 80: II. Tale

Alexander Fyòdorovich Goedicke: 10 Pieces for Violin and Piano, Op. 80: III. March

Alexander Fyòdorovich Goedicke: 10 Pieces for Violin and Piano, Op. 80: IV. Sketch

Alexander Fyòdorovich Goedicke: 10 Pieces for Violin and Piano, Op. 80: V. Aria

Alexander Fyòdorovich Goedicke: 10 Pieces for Violin and Piano, Op. 80: VI. Waltz

Alexander Fyòdorovich Goedicke: 10 Pieces for Violin and Piano, Op. 80: VII. Scherzo

Alexander Fyòdorovich Goedicke: 10 Pieces for Violin and Piano, Op. 80: VIII. In Meditation

Alexander Fyòdorovich Goedicke: 10 Pieces for Violin and Piano, Op. 80: IX. Etude

Alexander Fyòdorovich Goedicke: 10 Pieces for Violin and Piano, Op. 80: X. Etude