Granados: Piano Music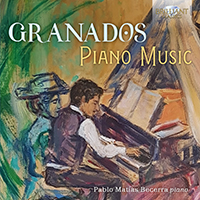 Download booklet
| | |
| --- | --- |
| Composer | Enrique Granados |
| Artist | Pablo Matías Becerra piano |
| Format | 1 CD |
| Cat. number | 96228 |
| EAN code | 5028421962283 |
| Release | April 2021 |
About this release
The many achievements of Enrique Granados (1867-1916) – a teacher, pianist, but more significantly a formative figure in the renaissance of Spanish music during the early years of the last century – are the more remarkable for springing from barren soil. As a teenager, Granados had a thorough schooling in piano from Joan Baptista Pujol; then a rather more partial one in harmony and composition from Felipe Pedrell, whose principal concern was a revival of native music comparable to other Nationalist movements across Europe in the late 19th century. Granados saw a broader horizon.
Valses poeticos, Escenas románticos: translate them into French or German, play them blind, and you may hear the cosmopolitan nature of Granados' inspiration. Chopin is there, obviously, Grieg too; more influential was Schumann, not least in the ways that literary and poetic ideas shape informal musical structures. The Valses are a youthful work of great beauty; the Allegro de Concierto, by contrast, was crafted as an ebullient, taxing display of his own formidable technique.
Granados was 'a born pianist', claimed Pablo Casals: 'music simply poured out of him'. While a performing tradition for this music has grown up around the recordings of Alicia de Larrocha, she herself remembered the improvisational quality of its invention. The composer's foremost student was Frank Marshall, who told de Larrocha how he was page-turning for Granados at a recital. The piece was 'El Pelele' from Goyescas, and all went well until the third page, when Marshall saw with amazement that what Granados was playing had nothing to do with what was written. So he ceased turning pages, while the composer played 'a totally new and brilliant 'Pelele'.
Belgian pianist Pablo Matías Becerra grew up in a family of musicians with their roots in the culture of Argentina. A former student of the legendary pedagogue Rena Shereshevskaya at the Ecole Normale de Musique in Paris, he has established a fast-moving career in solo and chamber music, including as the pianist of a tango trio. Shereshevskaya proclaims him as 'An extremely talented pianist with the promise of a bright future.'

Enrique Granados, the son of an army officer, received his musical education from the town bandsman, Captain Jose Junceda, until the family moved to Barcelona.
There he studied piano with Jurnet and later composition with Pedrell, the father of the nineteenth century nationalist movement in Spain. He earned his keep by playing in a café in the evenings.
At the age of twenty, Granados went to Paris to attend the Paris Conservertoire. Upon his return to his native country in 1900 he founded the Society of Classical Concerts, becoming their permanent conductor as well as appearing as soloist. In 1901, he founded the Pianoforte School which he named the "Academia Granados", directing it personally for fifteen years, producing many distinguished performers. In addition, Granados pursued his concert career as a pianist appearing with great success all over Spain.
Granados' most famous piano work is the suite Goyescas. However, this new recording presents some less familiar works by the Spanish master: the 8 Poetic Waltzes, the suite Escenas Romanticas and a variety of independent pieces, among which are "El Pelele" and the popular Allegro de Concierto, music of great charm, warmth, passion and pianistic glitter.
Played by Pablo Belgian pianist Pablo Matías Becerra, who is recognized for his insightful interpretations, distinctive sound and poetic sensibility.
Listening
Track list
Disk 1
Enrique Granados: 8 Valses poéticos: Preludio

Enrique Granados: 8 Valses poéticos: I. Melodioso

Enrique Granados: 8 Valses poéticos: II. Tempo di valse noble

Enrique Granados: 8 Valses poéticos: III. Tempo di valse lente

Enrique Granados: 8 Valses poéticos: IV. Allegro umoristico

Enrique Granados: 8 Valses poéticos: V. Allegretto

Enrique Granados: 8 Valses poéticos: VI. Quasi ad libitum

Enrique Granados: 8 Valses poéticos: VII. Vivo

Enrique Granados: 8 Valses poéticos: VIII. Presto – Tempo di valse

Enrique Granados: Danza Española, Op. 37: II. Oriental

Enrique Granados: El pelele

Enrique Granados: Danza Española, Op. 5: XII. Arabesca

Enrique Granados: Allegro de concierto, Op. 46

Enrique Granados: Escenas románticas: I. —

Enrique Granados: Escenas románticas: II. Recitativo

Enrique Granados: Escenas románticas: II. —

Enrique Granados: Escenas románticas: III. —

Enrique Granados: Escenas románticas: IV. —

Enrique Granados: Escenas románticas: V. —

Enrique Granados: Escenas románticas: VI. —