Grieg: Chamber Music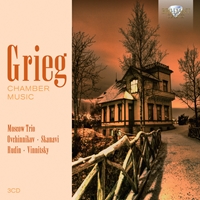 Composer
Edvard Hagerup Grieg
Artist
Alexander Vinnitsky violin
Vladimir Ovchinnikov piano
Alexander Rudin cello
Moscow Trio
Format
3 CD
Cat. number
94642
EAN code
5028421946429
Release
May 2013
About this release
Edvard Grieg was the father of Norwegian music; his most famous pieces are the Piano Concerto in A Minor and the incidental music to Peer Gynt. Sent to study at the conservatory of Leipzig during his teens, his compositions show a thorough grounding in the European Romantic tradition, although his later works explore the idea of a national Norwegian style.

His chamber music showcases the way in which he actively sought to weave the characteristics of Norwegian popular music into accepted compositional forms and styles. Grieg himself said of the violin sonatas: 'They are representative of the three periods of my evolution: the first naive and full of melodic ideas, the second nationalistic, and the third turning to much vaster horizons.' The quartet in G Minor initially proved a problem for the composer, but it is nonetheless a triumph, brimming with impressive moments such as the beauty of the pastoral reverie and the relentless rhythm of the energetic finale. The collection also includes the Cello Concerto in A Minor – written for Grieg's brother John, an amateur cellist – the String Quartet No.2 in F and the Andante con moto for piano trio.

The recording boasts a wealth of renowned chamber musicians; among them are the Moscow Trio, an ensemble that has achieved great success in Europe. Also featured are acclaimed performers such as Alexander Vinnitsky, Vladimir Ovchinnikov and Alexander Rudin.

Other information:
- Recorded September - November 1991, Moscow Conservatory.
- Edvard Grieg, Norway's most important composer, and the only one to gain international recognition as a "Great Composer", wrote more than his immortal Peer Gynt suites and the ever popular Piano Concerto. His chamber music is of high musical quality, and deserves wider recognition.
- Firmly rooted in the classical/romantic idiom of the 19th century with traces of Mendelssohn and Schumann, Grieg's music is never far away from the rich folklore of Norway, in which trolls and fairies come and go, and many a tune invites the shuffling of the feet in a Norwegian Peasant Dance.
- Beautiful performances by Russian forces.
- Contains notes on the music.
Track list
Disk 1
Violin Sonata No. 1 in F Major, Op. 8: I. Allegro con brio

Violin Sonata No. 1 in F Major, Op. 8: II. Allegretto quasi andantino

Violin Sonata No. 1 in F Major, Op. 8: III. Allegro molto

Violin Sonata No. 2 in G Major, Op. 13: I. Allegro vivace

Violin Sonata No. 2 in G Major, Op. 13: II. Allegretto tranquillo

Violin Sonata No. 2 in G Major, Op. 13: III. Allegro con animato

Andante con moto for Piano Trio
Disk 2
Violin Sonata No. 3 in C Minor, Op. 45: I. Allegro molto ed appassionato

Violin Sonata No. 3 in C Minor, Op. 45: II. Allegretto espressivo alla romanza

Violin Sonata No. 3 in C Minor, Op. 45: III. Allegro animato

Cello Sonata in A Minor, Op. 36: I. Allegro agitato

Cello Sonata in A Minor, Op. 36: II. Andante molto tranquillo

Cello Sonata in A Minor, Op. 36: III. Allegro molto e marcato
Disk 3
String Quartet No. 1 in G Minor, Op. 27: I. Poco andante

String Quartet No. 1 in G Minor, Op. 27: II. Romanza: Andantino

String Quartet No. 1 in G Minor, Op. 27: III. Allegro molto marcato

String Quartet No. 1 in G Minor, Op. 27: IV. Presto al saltarello

String Quartet No. 2 in F Major 'unfinished': I. Allegro vivace a gracioso

String Quartet No. 2 in F Major 'unfinished': II. Allegro scherzando