Grieg: Violin Sonatas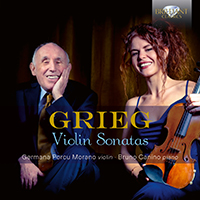 Composer
Edvard Hagerup Grieg
Artist
Germana Porcu Morano violin
Bruno Canino piano
Format
1 CD
Cat. number
96949
EAN code
5028421969497
Release
December 2023
About this release
A beloved trio of Romantic violin sonatas in the passionate and assured hands of an exciting Italian violinist near the start of her career: an auspicious debut on Brilliant Classics.
Winner of the 30th edition of Michelangelo Abbado violin competition held in Milan in 2009, Germana Porcu Morano studied in Bergamo, and has gone on to win several other national and international prizes included a scholarship funded by Claudio Abbado. She has performed as a soloist and in chamber ensembles across Europe and in China. She is a member of the Paganini String Quartet, with plans afoot to record the completequartets by Paganini.
In the meanwhile, Porcu Morano has produced a gripping account of the three violin sonatas by Edvard Grieg in partnership with one of the great Italian musicians of his generation, Bruno Canino. The pianist brings decades of experience to bear on parts which, especially in the testing Third Sonata, demand a virtuosity beyond anything in the Lyric Pieces. Meanwhile Porcu Morano's urgently communicative musicianship is well suited to works which exemplify the fascinating tension between Grieg's musical nationalism and his cosmopolitan outlook as a composer with colleagues and friends across Europe.
There are Norwegian elements to all three sonatas – Grieg's teacher, Niels W Gade, even pronounced his verdict on the Second as 'too Norwegian' – but in counterbalance to the folk-like melodies which especially bring a rustic character to both slow movements and finales, there is a breadth of form and broad current of German romanticism to be appreciated in the first movements. Grieg himself took particular pride in the Third, a work of full maturity written in 1886 unlike the student efforts of the first two sonatas, and Porcu Morano's performance captures the composer's sense of its 'broader horizons'.

- Edvard Grieg (1843-1907) is without doubt the most significant Norwegian composer. He was educated at the Leipzig Conservatory, where his early models were Schubert, Mendelssohn and Schumann. Later, in his early twenties, he developed an affinity for Norwegian peasant culture thanks to the influence of the great Norwegian musician Ole Bull. That effected a major change in his musical outlook, and for the rest of his life he immersed himself in Norwegian literature and folk music, placing him firmly in the ranks of the nationalist composers that characterized the second half of the 19th century.
- Grieg himself writes about his violin sonatas in a letter of 1900: 'the three Sonatas for violin and piano belong to my best works and represent periods of my development; the first, naive, rich in models; the second, national; the third with the widest horizons.".
- The first sonata in F major is a lyrical and passionate work, brimming with melodies that echo the folk tunes of Norway. Grieg's second sonata in G major is more introspective, with its delicate themes and tender moments, showcasing his emotional depth. The final sonata in C minor is a dramatic and powerful piece, marked by its intense emotions and virtuosic passages.
- Played by young violinist Germana Porcu Morano, winner of the prestigious "Concorso Internazionale per Violinisti Michelangelo Abbado" in Milano. Her partner at the piano is Bruno Canino, nestor of the Italian pianist guild, having played with all the musical celebrities of the 20-th century.
Listening
Track list
Disk 1
Edvard Hagerup Grieg: Sonata No. 1 in F Major, Op. 8: I. Allegro con brio

Edvard Hagerup Grieg: Sonata No. 1 in F Major, Op. 8: II. Allegretto quasi andantino

Edvard Hagerup Grieg: Sonata No. 1 in F Major, Op. 8: III. Allegro molto vivace

Edvard Hagerup Grieg: Sonata No. 2 in G Major, Op. 13: I. Lento doloroso – Allegro vivace

Edvard Hagerup Grieg: Sonata No. 2 in G Major, Op. 13: II. Allegretto tranquillo

Edvard Hagerup Grieg: Sonata No. 2 in G Major, Op. 13: III. Allegro animato

Edvard Hagerup Grieg: Sonata No. 3 in C Minor, Op. 45: I. Allegro molto ed appassionato

Edvard Hagerup Grieg: Sonata No. 3 in C Minor, Op. 45: II. Allegretto espressivo alla romanza

Edvard Hagerup Grieg: Sonata No. 3 in C Minor, Op. 45: III. Allegro animato