Griffes: The Vale of Dreams, Piano Music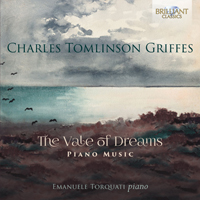 | | |
| --- | --- |
| Composer | Charles Tomlinson Griffes |
| Artist | Emanuele Torquati piano |
| Format | 1 CD |
| Cat. number | 95349 |
| EAN code | 5028421953496 |
| Release | March 2017 |
About this release
Emanuele Torquati has won critical acclaim for his Brilliant Classics albums. According to the reviewer for Fanfare magazine, 'Torquati's playing is consistent, and consistently good. I would highly recommend this set to any student of Roussel.' In partnership with Francesco Dillon, he recorded the music for cello and piano by Liszt (BC94150) and Schumann (BC94060 and BC94328), including many rare works and transcriptions. There are two previous solo albums, surveying the piano output of Roussel (BC94329) and Zemlinsky (BC95067): lesser-known Romantic composers are his speciality.

Among their number must be counted Charles Tomlinson Griffes, who was endowed with a creative vein that allowed him to produce, in the space of a decade, works for the piano that were to become a point of reference for the following generation of American composers, especially Charles Ives and Aaron Copland. Indeed, Copland paid him posthumous tribute at Harvard in 1952: 'What he gave those of us who came after him was a sense of the adventurous in composition, of being thoroughly alive to the newest trends in world music and to the stimulus that might be derived from such contact.'

Such exuberance and influence is most vividly apparent in the three-movement Sonata which is the most forward-looking work on the disc. In its bitonality and untameable energy lie the seeds of a modern American music waiting to be nurtured by Ives and Elliott Carter. Earlier works are poetically inspired, such as the Roman Sketches Op.7, which became repertoire items for the likes of Olga Samaroff and Dame Myra Hess. With its overlapping chords, 'Nightfall' conjures up an aura of mystery, while 'The Fountain of Acqua Paola' is a virtuoso piece somewhat reminiscent of Liszt's Les jeux d'eaux à la Villa d'Este. No less a figure than Ferruccio Busoni was greatly struck by Griffes's music, especially the three-movement cycle of tone poems from which this album draws its evocative title, The Vale of Dreams.

Charles Tomlinson Griffes (1884-1920) was one of the most original and well-known romantic American composers. Born into a wealthy family he started studying the piano at an early age, and went to Europe for further education, an essential rite of passage for any aspiring American musician. In Europe he got acquainted with the Avant Garde of that time: Debussy, Ravel, Scriabin, Schoenberg. On his return in the States he developed his own personal style, influenced by his love for literature and poetry.
Griffes' style is fundamentally romantic, with occasional influences of impressionism. This new recording contains his complete works for piano: the ambitious Piano Sonata and several collections of character pieces with titles such as "The Lake at Evening" and "The Vale of Dreams".
Excellent performances by Italian pianist Emanuele Torquati, who already made successful recordings for Brilliant Classics of piano music by Roussel (BC94329) and Zemlinsky (BC95067).
Booklet notes written by the artist, in both English and Italian.
Track list
Disk 1
3 Tone-Pictures, Op. 5: I. The Lake at Evening

3 Tone-Pictures, Op. 5: II. The Vale of Dreams

3 Tone-Pictures, Op. 5: III. The Night Winds

Winter Landscape

Fantasy Pieces, Op. 6: I. Barcarolle

Fantasy Pieces, Op. 6: II. Notturno

Fantasy Pieces, Op. 6: III. Scherzo

Rhapsody in B Minor

De Profundis

Roman Sketches, Op. 7: I. The White Peacock

Roman Sketches, Op. 7: II. Nightfall - Al far della note

Roman Sketches, Op. 7: III. The Fountain of the Acqua Paola

Roman Sketches, Op. 7: IV. Clouds

Piano Sonata, A.85: I. Feroce – Allegretto con moto

Piano Sonata, A.85: II. Molto tranquillo

Piano Sonata, A.85: III. Allegro vivace