Guastavino: Song Cycles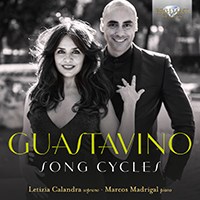 Composer
Carlos Guastavino
Artist
Letizia Calandra soprano
Marcos Madrigal piano
Format
1 CD
Cat. number
95798
EAN code
5028421957982
Release
August 2020
About this release
The Argentinian composer Carlos Guastavino (1912-2000) was unafraid to distance himself from contemporary modernism. He resolutely followed his own path, leaving experimentation to others, creating a catalogue of over 500 intimate, autobiographical works harking back to the 19th century, many of them for voice and piano. In keeping with the aesthetic of these songs, this album has been given a 'vintage' sound quality, evocative of the 45 and 78 rpm records of a bygone era.

Guastavino studied chemical engineering in the Argentinian town of Santa Fe, before going to Buenos Aires in 1938, having received a district grant to study music at the National Conservatory. But on arriving there, instead of entering the conservatory, he elected to take private lessons. His earliest published songs date from around this time, and they became taken up by European artists who were entranced by Guastavino's gift for memorable, singable melody. Concert tours took him across the world, but his music was always flavoured by the sound of his homeland nostalgia for Argentina, its people, and especially its flora and fauna in such works as Flores Argentinas (1969) and Siete Canciones sobre poesías de Rafael Alberti (1946).

The intelligence and artistic sensitivity of Cuban pianist Marcos Madrigal and Italian soprano Letizia Calandra, combined with the poetics of Guastavino, make for an album of warmth, tranquillity and delight. Letizia Calandra combines perfect diction with a gift for creating different vocal colours, and a dramatic skill that conveys the theatrical quality of Guastavino's settings. For his part, Marcos Madrigal is sensitive to all the little nods and winks in Guastavino's writing, accentuating for example his quotation of instrumental commonplaces of other periods, such as the horn call in 'Jardín de amores' (Garden of love), the first of the Alberti songs.

'Letizia Calandra is a perceptive and musical interpreter. She draws on a wealth of experience in idioms as diverse as opera and folk song to create vivacious readings of these rarely recorded works.' ('Erotica Antiqua', 95448: Fanfare magazine, January 2018

'Letizia Calandra's fresh, youthful style is the disc's trump card… she is a radiant artist.' (Donizetti songs, 95672: Fanfare magazine, July 2019)

Carlos Guastavino (1912-2000) was one of the most important and famous composers of 20th century Argentina. He wrote over 500 works, most of them songs for voice and piano. He chose his own, personal style, rooted in the Romantic period of the 19th century, tonal, seductive and expressing his deep love for his country and its folklore. He is sometimes called "The Schubert of the pampas".
Soprano Letizia Calandra and pianist Marcos Madrigal made a generous selection of songs by Guastavino. They catch the atmosphere of the songs to perfection, Calandra's diction is top notch, she creates a myriad of vocal colours and she has the dramatic skills that allow her to convey the full theatrical sense of the texts. Marcos Madrigal, an excellent pianist from Cuba, knows the idiom inside out.
Letizia Calandra made several highly acclaimed recordings for Brilliant Classics in which her voice, a perfect blend of the cultured and the popular, is praised: "Scarlatti and the Neapolitan Song", Donizetti songs, Erotica Antiqua and Ninna Nanna (lullabies).