Hässler: Harpsichord Music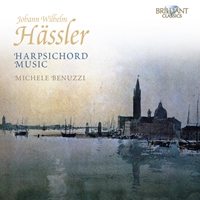 | | |
| --- | --- |
| Composer | Johann Wilhelm Hässler |
| Artist | Michele Benuzzi harpsichord |
| Format | 1 CD |
| Cat. number | 94293 |
| EAN code | 5028421942933 |
| Release | January 2012 |
About this release
Johann Wilhelm Hässler's keyboard works occupy a fascinating position in the history of music. Although the composer was a harpsichord virtuoso in the late 18th century, just as his instrument was beginning to fall out of favour with composers and performers as the piano increased in popularity, Hässler's music was not hopelessly old-fashioned. He was a successful pianist and organist, and a great admirer of C.P.E. Bach who he had met several times. He undertook many concert tours throughout Europe, and was able to publish a large quantity of music during his lifetime. The works heard in this collection can, in fact, be understood as a bridge between the Baroque composers who preceded him and the Classical and early-Romantic era that followed, drawing on a range of contrasting styles to create music of great drama, complexity and even theatricality.

The music heard on this new recording is particularly rare; it is found only in anonymous manuscripts and has previously been misattributed to W.F. Bach. As such, Michele Benuzzi's thoroughly researched performances are an excellent opportunity to hear repertoire that will be unfamiliar to many listeners.

Other information:
- World premiere recording, made in 2011
- Rare repertoire from a minor master who bridged the gap between the Baroque and Classical styles
- Performed on an 18th-century harpsichord from the Russell Collection, Edinburgh
- Harpsichordist Michele Benuzzi did thorough research into this music, some of which was formerly attributed to Wilhelm Friedemann Bach, and he prepared the present edition, as well as writing the extremely informative liner notes.
Track list
Disk 1
Fantasia in C Minor (Leipzig, 1776)

Sonata in D (Leipzig, 1776): I. Allegro di Molto

Sonata in D (Leipzig, 1776): II. Andante

Sonata in D (Leipzig, 1776): III. Con Brio

Fantasia in A (Leipzig, 1779)

Sonata in A (Leipzig, 1779): I. [Moderato]

Sonata in A (Leipzig, 1779): II. Adagio

Sonata in A (Leipzig, 1779): III. Scherzo-Allegro

Fantasia in D (Leipzig, 1786)

Sonata in D Minor (Leipzig, 1779): I. [Allegro]

Sonata in D Minor (Leipzig, 1779): II. Arioso

Sonata in D Minor (Leipzig, 1779): III. Presto

Fantasia in C (Erfurt, 1782)

Rondeau in C (Leipzig, 1779)

Ariette mit einigen Veräderungen (Leipzig, 1786): 'Der Demoisel Scherniß in Erfurth zugeeignet'        

Fantasia in E Minor (Moscow, 1803)   

Sonata in A Minor (Leipzig, 1776): I. Poco allegro        

Sonata in A Minor (Leipzig, 1776): II. Largo     

Sonata in A Minor (Leipzig, 1776): III. Presto