Hässler: Keyboard Sonatas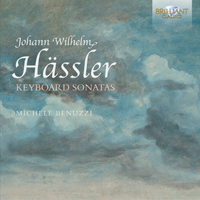 | | |
| --- | --- |
| Composer | Johann Wilhelm Hässler |
| Artist | Michele Benuzzi harpsichord |
| Format | 4 CD |
| Cat. number | 95225 |
| EAN code | 5028421952253 |
| Release | December 2016 |
About this release
As Michele Benuzzi himself explains in a booklet-essay, the idea for this comprehensive collection came about through the success of his smaller, 1CD survey of harpsichord music by Johann Wilhelm Hässler on Brilliant Classics (BC94293), released in 2012. Since then he has gone on to record no less stimulating Baroque discoveries, of music by Josep Galles (BC95228) and Christoph Nichelmann (BC94809).

J.W. Hässler (1747-1822) is not to be confused with Hans Leo Hassler (1564-1612), whose music has hitherto been better nown and more frequently recorded. Born three years before the death of J.S. Bach, J.W. Hässler's style embraces both the high-Baroque idiom and then the more edgy, episodic pre-Classical style of his sons, C.P.E. and W.F. Bach. Featured here are three published collections, published in Germany between 1776 and 1780 which reveal him moving from one into
the other. Mozart was fairly scathing about him upon the occasion of their one encounter, in Dresden in 1789 – 'incapable of executing a fugue properly' – but five years later Hässler moved to St Petersburg where he secured local fame and a small fortune.

Benuzzi has chosen to illuminate the composer's stylistic journey from polyphony and counterpoint to much more freely composed forms with different instruments. The six sonatas in the 1776 collection are played on a harpsichord, then the 1778 set on a fortepiano and the 1780 'Leichte Sonaten' on a clavichord, both latter instruments based on originals by Gottfried Silbermann, Bach's favourite maker of keyboard instruments.

Fanfare gave an 'absolute highest recommendation' to Benuzzi's previous Hässler album. 'He is the ideal interpreter
to bring this music to light: highly sensitive to the gesture and emotion of the music, yet capable of carrying the musical narrative forward in telling fashion.'

The second instalment of the complete keyboard works by Johann Wilhelm Hässler.
Johann Wilhem Hässler lived from 1742 to 1822, the transition of the Baroque to the Classical era. His style embraces the Empfindsamkeit initiated by W.F. Bach and C.Ph.E. Bach and the heritage of J.S. Bach. These different idioms perfectly coexist to create his complex language, however, Hässler progressively abandoned the baroque heritage to develop a more modern style embracing a more classical aesthetic. The works on these 4 CD's clearly mark the stylistic development of Hässler, from Baroque polyphony and counterpoint to the graceful classical language in Haydn style. Michele Benuzzi uses 4 different instruments, to achieve maximum variety and to follow the stylistic and instrumental progression of the works: harpsichord, clavichord, Silbermann piano and Broadwood piano. Benuzzi's earlier recording of Hässler (BC94239) received excellent reviews: "a most intriguing composer..admirable performance" (Musicweb) Excellent liner notes by the artist.
Track list
Disk 1
Fantasia in C Minor

Sonata I in C Major: I. Vivace

Sonata I in C Major: II. Adagio

Sonata I in C Major: III. Allegro, ma non presto

Sonata II in G Major: I. Con spirit

Sonata II in G Major: II. Larghetto

Sonata II in G Major: III. Presto

Sonata III in B-Flat Major: I. Allegretto grazioso

Sonata III in B-Flat Major: II. Minuetto I & II

Sonata III in B-Flat Major: III. Allegro

Sonata IV in D Major: I. Allegro di molto

Sonata IV in D Major: II. Andante

Sonata IV in D Major: III. Con brio

Sonata V in F Major: I. Allegro assai

Sonata V in F Major: II. Adagio è sostenuto

Sonata V in F Major: III. Arietta con variazioni
Disk 2
Sonata VI in A Minor: I. Poco allegro

Sonata VI in A Minor: II. Largo

Sonata VI in A Minor: III. Presto

Sonata I in B-Flat Major: I. Allegro, ma non troppo

Sonata I in B-Flat Major: II. Adagio

Sonata I in B-Flat Major: III. Allegro assai

Sonata II in A Major: I. —

Sonata II in A Major: II. Adagio

Sonata II in A Major: III. Scherzo – Allegro

Sonata III in G Minor: I. Poco Allegro

Sonata III in G Minor: II. Andantino, grazioso

Sonata III in G Minor: III. Allegro di molto

Sonata IV in C Major: I. Moderato

Sonata IV in C Major: II. Adagio

Sonata IV in C Major: III. Presto
Disk 3
Sonata V in D Minor: I. —

Sonata V in D Minor: II. Arioso

Sonata V in D Minor: III. Presto

Sonata VI in E-Flat Major: I. Poco allegro

Sonata VI in E-Flat Major: II. Rondeau – Allegro

Anhang: I. Fantasia

Anhang: II. Das Glück in Verleumdung

Anhang: III. Minuetto I & II

Anhang: IV. Alla polacca

Anhang: V. Rondeau

Anhang: VI. Die Zukunft

Anhang: VII. Minuetto I & II

Anhang: VIII. Der Bauer

Anhang: IX. Die Hoffnung

Anhang: X. Selig, wer mit

Sonata con violino in G Major: I. Andantino

Sonata con violino in G Major: II. Allegro

Prestissimo
Disk 4
Sonata I in G Major: I. Un poco andante

Sonata I in G Major: II. Adagio

Sonata I in G Major: III. Allegro

Sonata II in A Major: I. Tempo di minuetto

Sonata II in A Major: II. Poco largo

Sonata II in A Major: III. Allegro assai

Sonata III in D Minor: I. Allegro con spirit

Sonata III in D Minor: II. Adagio

Sonata III in D Minor: III. Presto

Sonata IV in B-Flat Major: I. Poco allegro

Sonata IV in B-Flat Major: II. Poco adagio

Sonata IV in B-Flat Major: III. Allegro

Sonata V in F Major: I. Allegretto, con grazia

Sonata V in F Major: II. Adagio e sostenuto

Sonata V in F Major: III. Presto assai

Sonata VI in C Major: I. Moderato

Sonata VI in C Major: II. Presto