Hassler: Complete Organ Music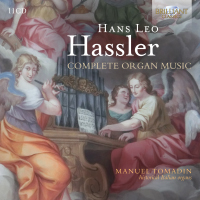 Download booklet
| | |
| --- | --- |
| Composer | Hans Leo Hassler |
| Artist | Manuel Tomadin organ |
| Format | 11 CD |
| Cat. number | 95331 |
| EAN code | 5028421953311 |
| Release | February 2022 |
About this release
Another labour of love from the Italian organist Manuel Tomadin, adding to his much-praised catalogue of collections by masters of the German and Italian Baroque.
Born in Nuremberg in 1564 within a musical family, Hassler received his formative musical instruction from his father and quickly developed into a keyboard player of formidable gifts: in the dedication to his 1591 Cantiones sacrae he noted that he was 'from a tender age more talkative with the fingers than with the tongue'. In 1584 Hassler left Nuremberg to continue his education in Venice, becoming one of the first in a long line of German musicians who journeyed south of the Alps for study in Italian musical centres.
While his motets and other vocal works were widely disseminated during his lifetime and have attracted recordings by period-instrument luminaries such as Philippe Herreweghe, his output for organ and harpsichord has received much less than its fair share of attention. One probable cause is that none of it was published during his lifetime, and yet Manuel Tomadin demonstrates that across its range there is no reason for music of this invention and lively originality to be hid under a bushel.
In a 1593 portrait, Hassler is described as a 'most esteemed organist', and a single-manual chamber organ with pedal is prominently included in the frame. After moving back to Germany, taking a succession of prestigious posts in musical centres across central and southern Germany including his home city, he became known as an expert in organ design, and his own music for the instrument exploits every possible technical and colouristic refinement of the new instruments of his age. Hassler died in 1612.
On this set, Manuel Tomadin plays a collection of historically appropriate instruments in Italian churches, and the collection is highly attractive as a gallery of Italian organ-building in its own right. The formal weight of Hassler's output falls on instrumental paraphrases and elaborations of the Magnificat hymn, complemented as in Frescobaldi with ornate and harmonically adventurous ricercars and more lyrical canzonas.

Critical praise for Manuel Tomadin on Brilliant Classics
'The phrasing is precise and convincing, and Tomadin has a positive knack for making the simplest of lines and lyrical themes interesting and listenable. He will have done a tremendous service to the world of music in this recording… Highly recommended.' Fanfare (Alberti, 95161)
'Wonderfully vibrant and spirited, including one of the finest renditions of the BWV 577 I've ever heard—it practically has one skipping about the room in delight.' Fanfare (Bach/Buxtehude, 95941)
'Scholarly and well-researched performances… I particularly enjoyed his inégales in some of the harpsichord performances.' Early Music Review (Lübeck, 95453)

- Hans Leo Hassler was born in Nuremberg where his first music teacher was his father, Isaac Hassler, who was an organist. Nuremberg had important trade and musical relations with Venice at that time and thanks to this fact, in 1584, Hassler moved to the Italian city, probably the first well known German composer to move to Italy for study purposes. At that time the Venetian school was at its climax with the magnificence of the polyphonic style, which was about to spread and to become popular throughout Europe. Hassler became friends with Giovanni Gabrieli, both studying organ and composition with Giovanni's uncle, Andrea Gabrieli. He also got to know the organists Zarlino and Merulo. After Andrea Gabrieli's death, Hassler left Venice and was appointed chamber organist by Ottaviano Fugger II In Augsburg starting from January 1586, where he became well known both as an organist and composer. From 1600 until 1604 he worked as organist of the Frauenkirche in Nuremberg. He spent his later years in in Ulm where he married in 1604, and from 1608 in Dresden where he became chamber organist at the court of Christian II, Elector of Saxony. Unfortunately he fell ill of tuberculosis and prematurely died in 1612.
- In adopting the new Italian style of the "stile concertato", the polychoral music and the typical emotional expressivity of the Venetian school, Hassler was the first protagonist of the Baroque outside Italy.
- This new recording presents the complete organ music by Hassler, a collection of toccatas, canzonas, ricercares, mass settings, Magnificat settings and variation sets, music of great originality, contrapuntal fluency and melodic inventiveness.
- Played on a variety of historic Italian organs from the 16th and 17th century by Manuel Tomadin, one of the foremost Italian organists of today, a scholar and passionate musician, with an impressive discography to his name: Husumer Organ Book, Alberti Complete Keyboard Works, Van Noordt, Krebs, Lübeck and other North German organ masters.
Listening
Track list
Disk 1
Hans Leo Hassler: Versus (No. 6) [Pag. 167]

Hans Leo Hassler: Canzon [Pag. 136]

Hans Leo Hassler: Ricercar a 4 ut re mi fa sol la [Pag. 81]

Hans Leo Hassler: In exitu Israel [Pag. 259]: I. Versus 1

Hans Leo Hassler: In exitu Israel [Pag. 259]: II. Versus 2

Hans Leo Hassler: In exitu Israel [Pag. 259]: III. Versus 3

Hans Leo Hassler: In exitu Israel [Pag. 259]: IV. Versus 4

Hans Leo Hassler: In exitu Israel [Pag. 259]: V. Versus 5

Hans Leo Hassler: In exitu Israel [Pag. 259]: VI. Versus 6

Hans Leo Hassler: Gagliarda [Pag. 238]

Hans Leo Hassler: Magnificat quarti toni [Pag. 52]: I. Toccata

Hans Leo Hassler: Magnificat quarti toni [Pag. 52]: II. Versus 1

Hans Leo Hassler: Magnificat quarti toni [Pag. 52]: III. Versus 2

Hans Leo Hassler: Magnificat quarti toni [Pag. 52]: IV. Versus 3

Hans Leo Hassler: Magnificat quarti toni [Pag. 52]: V. Versus 4

Hans Leo Hassler: Magnificat quarti toni [Pag. 52]: VI. Versus 5

Hans Leo Hassler: Magnificat quarti toni [Pag. 52]: VII. Versus 6

Hans Leo Hassler: Magnificat quarti toni [Pag. 52]: VIII. Canzon a 4 voci [Pag. 144]

Hans Leo Hassler: Magnificat quarti toni [Pag. 52]: IX. Versus (No. 3) [Pag. 163]

Hans Leo Hassler: Magnificat quarti toni [Pag. 52]: X. Versus (No. 16) [Pag. 186]
Disk 2
Hans Leo Hassler: Magnificat quinti toni [Pag. 86]: I. Versus 1

Hans Leo Hassler: Magnificat quinti toni [Pag. 86]: II. Versus 2

Hans Leo Hassler: Magnificat quinti toni [Pag. 86]: III. Versus 3

Hans Leo Hassler: Magnificat quinti toni [Pag. 86]: IV. Versus 4

Hans Leo Hassler: Magnificat quinti toni [Pag. 86]: V. Versus 5

Hans Leo Hassler: Magnificat quinti toni [Pag. 86]: VI. Versus 6

Hans Leo Hassler: Ricercar noni toni [Pag. 109]

Hans Leo Hassler: Canzon a 4 voci [Pag. 154]

Hans Leo Hassler: In exitu Israel peregrini toni [Pag. 154]: I. Versus 1

Hans Leo Hassler: In exitu Israel peregrini toni [Pag. 154]: II. Versus 2

Hans Leo Hassler: In exitu Israel peregrini toni [Pag. 154]: III. Versus 3

Hans Leo Hassler: In exitu Israel peregrini toni [Pag. 154]: IV. Versus 4

Hans Leo Hassler: In exitu Israel peregrini toni [Pag. 154]: V. Versus 5

Hans Leo Hassler: In exitu Israel peregrini toni [Pag. 154]: VI. Versus 6

Hans Leo Hassler: Canzon [Pag. 150]

Hans Leo Hassler: Versus (No. 2) [Pag. 151]

Hans Leo Hassler: Ricercar [Pag. 48]

Hans Leo Hassler: Magnificat secondi toni [Pag. 30]: I. Versus 1

Hans Leo Hassler: Magnificat secondi toni [Pag. 30]: II. Versus 2

Hans Leo Hassler: Magnificat secondi toni [Pag. 30]: III. Versus 3

Hans Leo Hassler: Magnificat secondi toni [Pag. 30]: IV. Versus 4

Hans Leo Hassler: Magnificat secondi toni [Pag. 30]: V. Versus 5

Hans Leo Hassler: Magnificat secondi toni [Pag. 30]: VI. Versus 6
Disk 3
Hans Leo Hassler: Lustgarten [Pag. 161]: I. Ach Frewlein zart (No. 1)

Hans Leo Hassler: Lustgarten [Pag. 161]: II. Ein alter Greiss (No. 2)

Hans Leo Hassler: Lustgarten [Pag. 161]: III. Ich hab es gewagt und zuegesagt (No. 3)

Hans Leo Hassler: Lustgarten [Pag. 161]: IV. Ach lieb hie ligt das Herz (No. 4)

Hans Leo Hassler: Lustgarten [Pag. 161]: V. Ach Schatz ich sing und lache (No. 5)

Hans Leo Hassler: Lustgarten [Pag. 161]: VI. Mein Hertz das du mir hast gestollen (No. 6)

Hans Leo Hassler: Lustgarten [Pag. 161]: VII. Mit deinen lieblichen augen (No. 7)

Hans Leo Hassler: Lustgarten [Pag. 161]: VIII. Mir traumbt in einer nacht I pars (No. 8)

Hans Leo Hassler: Lustgarten [Pag. 161]: IX. Und ich vor frewdt II pars (No. 9)

Hans Leo Hassler: Lustgarten [Pag. 161]: X. Darauf ihren schönen rotten Mundt III pars (No. 10)

Hans Leo Hassler: Lustgarten [Pag. 161]: XV. All Lust und frewdt (No. 15)

Hans Leo Hassler: Lustgarten [Pag. 161]: XVI. Wer liebt aus trewen Hertzen a 5 voci (No. 16)

Hans Leo Hassler: Lustgarten [Pag. 161]: XVII. Zue dir steht all mein Sinn (No. 17)

Hans Leo Hassler: Lustgarten [Pag. 161]: XVIII. Nun last uns fröhlich sein (No. 18)

Hans Leo Hassler: Lustgarten [Pag. 161]: XIX. Ach weh des leidens (No. 19)

Hans Leo Hassler: Lustgarten [Pag. 161]: XX. Dantzen und Springen (No. 20)

Hans Leo Hassler: Lustgarten [Pag. 161]: XXIV. Mein gemüth ist mir verwirret (No. 24)

Hans Leo Hassler: Lustgarten [Pag. 161]: XXVII. Ach weh der schweren pein (No. 27)

Hans Leo Hassler: Lustgarten [Pag. 161]: XXVIII. 2 Theil. Und weicht von mir gar ferr (No. 28)

Hans Leo Hassler: Lustgarten [Pag. 161]: XXIX. Ach süsse seel a 6 voci (No. 29)

Hans Leo Hassler: Lustgarten [Pag. 161]: XXXII. Nun hat ein endt mein Klagen (No. 32)

Hans Leo Hassler: Lustgarten [Pag. 161]: XXXV. Ihr Musici (No. 35)

Hans Leo Hassler: Lustgarten [Pag. 161]: XXXVI. Gleich wie ein Hirsch. (No. 36)

Hans Leo Hassler: Lustgarten [Pag. 161]: XXXIX. Ich bring mein bruder ein guthen trunkh (No. 39)

Hans Leo Hassler: Lustgarten [Pag. 161]: V. Ach Schatz ich sing und lache (No. 5) Diminution Version

Hans Leo Hassler: Lustgarten [Pag. 161]: XXXV. Ihr Musici (No. 35) Diminution Version

Hans Leo Hassler: Versus (2)

Hans Leo Hassler: Ricercar noni toni [Pag. 101]

Hans Leo Hassler: Ricercar (Toccata) noni toni [Pag 24]
Disk 4
Hans Leo Hassler: Magnificat secondi toni [Pag. 14]: I. Toccata

Hans Leo Hassler: Magnificat secondi toni [Pag. 14]: II. Versus 1

Hans Leo Hassler: Magnificat secondi toni [Pag. 14]: III. Versus 2

Hans Leo Hassler: Magnificat secondi toni [Pag. 14]: IV. Versus 3

Hans Leo Hassler: Magnificat secondi toni [Pag. 14]: V. Versus 4

Hans Leo Hassler: Magnificat secondi toni [Pag. 14]: VI. Versus 5

Hans Leo Hassler: Magnificat secondi toni [Pag. 14]: VII. Versus 6

Hans Leo Hassler: Canzon [Pag. 134]

Hans Leo Hassler: Versus (5) [Pag. 166]

Hans Leo Hassler: Ricercar primi toni [Pag. 34]

Hans Leo Hassler: Magnificat tertij toni [Pag. 39]: I. Versus 1

Hans Leo Hassler: Magnificat tertij toni [Pag. 39]: II. Versus 2

Hans Leo Hassler: Magnificat tertij toni [Pag. 39]: III. Versus 3

Hans Leo Hassler: Magnificat tertij toni [Pag. 39]: IV. Versus 4

Hans Leo Hassler: Magnificat tertij toni [Pag. 39]: V. Versus 5

Hans Leo Hassler: Magnificat tertij toni [Pag. 39]: VI. Versus 6

Hans Leo Hassler: Fantasia ut re mi fa sol la [Pag. 42]

Hans Leo Hassler: Toccata overò ricercar primi toni [Pag. 3]
Disk 5
Hans Leo Hassler: Magnificat primi toni [Pag. 2]: I. Versus 1

Hans Leo Hassler: Magnificat primi toni [Pag. 2]: II. Versus 2

Hans Leo Hassler: Magnificat primi toni [Pag. 2]: III. Versus 3

Hans Leo Hassler: Magnificat primi toni [Pag. 2]: IV. Versus 4

Hans Leo Hassler: Magnificat primi toni [Pag. 2]: V. Versus 5

Hans Leo Hassler: Magnificat primi toni [Pag. 2]: VI. Versus 6

Hans Leo Hassler: Canzon [Pag. 130]

Hans Leo Hassler: Ricercar primi toni [Pag. 239]

Hans Leo Hassler: Canzon [Pag. 140]

Hans Leo Hassler: Variation on: "Ich gieng einmal spatieren" [Pag. 190]
Disk 6
Hans Leo Hassler: Toccata [Pag. 14]

Hans Leo Hassler: Canzon [Pag. 146]

Hans Leo Hassler: Ricercar a 4 voci [Pag. 52]

Hans Leo Hassler: Versus (9) [Pag. 171]

Hans Leo Hassler: Magnificat sexti toni [Pag. 99]: I. Toccata

Hans Leo Hassler: Magnificat sexti toni [Pag. 99]: II. Versus 1

Hans Leo Hassler: Magnificat sexti toni [Pag. 99]: III. Versus 2

Hans Leo Hassler: Magnificat sexti toni [Pag. 99]: IV. Versus 3

Hans Leo Hassler: Magnificat sexti toni [Pag. 99]: V. Versus 4

Hans Leo Hassler: Magnificat sexti toni [Pag. 99]: VI. Versus 5

Hans Leo Hassler: Magnificat sexti toni [Pag. 99]: VII. Versus 6

Hans Leo Hassler: Canzon a 4 voci [Pag. 142]

Hans Leo Hassler: Ricercar [Pag. 65]

Hans Leo Hassler: Toccata [Pag. 22]

Hans Leo Hassler: Canzon [Pag. 152]

Hans Leo Hassler: Versus (1) [Pag. 160]

Hans Leo Hassler: Toccata e fuga noni toni [Pag. 24]

Hans Leo Hassler: Versus (10) [Pag. 172]

Hans Leo Hassler: Versus (11) [Pag. 173]
Disk 7
Hans Leo Hassler: Magnificat octavi toni [Pag. 142]: I. Toccata

Hans Leo Hassler: Magnificat octavi toni [Pag. 142]: II. Versus 1

Hans Leo Hassler: Magnificat octavi toni [Pag. 142]: III. Versus 2

Hans Leo Hassler: Magnificat octavi toni [Pag. 142]: IV. Versus 3

Hans Leo Hassler: Magnificat octavi toni [Pag. 142]: V. Versus 4

Hans Leo Hassler: Magnificat octavi toni [Pag. 142]: VI. Versus 5

Hans Leo Hassler: Magnificat octavi toni [Pag. 142]: VII. Versus 6

Hans Leo Hassler: Versus (14) [Pag. 178]

Hans Leo Hassler: Canzon [Pag. 148]

Hans Leo Hassler: Versus (15) [Pag. 181]

Hans Leo Hassler: Canzon [Pag. 242]

Hans Leo Hassler: Versus (13) [Pag. 176]

Hans Leo Hassler: Magnificat 4 toni [Pag. 80]: I. Versus 1

Hans Leo Hassler: Magnificat 4 toni [Pag. 80]: II. Versus 2

Hans Leo Hassler: Magnificat 4 toni [Pag. 80]: III. Versus 3

Hans Leo Hassler: Magnificat 4 toni [Pag. 80]: IV. Versus 4

Hans Leo Hassler: Magnificat 4 toni [Pag. 80]: V. Versus 5

Hans Leo Hassler: Magnificat 4 toni [Pag. 80]: VI. Versus 6

Hans Leo Hassler: Ricercar del terzo tono [Pag. 58]

Hans Leo Hassler: Ricercar [Pag. 24]
Disk 8
Hans Leo Hassler: Et in terra pax

Hans Leo Hassler: Domine deus

Hans Leo Hassler: Cum sancto spiritu [Pag. 166]

Hans Leo Hassler: Vers. "Ach Gott von Himmel sieh darein" [Pag. 174]

Hans Leo Hassler: Magnificat quarti toni [Pag. 66]: I. Toccata

Hans Leo Hassler: Magnificat quarti toni [Pag. 66]: II. Versus 1

Hans Leo Hassler: Magnificat quarti toni [Pag. 66]: III. Versus 2

Hans Leo Hassler: Magnificat quarti toni [Pag. 66]: IV. Versus 3

Hans Leo Hassler: Magnificat quarti toni [Pag. 66]: V. Versus 4

Hans Leo Hassler: Magnificat quarti toni [Pag. 66]: VI. Versus 5

Hans Leo Hassler: Magnificat quarti toni [Pag. 66]: VII. Versus 6

Hans Leo Hassler: Responsorio de gl'apostoli

Hans Leo Hassler: Versus supra calicem domini [Pag. 183]

Hans Leo Hassler: Credo in unum dei [Pag. 176]

Hans Leo Hassler: Sanctus

Hans Leo Hassler: Pleni sunt coeli et terra majestatis tua e c.

Hans Leo Hassler: Benedictus

Hans Leo Hassler: Agnus dei [Pag. 179]

Hans Leo Hassler: Kyrie apostolorum

Hans Leo Hassler: Kyrie secondo

Hans Leo Hassler: Christe

Hans Leo Hassler: Kyrie [Pag. 160]

Hans Leo Hassler: Versus (7) [Pag. 168]

Hans Leo Hassler: Versetten "introitus mihi autem nimis"

Hans Leo Hassler: "Versus Domine probasti me" [Pag. 157]
Disk 9
Hans Leo Hassler: Magnificat primi toni alla quarta più alta [Pag. 248]: I. Versus 1

Hans Leo Hassler: Magnificat primi toni alla quarta più alta [Pag. 248]: II. Versus 2

Hans Leo Hassler: Magnificat primi toni alla quarta più alta [Pag. 248]: III. Versus 3

Hans Leo Hassler: Magnificat primi toni alla quarta più alta [Pag. 248]: IV. Versus 4

Hans Leo Hassler: Magnificat primi toni alla quarta più alta [Pag. 248]: V. Versus 5

Hans Leo Hassler: Magnificat primi toni alla quarta più alta [Pag. 248]: VI. Versus 6

Hans Leo Hassler: Canzon [Pag. 132]

Hans Leo Hassler: Fuga [Pag. 115]

Hans Leo Hassler: Ricercar quarti toni [Pag. 68]

Hans Leo Hassler: Magnificat sexti toni [Pag. 113]: I. Versus 1

Hans Leo Hassler: Magnificat sexti toni [Pag. 113]: II. Versus 2

Hans Leo Hassler: Magnificat sexti toni [Pag. 113]: III. Versus 3

Hans Leo Hassler: Magnificat sexti toni [Pag. 113]: IV. Versus 4

Hans Leo Hassler: Magnificat sexti toni [Pag. 113]: V. Versus 5

Hans Leo Hassler: Magnificat sexti toni [Pag. 113]: VI. Versus 6

Hans Leo Hassler: Canzon 12 toni [Pag. 245]

Hans Leo Hassler: Ricercar [Pag. 75]
Disk 10
Hans Leo Hassler: Introitus [Pag. 1]

Hans Leo Hassler: Versus (8) [Pag. 170]

Hans Leo Hassler: Fuga tertii toni [Pag. 120]

Hans Leo Hassler: Versus (4) [Pag. 164]

Hans Leo Hassler: Magnificat septimi toni [Pag. 136]: I. Versus 1

Hans Leo Hassler: Magnificat septimi toni [Pag. 136]: II. Versus 2

Hans Leo Hassler: Magnificat septimi toni [Pag. 136]: III. Versus 3

Hans Leo Hassler: Magnificat septimi toni [Pag. 136]: IV. Versus 4

Hans Leo Hassler: Magnificat septimi toni [Pag. 136]: V. Versus 5

Hans Leo Hassler: Magnificat septimi toni [Pag. 136]: VI. Versus 6

Hans Leo Hassler: "Susanna Un gioir" di Orlando di Lasso [Pag. 225]

Hans Leo Hassler: Toccata sexti toni [Pag. 6]
Disk 11
Hans Leo Hassler: Toccata et ricercar septimi toni [Pag. 16]

Hans Leo Hassler: Ricercar [Pag. 42]

Hans Leo Hassler: Canzon [Pag. 128]

Hans Leo Hassler: Magnificat dell' settimo tuono [Pag. 119]: I. Versus 1

Hans Leo Hassler: Magnificat dell' settimo tuono [Pag. 119]: II. Versus 2

Hans Leo Hassler: Magnificat dell' settimo tuono [Pag. 119]: III. Versus 3

Hans Leo Hassler: Magnificat dell' settimo tuono [Pag. 119]: IV. Versus 4

Hans Leo Hassler: Magnificat dell' settimo tuono [Pag. 119]: V. Versus 5

Hans Leo Hassler: Magnificat dell' settimo tuono [Pag. 119]: VI. Versus 6

Hans Leo Hassler: Ricercar septimi toni [Pag. 88]

Hans Leo Hassler: Versus (12) [Pag. 174]