Haydn: Complete Keyboard Sonatas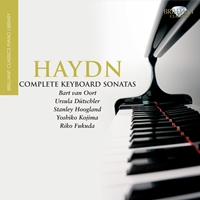 Composer
Franz Joseph Haydn
Artist
Bart van Oort fortepiano
Ursula Dütschler fortepiano
Stanley Hoogland fortepiano
Yoshiko Kojima fortepiano
Riko Fukuda fortepiano
Format
10 CD
Cat. number
94090
EAN code
5028421940908
Release
November 2010
About this release
It is only comparatively recently that Haydn's piano sonatas started to feature in recitals, and some of the major pianists of our time have added some of them to their repertoire – Alfred Brendel being perhaps the most illustrious champion of this neglected area of Haydn's output. Even with this re-awakening of interest, out of the 60 works concerned, only a handful appear in recital.

To compare them with Mozart's sonatas is as unfair as the often comparison of Schubert's sonatas with those of Beethoven. Mozart's sonatas display the cantible of the operatic aria or lied, and have a distinctly 'south of the Alps'feel to them. Haydn's influences come from further north in Berlin and Hamburg. CPE Bach's sonata's appeared during the 1740s, and the last appeared in 1787, and the influence of these works was as profound on the young Beethoven as it was on the older Haydn.

The first 15 Haydn sonatas date from around 1760, and were probably intended as teaching pieces. Nos.16-19 and 28 belong to a transitional period, Nos.21-27 are sadly lost, and No20 and Nos29-62 representing the differing phases of Haydn's maturity. Of these Nos.48-52 date from 1777-9, and the last three sonatas, Nos 60-62 were composed in London during Haydn's second UK visit in 1794-5.

All the hallmarks of Haydn can be found in the sonatas, dramatic contrasts between light and dark shadings, sudden pauses and switching between piano and forte – sometimes for drama, often for humour – all foreshadow his unruly and headstrong pupil Ludwig van Beethoven.

Other information:
- There are many wonderful discoveries still to made amongst these works. For anyone who is interested in the development of the piano and the sonata, this set is essential.
Track list
Disk 1
Piano Sonata in B-Flat Hob XVI:41: I. Allegro

Piano Sonata in B-Flat Hob XVI:41: II. Allegro di molto

Piano Sonata in E-Flat Hob XVI:16: I. Andante – Presto

Piano Sonata in E-Flat Hob XVI:16: II. Menuet – Trio

Piano Sonata in E-Flat Hob XVI:16: III. Presto

Piano Sonata in B-Flat Hob XVI:2: I. Moderato

Piano Sonata in B-Flat Hob XVI:2: II. Largo

Piano Sonata in B-Flat Hob XVI:2: III. Menuet

Piano Sonata in B minor Hob XVI:32: I. Allegro moderato

Piano Sonata in B minor Hob XVI:32: II. Menuet – Trio

Piano Sonata in B minor Hob XVI:32: III. Finale: Presto

Piano Sonata in A-Flat Hob XVI:46: I. Allegro moderato

Piano Sonata in A-Flat Hob XVI:46: II. Adagio

Piano Sonata in A-Flat Hob XVI:46: III. Finale: Presto
Disk 2
Piano Sonata in D Hob XVI:33: I. Allegro

Piano Sonata in D Hob XVI:33: II. Adagio

Piano Sonata in D Hob XVI:33: III. Tempo di menuet

Piano Sonata in C Hob XVI:1: I. Allegro

Piano Sonata in C Hob XVI:1: II. Adagio

Piano Sonata in C Hob XVI:1: III. Menuet – Trio

Piano Sonata in A Hob XVI:12: I. Andante

Piano Sonata in A Hob XVI:12: II. Menuet – Trio

Piano Sonata in A Hob XVI:12: III. Presto

Sonata in D Hob XVI/42: I. Andante con espressione

Sonata in D Hob XVI/42: II. Vivace assai

Sonata in C Hob XVI/50: I. Allegro

Sonata in C Hob XVI/50: II. Adagio

Sonata in C Hob XVI/50: III. Allegro molto
Disk 3
Piano Sonata in G ('Divertimento') Hob XVI:G1: I. Allegro

Piano Sonata in G ('Divertimento') Hob XVI:G1: II. Menuetto

Piano Sonata in G ('Divertimento') Hob XVI:G1: III. Finale: Presto

Piano Sonata in C ('Divertimento') Hob XVI:3: I. Allegretto

Piano Sonata in C ('Divertimento') Hob XVI:3: II. Andante

Piano Sonata in C ('Divertimento') Hob XVI:3: III. Menuet

Piano Sonata in E ('Parthia', 'Divertimento') Hob XVI:13: I. Moderato

Piano Sonata in E ('Parthia', 'Divertimento') Hob XVI:13: II. Menuetto

Piano Sonata in E ('Parthia', 'Divertimento') Hob XVI:13: III. Finale: Presto

Piano Sonata in A ('Divertimento') Hob XVI:30: I. Allegro – Adagio

Piano Sonata in A ('Divertimento') Hob XVI:30: II. Tempo di menuet

Piano Sonata in G minor Hob XVI:44: I. Moderato

Piano Sonata in G minor Hob XVI:44: II. Allegretto

Piano Sonata in A-Flat Hob XVI:43: Moderato

Piano Sonata in A-Flat Hob XVI:43: Menuetto

Piano Sonata in A-Flat Hob XVI:43: Rondo: Presto
Disk 4
Piano Sonata in C ('Divertimento') Hob XVI:10: I. Moderato

Piano Sonata in C ('Divertimento') Hob XVI:10: II. Menuet

Piano Sonata in C ('Divertimento') Hob XVI:10: III. Finale: Presto

Piano Sonata in A ('Divertimento') Hob XVI:5: I. Allegro

Piano Sonata in A ('Divertimento') Hob XVI:5: II. Menuet

Piano Sonata in A ('Divertimento') Hob XVI:5: III. Presto

Piano Sonata in E Hob XVI:22: I. Allegro moderato

Piano Sonata in E Hob XVI:22: II. Andante

Piano Sonata in E Hob XVI:22: III. Finale: Meuetto

Piano Sonata in D Hob XVI:37: I. Allegro con brio

Piano Sonata in D Hob XVI:37: II. Largo e sostenuto

Piano Sonata in D Hob XVI:37: III. Finale: Presto ma non troppo

Piano Sonata in E-Flat Hob XVI:49: I. Allegro

Piano Sonata in E-Flat Hob XVI:49: II. Adagio e cantabile

Piano Sonata in E-Flat Hob XVI:49: III. Finale: Tempo di minuet
Disk 5
Piano Sonata in C Hob XVI:7: I. Allegro moderato

Piano Sonata in C Hob XVI:7: II. Menuet

Piano Sonata in C Hob XVI:7: III. Finale: Allegro

Piano Sonata in E minor Hob XVI:47: I. Adagio

Piano Sonata in E minor Hob XVI:47: II. Allegro

Piano Sonata in E minor Hob XVI:47: III. Finale: Tempo di menuet

Piano Sonata in F Hob XVI:23: I. Allegro

Piano Sonata in F Hob XVI:23: II. Adagio

Piano Sonata in F Hob XVI:23: III. Finale: Presto

Piano Sonata in G Hob XVI:27: I. Allegro con brio

Piano Sonata in G Hob XVI:27: II. Menuet

Piano Sonata in G Hob XVI:27: III. Finale: Presto

Piano Sonata in E-Flat Hob XVI:52: I. Allegro

Piano Sonata in E-Flat Hob XVI:52: II. Adagio

Piano Sonata in E-Flat Hob XVI:52: III. Finale: Presto
Disk 6
Piano Sonata in G Hob XVI:11: I. Presto

Piano Sonata in G Hob XVI:11: II. Andante

Piano Sonata in G Hob XVI:11: III. Menuetto

Piano Sonata in D Hob XVI:19: I. Moderato

Piano Sonata in D Hob XVI:19: II. Andante

Piano Sonata in D Hob XVI:19: III. Finale: Allegro assai

Piano Sonata in C Hob XVI:35: I. Allegro

Piano Sonata in C Hob XVI:35: II. Adagio

Piano Sonata in C Hob XVI:35: III. Finale: Allegro

Piano Sonata in E minor Hob XVI:34: I. Presto

Piano Sonata in E minor Hob XVI:34: II. Adagio

Piano Sonata in E minor Hob XVI:34: III. Vivace molto

Piano Sonata in D Hob XVI:51: I. Andante

Piano Sonata in D Hob XVI:51: II. Finale: Presto
Disk 7
Piano Sonata in D ('Variazione') Hob XVII:D1: I. Thema con variationi

Piano Sonata in D ('Variazione') Hob XVII:D1: II. Menuet

Piano Sonata in D ('Variazione') Hob XVII:D1: III. Finale

Piano Sonata in D Hob XVI:24: I. Allegro

Piano Sonata in D Hob XVI:24: II. Adagio

Piano Sonata in D Hob XVI:24: III. Finale: Presto

Piano Sonata in E-Flat Hob XVI:25: I. Moderato

Piano Sonata in E-Flat Hob XVI:25: II. Tempo di menuet

Piano Sonata in F ('Divertimento') Hob XVI:29: I. Moderato

Piano Sonata in F ('Divertimento') Hob XVI:29: II. Adagio

Piano Sonata in F ('Divertimento') Hob XVI:29: III. Tempo di menuet

Piano Sonata in G Hob XVI:39: I. Allegro con brio

Piano Sonata in G Hob XVI:39: II. Adagio

Piano Sonata in G Hob XVI:39: III. Prestissimo
Disk 8
Piano Sonata in E-Flat Hob XVI:45: I. Moderato

Piano Sonata in E-Flat Hob XVI:45: II. Andante

Piano Sonata in E-Flat Hob XVI:45: III. Finale: Allegro di molto

Piano Sonata in B-Flat Hob XVI:18: I. Allegro moderato

Piano Sonata in B-Flat Hob XVI:18: II. Moderato

Piano Sonata in E-Flat Hob XVI:38: I. Allegro moderato

Piano Sonata in E-Flat Hob XVI:38: II. Adagio

Piano Sonata in E-Flat Hob XVI:38: III. Finale: Allegro

Piano Sonata in G Hob XVI:40: I. Allegretto e innocente

Piano Sonata in G Hob XVI:40: II. Presto

Piano Sonata in C Hob XVI:48: I. Andante con espressione

Piano Sonata in C Hob XVI:48: II. Rondo: Presto
Disk 9
Piano Sonata in C Hob XVI:21: I. Allegro

Piano Sonata in C Hob XVI:21: II. Adagio

Piano Sonata in C Hob XVI:21: III. Finale: Presto

Piano Sonata in C minor Hob XVI:20: I. Moderato

Piano Sonata in C minor Hob XVI:20: II. Andante con moto

Piano Sonata in C minor Hob XVI:20: III. Finale: Allegro

Piano Sonata in A Hob XVI:26: I. Allegro moderato

Piano Sonata in A Hob XVI:26: II. Menuet al Rovescio

Piano Sonata in A Hob XVI:26: III. Finale: Presto

Piano Sonata in D ('Divertimento') Hob XVI:4: I.

Piano Sonata in D ('Divertimento') Hob XVI:4: II. Menuetto

Piano Sonata in E ('Divertimento') Hob XVI:31: I. Moderato

Piano Sonata in E ('Divertimento') Hob XVI:31: II. Allegretto

Piano Sonata in E ('Divertimento') Hob XVI:31: III. Finale: Presto
Disk 10
Piano Sonata in E-Flat ('Divertimento') Hob XVI:28: I. Allegro moderato

Piano Sonata in E-Flat ('Divertimento') Hob XVI:28: II. Menuet

Piano Sonata in E-Flat ('Divertimento') Hob XVI:28: III. Finale: Presto

Piano Sonata in C sharp minor Hob XVI:36: I. Moderato

Piano Sonata in C sharp minor Hob XVI:36: II. Scherzando: Allegro con brio

Piano Sonata in C sharp minor Hob XVI:36: III. Menuet: Moderato

Piano Sonata in D ('Partita', 'Divertimento') Hob XVI:14: I. Allegro moderato

Piano Sonata in D ('Partita', 'Divertimento') Hob XVI:14: II. Menuet

Piano Sonata in D ('Partita', 'Divertimento') Hob XVI:14: III. Presto

Piano Sonata in G ('Partita', 'Divertimento') Hob XVI:6: I. Allegro

Piano Sonata in G ('Partita', 'Divertimento') Hob XVI:6: II. Minuet

Piano Sonata in G ('Partita', 'Divertimento') Hob XVI:6: III. Adagio

Piano Sonata in G ('Partita', 'Divertimento') Hob XVI:6: IV. Finale: Allegro molto

Piano Sonata in F ('Divertimento') Hob XVI:9: I. Allegro

Piano Sonata in F ('Divertimento') Hob XVI:9: II. Menuet

Piano Sonata in F ('Divertimento') Hob XVI:9: III. Scherzo

Piano Sonata in G ('Partita', 'Divertimento') Hob XVI:8: I. Allegro

Piano Sonata in G ('Partita', 'Divertimento') Hob XVI:8: II. Menuet

Piano Sonata in G ('Partita', 'Divertimento') Hob XVI:8: III. Andante

Piano Sonata in G ('Partita', 'Divertimento') Hob XVI:8: IV. Allegro