Haydn: Die sieben letzten Worte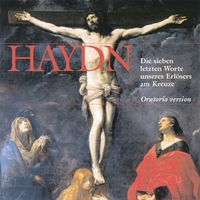 Composer
Franz Joseph Haydn
Artist
Daniel Sans tenor Petra Labitzke soprano
Nordic Chamber Choir
Kurpfälzisches Kammerorchester Mannheim
Nicol Matt conductor
Format
1 CD
Cat. number
99788
EAN code
5028421997889
Release
April 2006
About this release
Haydn already had a wealth of sacred works under his belt when, in 1785, aged 53 and at the height of his fame, he received a detailed commission for the cathedral of Cadiz in Spain, asking him to write ceremonial music for Good Friday. His challenge was to create an engaging and individual work out of the curious musical form prescribed by the ritual, and the resulting instrumental composition was a triumph.

Its history, however, was far from complete; several years later while in Passau, Haydn stumbled upon a vocal arrangement of the work, set to excerpts of Ramler's poem Der Tod Jesu, which he took upon himself to revise. The ensuing oratorio, to which a woodwind intermezzo was also added, was published in 1801 and exceeded all popularity of the previous version to become one of the composer's most performed works.

In recent times Haydn's "Seven Last Words" have enjoyed increasing levels of fame and popularity. These intimate seven adagios show a contemplative, deeply introspective side of Haydn which many were not familiar with. Of the several versions of the work (solo keyboard, string quartet, string orchestra) this version for soloists, choir and orchestra became the most popular.

That it was, according to Haydn, one of his greatest achievements can be heard in this superb account given by the talented Chamber Choir of Europe, which has already produced many distinguished recordings for Brilliant Classics. Beautifully sensitive singing enhances the individual character accorded to each of the seven Adagio movements by the composer, making this performance an invaluable addition to Haydn's discography of sacred works.
Track list
Disk 1
Introduzione I

Vater, vergib Ihnen, denn sie wissen nicht was sie tun

Fürwahr, ich sag'es dir

Frau, hier siehe deinen Sohn

Mein Gott, mein Gott, warum hast du mich verlassen?

Introduzione II

Jesus rufet: Ach, mich dürstet!

Es ist vollbracht!

Vater, in deine Hände empfehle ich meinen Geist

Il Terremoto (Das Erdbeben)