HAYDN: Six Duo Concertantes for two Flutes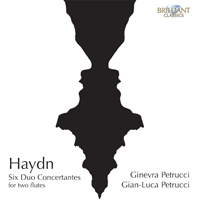 Composer
Franz Joseph Haydn
Artist
Ginevra Petrucci flute
Gian-Luca Petrucci flute
Format
1 CD
Cat. number
94620
EAN code
5028421946207
Release
March 2015
About this release
Transcription was a common practice during the 18th century – particularly among the most sought-after composers of the day, who aimed to broaden the destination of their works through audiences as well as publications. One such composer was Joseph Haydn, who enjoyed great success during his two visits to London in 1791 and 1794 respectively. His fame in the English capital generated a high interest among the amateur flautists of the nobility, who were eager to perform his works themselves, and led to a flourishing publishing activity of the composer's music throughout Europe. The Six Duo Concertantes for two flutes that make up this engaging release are among the fruits of this commercially rewarding enterprise.

The interchangeability of the violin and flute had been a common feature of the preceding Baroque period, and Haydn was one of many Classical composers to continue this tradition, writing several chamber works in which the latter instrument features alongside or instead of the violin. In essence he understood the potential of the flute extremely well, in this case adapting his Six Duets Op.99 for two violins, pieces which in turn derive from movements of the composer's string quartets Op.9 and Op.33. The Six Duo Concertantes were published in 1801 in Paris, eight years before Haydn's death, and provide a snapshot of the composer's style in all its wonderful variety. Here they are recorded for the first time by father-daughter duo Gian-Luca and Ginevra Petrucci – acclaimed performers in their own right, who each enjoy busy international schedules that encompass such activities as chamber music concerts, contemporary music collaborations, visiting professorships, musicological research and writing, and regular broadcasts for TV and radio. Ginevra, praised by The Flutist Quarterly for her "beautiful phrasing, brilliant virtuosity and a legato worthy of a great singer", also appears on Brilliant Classics' recording of Kuhlau's Complete Quintets (BC 94769) together with the Kodály Quartet.

During Haydn's successful stays in London he recognised the need for high quality chamber music for a variety of instruments, among which the flute, which rapidly gained popularity in bourgeois circles. For this purpose he cleverly arranged his own Duos for two violins Op. 99 for two flutes.
These delightful flute duos, full of Haydnesque wit and invention, are here recorded for the first time by father and daughter Petrucci, Gian-Luca and Ginevra, who obviously enjoy their superb music making.
Ginevra Petrucci already recorded for Brilliant Classics the Flute Quintets by Kuhlau (BC 94769) to great critical acclaim (5 Star reviews).

Other information:
Recorded in November 2011, Gulliver Master Studio, Rome, Italy.
Notes on the music and artist biographies.
Track list
Disk 1
Six Duo Concertantes, Duo No. 1 in A Major: I. Allegro moderato

Six Duo Concertantes, Duo No. 1 in A Major: II. Minuetto. Poco allegretto e con grazia – Trio

Six Duo Concertantes, Duo No. 1 in A Major: III. Presto ma non tanto

Six Duo Concertantes, Duo No. 2 in B Minor: I. Moderato

Six Duo Concertantes, Duo No. 2 in B Minor: II. Minuetto. Moderato con grazia – Trio

Six Duo Concertantes, Duo No. 2 in B Minor: III. Allegro con brio

Six Duo Concertantes, Duo No. 3 in D Major: I. Allegro spiritoso

Six Duo Concertantes, Duo No. 3 in D Major: II. Minuetto I. Allegretto scherzoso – Trio – Minuetto II

Six Duo Concertantes, Duo No. 4 in G Major: I. Moderato

Six Duo Concertantes, Duo No. 4 in G Major: II. Minuetto I. Con grazia – Trio – Minuetto II

Six Duo Concertantes, Duo No. 5 in C Major: I. Allegro moderato assai

Six Duo Concertantes, Duo No. 5 in C Major: II. Minuetto I. Allegretto scherzoso – Trio – Minuetto II

Six Duo Concertantes, Duo No. 6 in D Major: I. Andante. Tema con variazioni

Six Duo Concertantes, Duo No. 6 in D Major: II. Presto