Haydn: Six Sonatas for Violin and Viola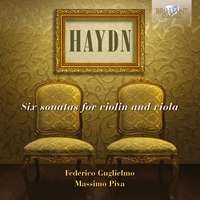 Composer
Franz Joseph Haydn
Artist
Federico Guglielmo violin
Massimo Piva viola
Format
1 CD
Cat. number
94476
EAN code
5028421944760
Release
April 2013
About this release
Joseph Haydn was a national treasure in his native Austria. Excelling in all areas of composition, he was the 'Father of the Symphony', the author of such renowned vocal works such as The Creation, and a pioneer of the string quartet. He was also a vital mentor to the young Mozart.

These unique works – the only ones for violin and viola in Haydn's oeuvre – are thought to have been written in the late 1760s or early 1770s, the period during which the composer was employed at the Esterházy court. Little is known about the circumstances of their composition, but most of Haydn's works for violin at this time were intended for the leader of the court chapel, Luigi Tomasini. The pieces certainly tend towards being solo compositions for the violin, which is accorded the bulk of the melodic interest, with an obbligato viola part providing the harmonic support.

Accalimed violinist Federico Guglielmo studied at the Conservatorio Benedetto Marcello in Venice, later specialising in Baroque and Classical violin repertoire, and has won prizes in numerous international competitions. In this recording he plays alongside Massimo Piva, a past principal violist of Europa Galante and the Orchestra di Padova e del Veneto.

Other information:
- A rare combination, violin and viola, but one that challenges the genius of Haydn: his sonatas for this duo are treasures of invention and wit in perfect Viennese style.
- Haydn probably wrote these sonatas during his residency at the Esterhazy court, for the Kapellmeister of the orchestra, Luigi Tomasini, apparently a virtuoso on his instrument, judging from the demanding violin part, the viola supplying the necessary harmonic funding.
- Played by two of Italy's best known violinists in the field of early music: Federico Guglielmo (with numerous recordings under his name, solo and with his ensemble Arte del'Arco) and Massimo Piva, first violist of Europa Galante.
- Includes notes on the music and artist biographies.
Track list
Disk 1
Franz Joseph Haydn: Sonata I in F Major, Hob VI:1: Allegro moderato

Franz Joseph Haydn: Sonata I in F Major, Hob VI:1: Adagio e sostenuto

Franz Joseph Haydn: Sonata I in F Major, Hob VI:1: Tempo di menuet, variazione

Franz Joseph Haydn: Sonata II in A Major, Hob VI:2: Allegro moderato

Franz Joseph Haydn: Sonata II in A Major, Hob VI:2: Adagio

Franz Joseph Haydn: Sonata II in A Major, Hob VI:2: Finale (Tempo di menuet)

Franz Joseph Haydn: Sonata III in B Major, Hob VI:3: Andante

Franz Joseph Haydn: Sonata III in B Major, Hob VI:3: Adagio

Franz Joseph Haydn: Sonata III in B Major, Hob VI:3: Menuet

Franz Joseph Haydn: Sonata IV in D Major, Hob VI:4: Moderato

Franz Joseph Haydn: Sonata IV in D Major, Hob VI:4: Adagio

Franz Joseph Haydn: Sonata IV in D Major, Hob VI:4: Tempo di menuet

Franz Joseph Haydn: Sonata in E-Flat Major, Hob VI:5: Moderato

Franz Joseph Haydn: Sonata in E-Flat Major, Hob VI:5: Adagio

Franz Joseph Haydn: Sonata in E-Flat Major, Hob VI:5: Tempo di menuet, variazione

Franz Joseph Haydn: Sonata VI in C Major, Hob VI:6: Allegro

Franz Joseph Haydn: Sonata VI in C Major, Hob VI:6: Adagio

Franz Joseph Haydn: Sonata VI in C Major, Hob VI:6: Tempo di Menuet, Variazione