Haydn: The 12 London Symphonies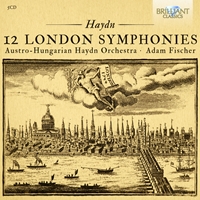 Composer
Franz Joseph Haydn
Artist
Austro-Hungarian Haydn Orchestra
Adam Fischer conductor
Format
5 CD
Cat. number
94601
EAN code
5028421946016
Release
June 2013
About this release
Joseph Haydn, often referred to as 'The Father of the Symphony', has an enormous 109 of these works to his name. Within his vast oeuvre of symphonies is a group of 12, written between 1781 and 1795, which are known as the 'London' symphonies, composed during or for his two visits to the English capital. Brimming with inspiration and character, the 'London' symphonies contain many of the legendary moments of Haydn's works, including the drumroll opening of No.103, the ticking of the clock in the Andante of No.101, the jubilant sound of the triangle in the finale of the 'Military', and that arresting interjection of the timpani in the 'Surprise'. This collection brings together these wonderful works, each of which contributed to Haydn's crafting of the symphonic form that would later be taken up by none other than his pupil and friend, Wolfgang Amadeus Mozart.

The Austro-Hungarian Haydn Orchestra was formed by Adam Fischer in 1987 with the express purpose of performing the works of the revered composer. The Orchestra is rather appropriately based in the Esterházy Palace – where Haydn was resident for much of his life – and has toured extensively throughout Europe, the USA and Asia, performing in events such as the Mozart Festival (New York) and the BBC Proms (London).

Other information:
- Recorded 1987–1989, in the famous Esterhazy Palace in Eisenstadt, Austria, where Haydn spent many years of his life composing for the Count.
- Joseph Haydn's so-called London Symphonies, written between 1781 and 1795 during his two extensive visits to the British capital, count among his most famous and popular works. At the peak of his creative powers, he created such masterworks as the Drumroll, Military, London and Surprise symphonies, but also the ones without nickname are models of perfection in terms of form and content, rules and emotions.
- The performances of the Austro-Hungarian Haydn Orchestra conducted by Adám Fischer are still considered one of the best complete recordings, fully capturing Haydn's style: wit, charm, fire, balance and transparency.
- Contains extensive liner notes on the composer and his symphonies.
Track list
Disk 1
Symphony No. 93 in D Major: Adagio-allegro assai

Symphony No. 93 in D Major: Largo cantabile

Symphony No. 93 in D Major: Menuetto & trio, allegro

Symphony No. 93 in D Major: Finale, presto ma non troppo

Symphony No. 94 in G Major 'Surprise': Adagio-vivace assai

Symphony No. 94 in G Major 'Surprise': Andante

Symphony No. 94 in G Major 'Surprise': Menuet & trio, allegro molto

Symphony No. 94 in G Major 'Surprise': Finale, allegro di molto

Symphony No. 95 in C Minor: Allegro moderato

Symphony No. 95 in C Minor: Andante

Symphony No. 95 in C Minor: Menuetto & trio

Symphony No. 95 in C Minor: Finale, vivace
Disk 2
Symphony No. 96 in D Major: Adagio-allegro

Symphony No. 96 in D Major: Andante

Symphony No. 96 in D Major: Menuetto &trio, allegretto

Symphony No. 96 in D Major: Finale, vivace assai

Symphony No. 97 in C Major: Adagio-vivace

Symphony No. 97 in C Major: Adagio ma non troppo

Symphony No. 97 in C Major: Menuetto & trio, allegretto

Symphony No. 97 in C Major: Finale, presto assai

Symphony No. 98 in B-Flat Major: Adagio-allegro

Symphony No. 98 in B-Flat Major: Adagio

Symphony No. 98 in B-Flat Major: Menuet & trio, allegro

Symphony No. 98 in B-Flat Major: Finale, presto
Disk 3
Symphony No. 99 in E-Flat Major: Adagio-vivace assai

Symphony No. 99 in E-Flat Major: Adagio

Symphony No. 99 in E-Flat Major: Menuet & trio, allegretto

Symphony No. 99 in E-Flat Major: Finale, vivace

Symphony No. 100 in G Major 'Military': Adagio-allegro

Symphony No. 100 in G Major 'Military': Allegretto

Symphony No. 100 in G Major 'Military': Menuet & trio, moderato

Symphony No. 100 in G Major 'Military': Finale, presto
Disk 4
Symphony No. 101 in D Major 'Clock': Adagio-presto

Symphony No. 101 in D Major 'Clock': Andante

Symphony No. 101 in D Major 'Clock': Menuet & trio, allegretto

Symphony No. 101 in D Major 'Clock': Finale, presto

Symphony No. 102 in B-Flat Major 'Miracle': Largo-allegro vivace

Symphony No. 102 in B-Flat Major 'Miracle': Adagio

Symphony No. 102 in B-Flat Major 'Miracle': Menuetto & trio, allegro

Symphony No. 102 in B-Flat Major 'Miracle': Finale, presto
Disk 5
Symphony No. 103 in E-Flat Major 'Drumroll': Adagio - Allegro con spirito

Symphony No. 103 in E-Flat Major 'Drumroll': Andante piu tosto allegretto

Symphony No. 103 in E-Flat Major 'Drumroll': Menuet & trio

Symphony No. 103 in E-Flat Major 'Drumroll': Finale, allegro con spirito

Symphony No. 104 in D Major 'London': Adagio - allegro

Symphony No. 104 in D Major 'London': Andante

Symphony No. 104 in D Major 'London': Menuetto & trio, allegro

Symphony No. 104 in D Major 'London': Finale, spiritoso