Heinrich & Carl Baermann: Music for Clarinet & Piano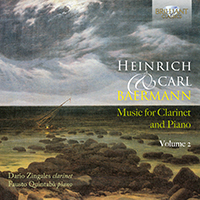 Download booklet
Composer
Carl Baermann, Heinrich Baermann
Artist
Dario Zingales clarinet
Fausto Quintabà piano
Format
1 CD
Cat. number
96449
EAN code
5028421964492
Release
November 2021
About this release
Romantic virtuosity from 19th-century clarinet royalty, including several world premiere recordings.

The Italian clarinettist Dario Zingales studied in Milan with Luigi Magistrelli, another fixture on the Brilliant Classics roster of inquisitive pioneers in the field of Classical and early-Romantic chamber music. Zingales made his debut on the label in 2018 with the first volume of a fascinating series dedicated to the father and son who revolutionised clarinet playing – and therefore composing for the instrument – during the first half of the 19th century. Heinrich Baermann inspired Weber to write his clarinet concertos and show pieces. His son Carl then developed the instrument's range and action so that it could ever more uncannily resemble the human voice in liquidity and shades of tonal colour.

Both father and son also composed, so that their playing and technical innovations would be showcased by repertoire which exploited their virtuosity. This second volume of chamber music presents five pieces, four of them still unpublished and here receiving their first recordings. They include three theme-and-variation sets by Heinrich Baermann, originally written for clarinet and orchestra and here performed in an arrangement with piano accompaniment. They alternate demanding moments of virtuosity with cantabile sections ideally suited to the clarinet's nature as a vocal instrument, emphasised by Baermann with operatic recitative sections.

The two works composed by his son Carl, Ein Traum Op.47 (also a premiere recording) and Souvenirs de Bellini Op.52, have a very different musical flavour: much more intimate in their byplay between clarinet and piano, much less like display pieces even in the operatic fantasia, and much more equal in their relationship between the two instruments. Thus the pairing creates an absorbing juxtaposition of musical styles and contrasts.

Heinrich and Carl Baermann, father and son, count among the most famous and influential clarinet players of music history. Heinrich Baermann (1784-1847) was solo clarinet player at the court of Prince Louis Ferdinand von Preußen, later he moved to the court of Munich of King Maximilian I, which boasted one of the best orchestras of the time. His son Carl (1810-1885) succeeded him. Carl wrote the "Vollständige Clarinett Schule", a 5-volume treatise and teaching manual, still considered to be the basis of clarinet playing and teaching.
Both father and son Baermann composed extensively for their instrument, and this new recording presents their works, highly accomplished music bringing out all the qualities of their beloved reed instrument the clarinet.
This recording brings together several first recordings, works by father and son: several "Theme and variations", a Divertimento and a Fantasie Brilliante, all bringing out the full potential of the sonorities of the clarinet, while the piano is by no mean a mere accompaniment but on an equal level with the soloist in richness and diversity.
Wonderful performance by Italian clarinet player Dario Zingales, sought-after soloist, a member of the famous Bläserphilharmonie Mozarteum, and teacher at the Mozarteum Salzburg.
This CD is the successor of the artist's first recording of father and son Baermann, issued on Brilliant Classics, which received 5-star reviews.
Listening
Track list
Disk 1
Heinrich Baermann: Thema mit Variationen, Op .12 No. 1 in E-Flat Major

Carl Baermann: Ein Traum – Divertimento, Op. 47: I. Andante maestoso – Adagio – Allegro molto vivace, quasi presto

Carl Baermann: Ein Traum – Divertimento, Op. 47: II. Thema, Var. I, Var. II, Var. III – Ländler, moderato molto

Carl Baermann: Ein Traum – Divertimento, Op. 47: III. Allegro molto vivace

Heinrich Baermann: Thema mit Variationen in F Minor, Op. 29

Carl Baermann: Souvenirs de Bellini – Fantasie brillante in E-Flat Major, Op. 52: I. Maestoso – Molto adagio

Carl Baermann: Souvenirs de Bellini – Fantasie brillante in E-Flat Major, Op. 52: II. Molto moderato, Var. I, Var. II, Var. III

Carl Baermann: Souvenirs de Bellini – Fantasie brillante in E-Flat Major, Op. 52: III. Adagio – Allegro vivo

Heinrich Baermann: Thema mit Variationen No. 3 in E-Flat Major, Op. 12