Henze: Complete Music for Solo Guitar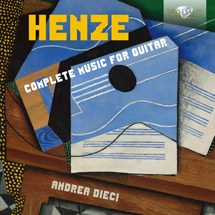 | | |
| --- | --- |
| Composer | Hans Werner Henze |
| Artist | Andrea Dieci guitar |
| Format | 1 CD |
| Cat. number | 95186 |
| EAN code | 5028421951867 |
| Release | May 2016 |
About this release
Henze may have been renowned as one of the most prodigious postwar German modernists, but the important position of the guitar in his output reveals the lyric and rhapsodic side to his nature which runs as an undercurrent throughout his music, flowering most fully in the genre of opera to which he was drawn time and again.

His first major work for the instrument is a set of three Tentos – or tientos, the Spanish form of the fantasia or ricercar to be found in English and Italian music of the 15th century onwards – extracted from a collection of chamber music for various combinations. 'They feature in the repertory of virtually every professional guitarist who considers himself worthy of the name,' as the composer modestly remarked – but with justice, for their brevity is matched by their songful imagination.
The two sonatas are much more ambitious in scale, both inspired by the Shakespearean literature which Henze loved so much, and also by the artistry of Julian Bream, who may be counted a Segovia of the latter half of the last century, thanks to the array of composers who realised through his playing the expressive possibilities of an instrument they might otherwise have regarded as having strictly local or picturesque appeal. Characters are portrayed such as the ridiculous Sir Andrew Aguecheek, but also narratives told, such as Gloucester's relationship to King Lear.

The Italian guitar magazine Seicorde has described Dieci as a 'fine performer with an enviable technique'. His first recording on Brilliant Classics was of the contemporary guitarist-composer Nicola Jappelli (BC9435); according to Seicorde, 'the skillful balance of dynamics often extreme and sudden, the adoption of an extremely expressive phrasing and varied even in minimalist areas, meticulous articulation of ethereal melodies broken between items: these are just some of the qualities that deserve recognition in the work of Dieci.'

Dieci's second album comprised popular guitar works by the Argentinian master of the classical tango, Astor Piazzolla, with a selection of music for violin and guitar capturing the spirit of the era, 'Café 1930' (BC94896). This, too, was issued to a very positive reception.

Hans Werner Henze was one of the most important composers of the 2nd half of the 20th century, and certainly one of the most prolific. He often wrote for the guitar, exploring the evocative potential of the instrument so that it could express a wide range of different emotions and atmospheres.
This CD presents the two Sonatas on Shakespearean Characters, an important cycle portraying characters like Lady Macbeth, Romeo & Juliet and Ariel, finding a new dramatic expression in these personifications of timeless human values.
Italian guitarist Andrea Dieci, a winner of several international competitions, is called "A true star of the classical guitar" (Corriere della sera) and "an impressive guitarist" (New York Times Herald). He recorded for Brilliant Classics the complete works by Jappelli (BC9435) and guitar works by Piazzolla (BC 94896).
Excellent liner notes by a musicologist, in both English and Italian.
Listening
Track list
Disk 1
Hans Werner Henze: "Drei Tentos": I. —

Hans Werner Henze: "Drei Tentos": II. —

Hans Werner Henze: "Drei Tentos": III. —

Hans Werner Henze: Royal Winter Music: I. Gloucester

Hans Werner Henze: Royal Winter Music: Ritornello

Hans Werner Henze: Royal Winter Music: II. Romeo and Juliet

Hans Werner Henze: Royal Winter Music: Ritornello

Hans Werner Henze: Royal Winter Music: III. Ariel

Hans Werner Henze: Royal Winter Music: Ritornello

Hans Werner Henze: Royal Winter Music: IV. Ophelia

Hans Werner Henze: Royal Winter Music: Ritornello

Hans Werner Henze: Royal Winter Music: V. Touchstone, Audrey and William

Hans Werner Henze: Royal Winter Music: Ritornello

Hans Werner Henze: Royal Winter Music: VI. Oberon

Hans Werner Henze: Second Sonata on Shakespearean Characters: I. Sir Andrew Aguecheek

Hans Werner Henze: Second Sonata on Shakespearean Characters: II. Bottom's Dream

Hans Werner Henze: Second Sonata on Shakespearean Characters: III. Mad Lady Macbeth