Hersant: Music for Bassoon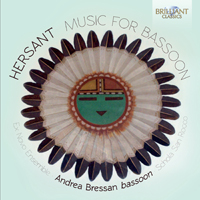 Composer
Philippe Hersant
Artist
Ex Novo Ensemble
Schola san Rocco
Francesco Erle conductor
Andrea Bressan bassoon
Mario Paladin viola
Format
1 CD
Cat. number
95211
EAN code
5028421952116
Release
June 2016
About this release
Composing these eight duos for viola and bassoon, eight further pieces for bassoon and ensemble and then independent works for the instrument either solo or with viola and female choir (conjuring unlikely correspondences with both Vaughan Williams and Morton Feldman), Philippe Hersant (b.1948) worked closely with Pascal Gallois, the virtuoso bassoonist who was principal of the Ensemble Inter-contemporain in Paris in the 1980s and 90s.

Gallois's virtuosity and adventurousness allowed Hersant to explore many new techniques and timbres for the instrument such as particular glissandi and overtone harmonics, but the influence of Messiaen may still be heard not only in the use of folk melodies (Hebrew, Mongolian and American-Indian) which pervade several works, as a kind of found music which is a counterpart to Messiaen's birds, but in the often open and radiant harmony which characterises Hersant's music whether for solo instruments such as cello or piano, or in larger-scale works for choir and orchestra.

The Eight Pieces with ensemble form a kind of concerto, or as Hersant describes it, a sequence of paintings, brief and deliberately underdeveloped. The bassoon sometimes melts into the instrumental ensemble (comprising a clarinet, a trombone, a violin, a viola, a cello, a double bass and a piano), whilst in other pieces the soloist role clearly prevails. In the Eight Duos, the popular side of Janacek and Stravinsky may be discerned. Hersant is a craftsman of his art, often working in time-honoured forms of dance, canon and songs without words. This is the most extensive collection of his music for bassoon on record.

Philippe Hersant (born 1948) is one of the most remarkable and successful composers of his native France. A student of André Jolivet he embraced tonality and modality, finding his own unique voice, eclectic, open and appealing to a wide audience. He won numerous prizes: Grand Prix de la ville de Paris, Grand Prix SACEM, Victoires de la Musique Classique 2016, and the Légion d'honneur.
This new recording presents his music for the bassoon, a still neglected but versatile and expressive wind instrument. Included are the duos for bassoon and viola, 8 Pieces for bassoon and instrumental ensemble and works for bassoon solo.
Played with great conviction and imagination by Italian bassoonist Andrea Bressan and the Ex Novo Ensemble.
Liner notes written by the composer.
Track list
Disk 1
8 Duos for Viola and Bassoon: I. —

8 Duos for Viola and Bassoon: II. —

8 Duos for Viola and Bassoon: III. —

8 Duos for Viola and Bassoon: IV. —

8 Duos for Viola and Bassoon: V. —

8 Duos for Viola and Bassoon: VI. —

8 Duos for Viola and Bassoon: VII. —

8 Duos for Viola and Bassoon: VIII. —

Hopi for Solo Bassoon

8 Pieces for Bassoon and Instrumental Ensemble: I. —

8 Pieces for Bassoon and Instrumental Ensemble: II. —

8 Pieces for Bassoon and Instrumental Ensemble: III. —

8 Pieces for Bassoon and Instrumental Ensemble: IV. —

8 Pieces for Bassoon and Instrumental Ensemble: V. —

8 Pieces for Bassoon and Instrumental Ensemble: VI. —

8 Pieces for Bassoon and Instrumental Ensemble: VII. —

8 Pieces for Bassoon and Instrumental Ensemble: VIII. —

Duo Sephardim

Niggun for Solo Bassoon

Wanderung