Hindemith: 4 Sonatas for Viola Solo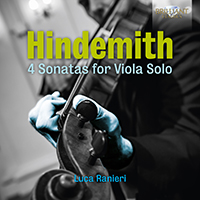 Download booklet
| | |
| --- | --- |
| Composer | Paul Hindemith |
| Artist | Luca Ranieri viola |
| Format | 1 CD |
| Cat. number | 95413 |
| EAN code | 5028421954134 |
| Release | November 2018 |
About this release
Hindemith was not only a composer but also a hugely talented viola player who wrote a number of remarkable, innovative works for his instrument. The piano-accompanied sonatas are relatively well-known, so too the Trauermusik composed in a single evening to mark the death of King George V. The solo viola works have had less attention: Hindemith referred to them as Gebrauchsmusik, by which he meant compositions with simple, linear structures, often intended for amateur players: music that responded to a particular need or use.

Their language owes something to the solo viola music by Max Reger, with which Hindemith was certainly familiar. However, Hindemith could draw on both greater individuality as a melodist as well as his own considerable skills as a violist to inform his idiomatic writing for the instrument. Op.11 No.5 (1919) has a Classical structurein four movements, concluding with a noble passacaglia: the work of a gifted 24-year-old who is still establishing his own path within the wider context of musical tradition. Op.25 No.1 belongs to Hindemith's Neoclassical period: spiky and witty with a whirlwind finale. Composed in 1923, the Sonata Op.31 No.4 evolves in more traditional fashion, from a perpetuum mobile opening movement to a grave but not melancholy song, followed by a theme-and-variation finale. The 1937 Sonata is much more searching and chromatic, doubtless reflecting its troubled times, and notably exploiting contrasts of sound and silence.

Luca Ranieri is among Italy's most distinguished violists, having been conducted as a soloist by the likes of Mehta, Giulini and Sinopoli. His many recordings include the Cello Suites of Bach arranged for viola: 'Ranieri plays with elegance and clean articulation, and his tone is clear.' (All Music Review)

The works on this CD are evidence of Paul Hindemith's love for the viola, an instrument of which he was a keen professional player (he was leader of the violas in the Frankfurt Opera Orchestra) and for which he wrote a considerable amount of music.
The Viola Sonatas were written as "Gebrauchsmusik", not intended for the concert hall, pure music written to create approachable music for as many people as possible.
In all these works Hindemith's particular style shines through: from the strict neo-classicism, the "Neue Sachlichkeit" to vigorous expressionism, all sharing his joy of invention and creation.
Played by master violist Luca Ranieri, one of Italy's foremost violists. The excellent booklet notes are in English and Italian.
Listening
Track list
Disk 1
Paul Hindemith: Viola Sonata No. 4, Op. 31: I. Äußerst lebhaft

Paul Hindemith: Viola Sonata No. 4, Op. 31: II. Lied. Ruhig, mit wenig Ausdruck. Langsame Viertel

Paul Hindemith: Viola Sonata No. 4, Op. 31: III. Thema mit Variationen. Schnelle Viertel

Paul Hindemith: Viola Sonata 1937: I. Lebhafte Halbe

Paul Hindemith: Viola Sonata 1937: II. Langsame Viertel

Paul Hindemith: Viola Sonata 1937: III. Mäßig schnelle Viertel

Paul Hindemith: Viola Sonata No. 5, Op. 11: I. Lebhaft, aber nicht geeilt

Paul Hindemith: Viola Sonata No. 5, Op. 11: II. Mäßig schnell, mit viel Wärme vortragen

Paul Hindemith: Viola Sonata No. 5, Op. 11: III. Scherzo. Schnell

Paul Hindemith: Viola Sonata No. 5, Op. 11: IV. In Form und Zeitmass einer Passacaglia. Das Thema sehr gehalten

Paul Hindemith: Viola Sonata No. 1, Op. 25: I. Breit Viertel – II. Sehr frisch und straff

Paul Hindemith: Viola Sonata No. 1, Op. 25: III. Sehr langsam

Paul Hindemith: Viola Sonata No. 1, Op. 25: IV. Rasendes Zeitmaß. Wild.Tonschönheit ist Nebensache

Paul Hindemith: Viola Sonata No. 1, Op. 25: V. Langsam, mit viel Ausdruck