Hindemith: Chamber Music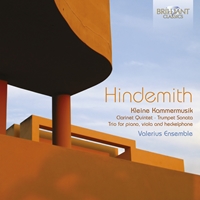 | | |
| --- | --- |
| Composer | Paul Hindemith |
| Artist | Valerius Ensemble |
| Format | 1 CD |
| Cat. number | 9447 |
| EAN code | 5029365944724 |
| Release | July 2013 |
About this release
Paul Hindemith, considered the foremost German composer of his generation, believed in a strong link between music and social needs, and regarded the composer as a craftsman; someone who could provide for those needs.

His chamber music is renowned for being unconventional and eclectic; the composer often experimented with a variety of styles and combinations of instruments. The Trio Op.47 uses the heckelphone, a baritone oboe used in several of the works of Richard Strauss. Op.47 is particularly notable for the atmospheric Arioso for this rare instrument. Unusual instrumentation is also found in the Clarinet Quintet, thanks to the appearance of the E flat clarinet in the central movement, leading the ensemble through a series of waltzes and a fugue of considerable length. The Kleinerkammermusik Op.24 No.2 is one of the composer's best-loved works, showcasing his humorous side through the use of playful dissonance. Our collection ends with the lyrical beauty of his famous Sonata for Trumpet and Piano.

The Valerius Ensemble enjoys a successful calendar of performances in concert halls and for radio and television, having toured throughout the Netherlands, Spain and Brazil. With a special interest in contemporary music, the ensemble has had several works written especially for it, by composers such as Carlos Míchans and Leo Samama.

Other information:
- In celebration of the Hindemith-year 2013 (50 years after his death in 1963) this recording presents a generous selection of his chamber music output. Written for a wide variety of instruments (heckelphone, flute, horn, clarinet, oboe, trumpet, violin, viola, piano) it represents Hindemith's eclectic, witty and vibrant style, in which neo-classical, expressionistic and jazzy elements fuse together in a very personal way.
- High calibre performances by Netherland's best instrumentalists, evidently enjoying this fascinating and intriguing music.
- Booklet contains extensive liner notes on works and artists.
Track list
Disk 1
Paul Hindemith: Kleine Kammermusik for Wind Quintet, Op. 24 No. 2: I. Lustig. Mässig schnelle Viertel

Paul Hindemith: Kleine Kammermusik for Wind Quintet, Op. 24 No. 2: II. Walzer. Durchweg sehr leise

Paul Hindemith: Kleine Kammermusik for Wind Quintet, Op. 24 No. 2: III. Ruhig und einfach. Achtel

Paul Hindemith: Kleine Kammermusik for Wind Quintet, Op. 24 No. 2: IV. Schnelle Viertel

Paul Hindemith: Kleine Kammermusik for Wind Quintet, Op. 24 No. 2: V. Sehr lebhaft

Paul Hindemith: Clarinet Quintet, Op. 30: I. Sehr lebhaft (1954 revision)

Paul Hindemith: Clarinet Quintet, Op. 30: II. Ruhig (1954 revision)

Paul Hindemith: Clarinet Quintet, Op. 30: III. Schneller Ländler (1954 revision)

Paul Hindemith: Clarinet Quintet, Op. 30: IV. Arioso, sehr ruhig (1954 revision)

Paul Hindemith: Clarinet Quintet, Op. 30: V. Sehr lebhaft (1954 revision)

Paul Hindemith: Trio for Viola, Heckelphone & Piano, Op. 47: I. Solo – Arioso – Duet

Paul Hindemith: Trio for Viola, Heckelphone & Piano, Op. 47: II. 'Potpourri'

Paul Hindemith: Trumpet Sonata: I. Mit Kraft

Paul Hindemith: Trumpet Sonata: II. Mässig bewegt

Paul Hindemith: Trumpet Sonata: III. Trauermusik