Hindemith: Complete Sonatas for Wind Instruments and Piano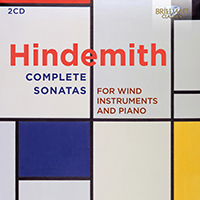 Download booklet
Composer
Paul Hindemith
Artist
Claudia Giottoli flute
Simone Frondini oboe
Luca Franceschelli bassoon
Simone Simonelli clarinet
Filippo Farinelli piano
Format
2 CD
Cat. number
95755
EAN code
5028421957555
Release
May 2021
About this release
The first complete recorded collection of Hindemith's Wind Sonatas: a gallery in sound of sketches and portraits from the turbulent decades of the mid-20th-century.
Paul Hindemith's (1895-1963) systematic approach to composition, his Haydn-like industry and invention, produced no fewer than 10 sonatas for wind instruments between 1936 and 1955. Even in the years prior to these sonatas, Hindemith had proved to be a highly versatile musician: apart from being a virtuoso violist, an excellent violinist and pianist, he could also hold his own on bassoon, cello and a range of percussion instruments. It is hardly surprising that so versatile and resourceful a musician should have composed the singularly rich and unusual collection of works to which the two CDs of this recording are devoted.
Considered as a body of work, the Wind Sonatas demonstrate Hindemith's original tonal idiom and his gift for new and personal melodies; his structural invention within inherited sonata forms; his renewal of the instrumental tradition of the 18th and 19th centuries; his skill and sympathy in handling the specific features of each instrument. Hindemith continually has a surprise up his sleeve – such as the finale of the Trumpet Sonata, which opens in grand heroic style but winds up in mournful meditation on a Lutheran chorale, 'Alle Menschen müssen sterben'. Even more original is the argument of the Saxophone Sonata's finale, prefaced in the score by an imaginary dialogue in which the pianist begs the saxophonist to search for 'Silence, Sense and Form' – brought to life by the soloist's liquid reflections over the top of the pianist's noisy whirlwind.
This release is the latest in a series featuring the pianist Filippo Farinelli accompanying fellow-Italian musicians in major collections of song and chamber music by 20th-century composers: among them the complete songs of Berg (95549), Dallapiccola (95202), Jolivet (9220) and Ravel (94743) and the first collection on disc of Charles Koechlin's output for saxophone (9266), featuring the soloist on this recording, David Brutti. Reviewing the Dallapiccola, Tim Ashley in Gramophone remarked: 'This is a hugely important issue… The set's star is its pianist, Filippo Farinelli, whose playing is impeccably lapidary and pointillistic throughout.'

- Paul Hindemith was one of the most important and influential composers of 20th century Germany. His eclectic style incorporated diverse influences such as expressionism, neo-classicism and even jazz. His music is energetic, rhythmically vibrant, witty and joyous, but also able to express deeper and tragic feelings.
- The Sonatas for Wind Instruments and Piano were written as "Gebrauchsmusik", not intended for the concert hall, pure music written to create approachable music for as many people as possible. The instruments featured are: oboe, clarinet, flute, bassoon, horn, trumpet, English horn, alto saxophone, trombone and tuba. In all these works Hindemith's particular style shines through: from the strict neo-classicism, the "Neue Sachlichkeit" to vigorous expressionism, all sharing his joy of invention and creation.
- Another wonderful project by pianist Filippo Farinelli, who arranged these recordings with the best Italian soloists.
Listening
Track list
Disk 1
Paul Hindemith: Sonata for Flute and Piano: II. Sehr langsam

Paul Hindemith: Sonata for Flute and Piano: III. Sehr lebhaft – Marsch

Paul Hindemith: Sonata for Oboe and Piano: I. Munter

Paul Hindemith: Sonata for Oboe and Piano: II. Sehr langsam-Lebhaft-Sehr langsam-Wieder Lebhaft

Paul Hindemith: Sonata for Bassoon and Piano: I. Leicht bewegt

Paul Hindemith: Sonata for Bassoon and Piano: II. Langsam-Marsch-Beschulss, Pastorale. Ruhig

Paul Hindemith: Sonata for Clarinet and Piano: I. Mäßig bewegt – Sehr ruhig

Paul Hindemith: Sonata for Clarinet and Piano: II. Lebhaft

Paul Hindemith: Sonata for Clarinet and Piano: III. Sehr langsam-Ein wenig Fließender-Wie am Anfang

Paul Hindemith: Sonata for Clarinet and Piano: IV. Kleines Rondo, gemächlich

Paul Hindemith: Sonata for Horn and Piano: I. Mäßig bewegt-Frisch-Lebhaft

Paul Hindemith: Sonata for Horn and Piano: II. Ruhig bewegt

Paul Hindemith: Sonata for Horn and Piano: III. Lebhaft-Langsam-Wie vorher-Koda. Etwas breiter
Disk 2
Paul Hindemith: Sonata for Trumpet and Piano: I. Mit Kraft-Breit-Wie vorher

Paul Hindemith: Sonata for Trumpet and Piano: II. Mäßig bewegt-Lebhaft-Wie zuerst-Wie vorher

Paul Hindemith: Sonata for Trumpet and Piano: III. Trauermusik. Sehr Langsam-Ruhig bewegt – Wie am Anfang-Sehr ruhig

Paul Hindemith: Sonata for English Horn and Piano: I. Slow

Paul Hindemith: Sonata for English Horn and Piano: II. Allegro pesante

Paul Hindemith: Sonata for English Horn and Piano: III. Moderate

Paul Hindemith: Sonata for English Horn and Piano: IV. Scherzo, fast

Paul Hindemith: Sonata for English Horn and Piano: V. Moderate

Paul Hindemith: Sonata for English Horn and Piano: VI. Allegro pesante

Paul Hindemith: Sonata for Trombone and Piano: I. Allegro moderato maestoso

Paul Hindemith: Sonata for Trombone and Piano: II. Allegretto grazioso

Paul Hindemith: Sonata for Trombone and Piano: III. Allegro pesante

Paul Hindemith: Sonata for Trombone and Piano: IV. Allegro moderato maestoso

Paul Hindemith: Sonata for Alto Saxophone and Piano: I. Ruhig bewegt

Paul Hindemith: Sonata for Alto Saxophone and Piano: II. Lebhaft

Paul Hindemith: Sonata for Alto Saxophone and Piano: III. Sehr langsam

Paul Hindemith: Sonata for Alto Saxophone and Piano: Das Posthorn, Zwiegespräch

Paul Hindemith: Sonata for Alto Saxophone and Piano: IV. Lebhaft

Paul Hindemith: Sonata for Tuba and Piano: I. Allegro pesante-Poco lento

Paul Hindemith: Sonata for Tuba and Piano: II. Allegro assai

Paul Hindemith: Sonata for Tuba and Piano: III. Variationen. Moderato, commodo-Scherzando, l'istesso tempo-Lento-Allegro-Lento-Wie am Anfang des Satzes

Paul Hindemith: Echo for Flute and Piano