Hindemith: Sonatas for Viola and Piano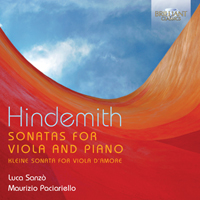 Composer
Paul Hindemith
Artist
Luca Sanzò viola
Maurizio Paciariello piano
Format
1 CD
Cat. number
94782
EAN code
5028421947822
Release
June 2014
About this release
The viola's shadowy veiled timbre and reserved, almost retiring character is such that it is rarely called upon to take the lead. Granted, a substantial number of concertos were composed for it during the 18th to 19th centuries, but it was not until the 20th century – when several hitherto neglected instruments acquired a new identity in a solo capacity – that the viola became the object of serious attention.

Probably the most underrated composer of the 20th century, it was Paul Hindemith – himself an excellent violist – who was largely responsible for rescuing the instrument from relative oblivion. Detailing a selection of his sonatas for viola (of which there number seven in total – three with piano, four solo), this release charts the development of the composer's style – from the post-war years, the setting of his Sonata Op.11 No.4 and during which time he was experimenting with all the current idioms and trends such as Expressionism and Gebrauchsmusik, to the Sonata in F major of 1939 – written in keeping with his belief that the time had now come to reconnect with the great German tradition, and thus revisiting the formal structures of the Baroque period, such as the fugue.

All the while Hindemith's distinctive style prevails – in the Kleine Sonata of 1922, for example, the composer's use of the viola d'amore recalls the two arias composed for this instrument in the Johannes Passion, though there are plenty of angular rhythms and pungent dissonances confirming his fidelity to his own interpretation of the musical language of the 1900s. Violist Luca Sanzò and pianist Maurizio Paciariello are the performers on this recording, both sought-after interpreters of contemporary music as well as conservatoire professors in their native Italy.

Other information:
- Recorded: July 2013, Chiesa di S. Terenziano, Capranica (province of Viterbo), Italy.
- The Hindemith-year 2013 has revived the public interest in this German composer to a great extent, and this new issue is another proof of the great vitality, power and originality of his works.
- Hindemith was a professional viola player, and he wrote these sonatas for viola and piano with apparent love, dedication and understanding of the instrumental possibilities. The sonatas are masterpieces in their own genre, and are regularly played in concert.
- Violist Luca Sanzo and pianist Maurizio Paciariello offer convincing and passionate performances, belying the prejudice against Hindemith as "dry and academic".
- Booklet contains comprehensive notes on the composer and music as well as artist biographies.
Track list
Disk 1
Sonata, Op. 11 No. 4: I. Fantasie

Sonata, Op. 11 No. 4: II. Thema mit Variationen

Sonata, Op. 11 No. 4: III. Finale - Variationen

Kleine Sonata, Op. 25 No. 2: I. Mäßig schnell. Lustig

Kleine Sonata, Op. 25 No. 2: II. Sehr langsam

Kleine Sonata, Op. 25 No. 2: III. Sehr lebhaft

Sonata Op. 25 No. 4: I. Sehr lebhaft. Markiert und kraftvoll

Sonata Op. 25 No. 4: II. Sehr langsame Viertel

Sonata Op. 25 No. 4: III. Finale. Lebhafte Viertel

Sonata, Op. Posth.: I. Breit. Mit Kraft (1939)

Sonata, Op. Posth.: II. Sehr lebhaft (1939)

Sonata, Op. Posth.: III. Phantasie. Sehr langsam, frei (1939)

Sonata, Op. Posth.: IV. Finale, mit zwei Variationen. Leicht bewegt (1939)

Nobilissima visione, Op. Posth. Meditation (Sehr langsam)