Homage to Angelo Gilardino - A Life for Music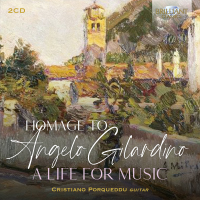 | | |
| --- | --- |
| Composer | Angelo Gilardino, Cristiano Porqueddu, Mario Castelnuovo-Tedesco |
| Artist | Cristiano Porqueddu guitar |
| Format | 2 CD |
| Cat. number | 96407 |
| EAN code | 5028421964072 |
| Release | January 2022 |
About this release
An 80th-birthday tribute featuring new recordings of key works by the Italian guitarist-composer from one of his most dedicated interpreters.
Born in the Piedmont region of Italy in 1941, Angelo Gilardino stands in the noble line of guitarist composer-performers that includes Paganini, Tárrega, Brouwer and countless more. Yet he professes not to be the best interpreter of his own music, leaving that privilege to others. One such is Sicilian guitarist Cristiano Porqueddu, who studied with Gilardino and who presents here an appealing mix of the composer's solo and orchestral works featuring classical guitar.
After the impressionistic works of his early period such as Abreuana, Gilardino evolved a more formal style during the 1980s, beginning with his first series of 12 studies (Studi di virtuosità e di trascendenza) in 1981. The 60 final Studies now stand as cornerstone of Gilardino's oeuvre, having entered the concert programmes of guitarists worldwide. He wrote his first concerto for guitar and orchestra in 1996; the Concerto di Oliena is his third, dedicated to Cristiano Porqueddu and highly evocative in its opening movement of the rocky terrain and harsh contrasts of the Sardinian landscape which is also Porqueddu's native land.
During the 2000s, Gilardino returned to writing for the solo guitar, skilfully bridging the divide between atonal chromatic and diatonic modal music in the five-movement Sardegna suite dedicated to Porqueddu. The collection is bookended by a musical birthday card from the collection (composed between 1953 and 1968) by Mario Castelnuovo-Tedesco, and Porqueddu's own Metamorfosis de la Soledad, inspired by his encounter with the artist Gastone Cecconello.
The Brilliant Classics catalogue already carries a substantial catalogue of Gilardino's music: these are new recordings, made in 2021 and previously unissued.

- This set is an homage to Angelo Gilardino, to mark the celebration of the composer's 80-th birthday.
- Angelo Gilardino is one of the most important guitar composers of the last half century. His unique style is a blend of the old and new, folk art and contemporary music, from Mozart to Messiaen, all his works are illuminated by a warm and Mediterranean glow, a feeling of humanity and love for life.
- Guitarist Cristiano Porqueddu plays as homage to the maestro the following works: Volo d'Angeli by Castelnuovo-Tedesco, a selection from Gilardino's Transcendental Studies, Colloquio con Andres Segovia, and a selection of shorter pieces. As a personal tribute Porqueddu plays one of his own works, Metamorfosis de la Soledad.
- An important tribute to one of the most respected and influential guitarist-composers of the 20th century!
Listening
Track list
Disk 1
Mario Castelnuovo-Tedesco: Greeting Cards, Op. 170: I. Volo d'Angeli

Angelo Gilardino: Studi di virtuosità e di trascendenza: I. Soledad

Angelo Gilardino: Studi di virtuosità e di trascendenza: II. Omaggio a Sergeij Prokof'ev

Angelo Gilardino: Studi di virtuosità e di trascendenza: III. Noche oscura

Angelo Gilardino: Studi di virtuosità e di trascendenza: IV. Paesaggio ligure

Angelo Gilardino: Studi di virtuosità e di trascendenza: V. Les arbres rouges

Angelo Gilardino: Studi di virtuosità e di trascendenza: VI. Aubade

Angelo Gilardino: Colloquio con Andrés Segovia

Angelo Gilardino: Annunciazione

Angelo Gilardino: Ikonostas

Angelo Gilardino: A Quiet Song

Angelo Gilardino: Asturiana

Angelo Gilardino: Paganini

Angelo Gilardino: Cavaliere di Malta
Disk 2
Angelo Gilardino: Concerto di oliena: I. Andante lento – Allegretto

Angelo Gilardino: Concerto di oliena: II. Adagio

Angelo Gilardino: Concerto di oliena: III. Allegro scherzoso

Angelo Gilardino: Sardegna – Suite per chitarra to Cristiano Porqueddu: I. Mari

Angelo Gilardino: Sardegna – Suite per chitarra to Cristiano Porqueddu: II. Nuraghe

Angelo Gilardino: Sardegna – Suite per chitarra to Cristiano Porqueddu: III. S'Ardia

Angelo Gilardino: Sardegna – Suite per chitarra to Cristiano Porqueddu: IV. Su soli est calau

Angelo Gilardino: Sardegna – Suite per chitarra to Cristiano Porqueddu: V. Ciamma

Angelo Gilardino: Contemplatio in Caligine

Cristiano Porqueddu: Metamorfosis de la soledad