Hummel: Complete Piano Sonatas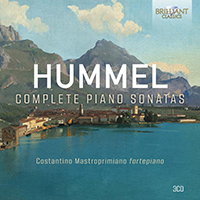 Download booklet
| | |
| --- | --- |
| Composer | Johann Nepomuk Hummel |
| Artist | Costantino Mastroprimiano fortepiano |
| Format | 3 CD |
| Cat. number | 94378 |
| EAN code | 5028421943787 |
| Release | August 2018 |
About this release
Not for nothing did Franz Schubert dedicate his last three piano sonatas, culminating achievements in their genre both for him and for the Classical-era piano sonata, to Johann Nepomuk Hummel. The soloist and composer (1778-1837) who had come as a child to Mozart for lessons in Vienna then became a teacher of note in his own right, and an exponent of a fluid, filigree keyboard technique that exercised its own significant influence upon early generations of Romantic composers.

Hummel 'as a youth … was the most surprising performer that had ever visited [England], except the young Mozart', reported one English piano manufacturer, and in this absorbing album of his sonatas, the composer's voice is extended and developed in parallel with that of the instruments he used. We are still a long way from the massive concert grands ubiquitous today when we experience Hummel's music on the instruments he would have known himself, and this is a uniquely attractive feature of Costantino Mastroprimiano's interpretations. On this recording he plays a pair of instruments: a fortepiano by Urbano Petroselli, after an original model by Anton Walter ca.1790; and an original Erard 'en forme de clavecin' dating from 1838.

The six sonatas on this set range from the Baroque formalities of Op.2 No.3 (suitable for playing on a harpsichord as well as a fortepiano, according to the composer's superscription) to the four extensive movements of Op.106, with a first movement in particular laid out on a spaciously expressive scale.

This album is a worthy successor to Mastroprimiano's notable achievement in recording for Brilliant Classics the complete sonatas of Muzio Clementi (now collected in one 18CD box, BC94379), another keyboard pioneer in the early decades of the 19th century. Reviewing volume 1 of the original series, Fanfare magazine reported that 'With his fluid, brilliant technique and sensitive expression, Mastroprimiano serves Clementi beautifully, as does the excellent sound reproduction.' Volume 3 was praised in similar terms: 'Costantino Mastroprimiano plays with crisp accuracy... He wisely doesn't overplay his hand... This is a fine recording.'

The first complete recording of the Hummel piano sonatas on fortepiano!
The name of Hummel usually is related to two other musical giants of his period: Mozart and Beethoven. Hummel was a pupil of the former and a rival of the later, both being piano virtuosos in Vienna.
Hummel's piano style is influenced by Mozart in its adherence to the Classical Viennese Style and the grace and charm of his melodies. Beethoven's influence is seen in the dramatic and sometimes stormy character of his music, whereas Hummel himself invented and developed his own personal pianism of unprecedented virtuosity and brilliance, which had great influence on piano composers after him (Chopin, Liszt and Schumann).
Listening
Track list
Disk 1
Johann Nepomuk Hummel: Piano Sonata No. 1 in C Major, Op. 2 No. 3: I. Allegro spiritoso

Johann Nepomuk Hummel: Piano Sonata No. 1 in C Major, Op. 2 No. 3: II. Adagio

Johann Nepomuk Hummel: Piano Sonata No. 1 in C Major, Op. 2 No. 3: III. Rondo

Johann Nepomuk Hummel: Piano Sonata No. 4 in C Major, Op. 38: I. Adagio maestoso - Allegro moderato

Johann Nepomuk Hummel: Piano Sonata No. 4 in C Major, Op. 38: II. Adagio con molto espressione

Johann Nepomuk Hummel: Piano Sonata No. 4 in C Major, Op. 38: III. Finale. Prestissimo

Johann Nepomuk Hummel: Fantasina in C Major, Op. 124
Disk 2
Johann Nepomuk Hummel: Piano Sonata No. 2 in E-Flat Major, Op. 13: I. Allegro con brio

Johann Nepomuk Hummel: Piano Sonata No. 2 in E-Flat Major, Op. 13: II. Adagio con grand espressione

Johann Nepomuk Hummel: Piano Sonata No. 2 in E-Flat Major, Op. 13: III. Finale. Allegro con spirit

Johann Nepomuk Hummel: Piano Sonata No. 5 in F-Sharp Minor, Op. 81: I. Allegro

Johann Nepomuk Hummel: Piano Sonata No. 5 in F-Sharp Minor, Op. 81: II. Largo con molt' espressione

Johann Nepomuk Hummel: Piano Sonata No. 5 in F-Sharp Minor, Op. 81: III. Vivace
Disk 3
Johann Nepomuk Hummel: Piano Sonata No. 3 in F Minor, Op. 20: I. Allegro moderato

Johann Nepomuk Hummel: Piano Sonata No. 3 in F Minor, Op. 20: II. Adagio maestoso – attacca

Johann Nepomuk Hummel: Piano Sonata No. 3 in F Minor, Op. 20: III. Presto - Ancor più presto

Johann Nepomuk Hummel: Piano Sonata No. 6 in D Major, Op. 106: I. Allegro moderato ma risoluto

Johann Nepomuk Hummel: Piano Sonata No. 6 in D Major, Op. 106: II. Un scherzo all'antica. Allegro non troppo

Johann Nepomuk Hummel: Piano Sonata No. 6 in D Major, Op. 106: III. Larghetto a capriccio

Johann Nepomuk Hummel: Piano Sonata No. 6 in D Major, Op. 106: IV. Finale. Allegro vivace