Hummel: Complete Piano Trios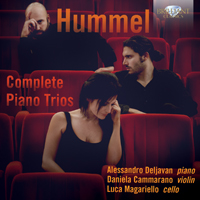 | | |
| --- | --- |
| Composer | Johann Nepomuk Hummel |
| Artist | Alessandro Deljavan, Daniela Cammarano, Luca Magariello |
| Format | 2 CD |
| Cat. number | 94898 |
| EAN code | 5028421948980 |
| Release | December 2014 |
About this release
Although hardly a household name today, Johann Nepomuk Hummel was a pupil of Mozart, and was considered in his time to be one of Europe's greatest composers and pianists. Like his teacher, he was also a child prodigy, and he so impressed Mozart that the composer began to teach him free of charge. These piano trios were composed in the late 1700s, a time of Revolution and the Napoleonic wars, with great upheaval reverberating throughout the continent. This upheaval is clear to see in the experimentation in Hummel's music; he started to abandon the usual threemovement form for one with four
movements, a remarkable feature more common of the orchestral symphony than chamber music at the time. Despite the apparent simplicity of Hummel's music, a closer listen reveals the tightly constructed complexity beneath: the Trio in E Op.83, for example, ironically marked 'innocente', starts in E major, only to move swiftly into the distant key of A flat. Hummel then leads the listener through some beautifully lyrical melodic writing, underpinned by unusual modulations and harmonic changes. The release features three young Italian performers, Alessandro Deljavan, Daniela Cammarano and Luca Magariello, who, despite their youth, all have established careers behind them. With Deljavan and Cammarano having studied in Milan, and Magariello in Turin, the three musicians have all worked variously as soloists and orchestral players both in Italy and abroad, counting several international prizes between them. They are delighted to be collaborating together for this project, being enthusiastic performers of Hummel's music and committed to bringing his extensive oeuvre to new audiences.

Johann Nepomuk Hummel was a pupil of Mozart. A child prodigy himself, he developed a highly virtuoso technique on the piano, and built an impressive career as one of the most famous and sought after pianists and composers of early 19th century Europe. Even today some of his piano works offer a serious challenge to professional pianists.
Hummel's piano trios are composed in the classical Viennese style, but offer already hints of romantic drama and passion. The instrumental writing is of the highest order for all three instruments. The piano trios are delightful works full of brilliant virtuosity, charm and wit. Excellent performances with a true understanding of the style by three young Italians: pianist Alessandro Deljavan, violinist Daniela Cammarano and cellist Luca Magariello.

Other information:
Recorded in 2013 at the Teatro Comunale in Atri, Italy.
Performed on a Steinway piano from the Fabbrini collection in Pescara.
Extensive notes on the composer.
Notes on the performers.
Track list
Disk 1
Trio in E-Flat Major, Op. 12: I. Allegro agitato

Trio in E-Flat Major, Op. 12: II. Andante

Trio in E-Flat Major, Op. 12: III. Finale. Presto

Trio in F Major, Op. 22: I. Allegro moderato

Trio in F Major, Op. 22: II. Andante con variazioni

Trio in F Major, Op. 22: III. Rondo alla turca. Vivace

Trio in G Major, Op. 35: I. Allegro con brio

Trio in G Major, Op. 35: II. Tempo di minuetto

Trio in G Major, Op. 35: III. Rondo. Vivace e scherzando

Trio in G Major, Op. 65: I. Allegro con spirito

Trio in G Major, Op. 65: II. Andante grazioso

Trio in G Major, Op. 65: III. Rondo. Vivace assai e scherzando
Disk 2
Trio in E Major, Op. 83: I. Allegro

Trio in E Major, Op. 83: II. Andante

Trio in E Major, Op. 83: III. Rondo

Trio in E-Flat Major, Op. 93: I. Allegro con moto

Trio in E-Flat Major, Op. 93: II. Un poco larghetto

Trio in E-Flat Major, Op. 93: III. Rondo. Allegro con brio

Trio in E-Flat Major, Op. 96: I. Allegro con spirito

Trio in E-Flat Major, Op. 96: II. Andante quasi allegretto

Trio in E-Flat Major, Op. 96: III. Rondo alla russa. Allegro vivace