Hummel & Onslow: Piano Quintets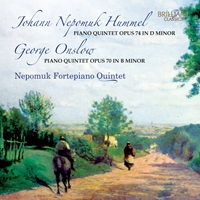 | | |
| --- | --- |
| Composer | André George Louis Onslow, Johann Nepomuk Hummel |
| Artist | Nepomuk Fortepiano Quintet |
| Format | 1 CD |
| Cat. number | 94023 |
| EAN code | 5028421940236 |
| Release | November 2010 |
About this release
This release contains Piano Quintets by George Onslow's Quintet and Johann Nepomuk Hummel, recorded on period instruments.

Hummel was one of the most famous piano virtuoso of his era, just in London he ran into Paganini who was at that time an even bigger star. In this quintet Hummel shows how a virtuoso fortepiano part can be implemented in some great chamber music. Although first known as a septet it became immediately famous at its first performance in 1816. This quintet would serve as a model for Schubert's Trout Quintet

During his own lifetime and up to the end of the 19th century, George Onslow was held in the highest regard, particularly in Germany, Austria and England where he was regularly placed in the front rank of composers.

Another recording by the Nepomuk Fortepiano Quintet, who's previous recordings, received much praise from the specialist press. Playing on famous instruments from the Edwin Beunk collection the Nepomuk Fortepiano Quintet were able to select the best instruments for each piece. In this recording the ensemble focuses on the "Schubert setting" including the double bass, and on content that deserves further exploration.
Track list
Disk 1
Quintet Op. 74 in D Minor: Allegro con spirito

Quintet Op. 74 in D Minor: Menuetto o scherzo (allegro)

Quintet Op. 74 in D Minor: Andante con variazioni

Quintet Op. 74 in D Minor: Finale (vivace)

Quintet Op. 70 in B Minor: Allegro grandioso e non troppo presto

Quintet Op. 70 in B Minor: Andantino cantabile e simplice

Quintet Op. 70 in B Minor: Allegretto molto moderato