In Festo Angelorum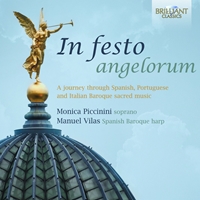 Composer
Various Composers
Artist
Monica Piccinini soprano
Manuel Vilas Spanish baroque harp
Format
1 CD
Cat. number
94428
EAN code
5028421944289
Release
August 2012
About this release
From the period's very beginning, a hallmark of Italian Baroque music was its powerful expression of a text's innermost drama – a characteristic that led to the flourishing of monodic vocal music, which placed a solo voice over a basso continuo accompaniment. As this style spread into sacred music and beyond Italy, composers produced a vast body of works; this new recording journeys through examples from Italy, Spain and Portugal, exploring the colours, styles and characteristics that arose in response to these musical and religious centres' different traditions.

The works featured are diverse, reflecting the wealth of influences that were available to Baroque composers. Pagliardi's dramatic motet 'Ad arma, ad bella' bears the fruits of his career as an operatic composer, while Fray José Vaquedano's two Holy Week Lamentations are highly expressive, particularly striking for their virtuosity. Hispanic influences are clear in Juan Manuel de la Puenta's tonada 'Mininas de Portugal', which depicts a traditional Nativity with Portuguese folk-style touches. There are also three examples from the Santa Maria do Bouro Monastery, near Braga in Portugal, drawn from a manuscript spanning 200 years, and a handful of instrumental works, including Fabrizio Fontana's Ricercare XI, dedicated to Pope Innocent XI.

Fluid and sophisticated performances by the acclaimed soprano Monica Piccinini and harpist Manuel Vilas highlight the richly varied colours, moods and techniques of these pieces. The collection presents a broad cross section of Baroque music from Italy, Spain and Portugal, and listeners will delight in discovering works by a number of little-known composers.

Other information:
- A delightful recording of the intimate, yet powerful combination of soprano and baroque harp, in a journey through Spanish, Portuguese and Italian Baroque music, featuring dramatic arias and motets by seldom heard composers such as Pagliardi, Fontana, Mazzocchi, Marciani and Stradella.
- Beautiful, atmospheric recording made in July 2008 at the San Vicente de Pombeiro Church, Lugo, Spain, as part of the Via Stellae Festival.
- Liner notes in English and Spanish, by José Angel Vilas and Manuel Vilas, and the complete sung texts are included in the booklet.
- Manuel Vilas is a specialist in early harps and Baroque repertoire from Italy, Portugal and Spain.
Track list
Disk 1
In Festo Angelorum: Ad'arma, ad bella

In Festo Angelorum: Lamentación: Matribus suis dixerunt

In Festo Angelorum: Ricercare XI

In Festo Angelorum: Sonetto: Amar a Dios por Dios

In Festo Angelorum: In feria sexta. Lectio III

In Festo Angelorum: Italianas ou estrageiras for organ or harp Sarabanda – Aria – Menuete I and II – No title – Menuete

In Festo Angelorum: Amavit eum dominus

In Festo Angelorum: Stetit angelus (In festo angelorum)

In Festo Angelorum: Tocata on themes of Corelli: Corrente – Giga

In Festo Angelorum: Recitative and aria with harp: Al riverito piede

In Festo Angelorum: Meninas de Portugal

In Festo Angelorum: Quanta fecisti domine