Jadin: Piano Sonatas Op.4-6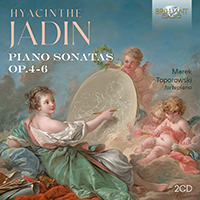 | | |
| --- | --- |
| Composer | Hyacinthe Jadin |
| Artist | Marek Toporowski fortepiano |
| Format | 2 CD |
| Cat. number | 96958 |
| EAN code | 5028421969589 |
| Release | June 2023 |
About this release
New recordings of signature works by a young and tragically short-lived lion of the keyboard in late 18th-century France.

This is the most extensive set of records ever dedicated to the music of Hyacinthe Jadin, sure to attract the attention of all aficionados of keyboard rarities, especially as performed by the Polish harpsichordist and pianist Marek Toporowski, with his encyclopedic understanding of Baroque and early-Classical repertoire.

Born in Versailles in 1776, Jadin grew up in a musical family and was educated in both the French and German traditions, something unusual at the time. His professional career was brief; he was appointed to the Conservatoire in 1795 as one of its first professors of piano, and fell ill from the tuberculosis that would take his life in 1800.

Jadin's surviving output includes six quartets, four piano concertos, and several violin sonatas. From the evidence of these nine piano sonatas – three for each published opus number – we may hear in Jadin an astonishingly gifted composer whose music foreshadows the Romantic era – even at points the expressive poignancy of Schubert. Writing in major keys, Jadin's elegant facility belongs to his own Classical age; it is when he ventures into remote minor tonalities, such as the F sharp minor Sonata Op.4 No.2, that he seems to look forward to another, more personal age of expression. In all cases, however, Jadin evidently took Haydn as a model, for his themes are unfailingly compact and elegantly conceived for the keyboard, his development sections are likewise concise while enlivened with touches of ingenious modulation between keys.

In his booklet essay, introducing Jadin's life and work, Marek Toporowski makes the case for the composer as a French-born Dussek, an outstandingly original figure and one of the great 'might-have-beens' of musical history. His stylish performances on a modern copy of a Walter fortepiano support such a claim, as well as affording much delight in their own right.

- Hyacinthe Jadin (1776-1800) was a French composer and also a brilliant pianist. He is primarily known for his piano sonatas, which are widely regarded as some of the most important works in the genre from this period. Jadin's music is characterized by its elegance, refinement, and harmonic sophistication, and his sonatas are particularly notable for their innovative use of form and structure.
- Jadin's piano sonatas are marked by their sense of balance and proportion, with each movement carefully crafted to convey a specific emotional or musical idea. His use of contrasting textures and harmonies creates a sense of drama and tension that is particularly effective in the sonata form with its contrasting themes and moods.
- Jadin's piano sonatas are notable for their lyricism and sensitivity, particularly in the slow movements, where the composer often explores more introspective and contemplative themes. At the same time, Jadin's music is also characterized by its virtuosity and technical brilliance, with many of the fast movements featuring complex passagework and rapid figurations that require a high degree of skill and dexterity on the part of the performer.
- Despite his relatively short life his music had a significant impact on the development of French classical music, now being widely regarded as some of the finest examples of French classical music from the late 18th and early 19th centuries.
- Marek Toporowski is a harpsichordist, organist, pianist and conductor, one of Poland's foremost performers in the Historical Performance movement. He is a scholar and a well known collector of historical instruments. Also available by Marek Toporowski is the Complete Piano Music by Pinto (PCL 10177, issued on Piano Classics.
Listening
Track list
Disk 1
Hyacinthe Jadin: Piano Sonata No.1 in B-Flat Major, Op. 4: I. Allegro

Hyacinthe Jadin: Piano Sonata No.1 in B-Flat Major, Op. 4: II. Andante

Hyacinthe Jadin: Piano Sonata No.1 in B-Flat Major, Op. 4: III. Finale. Presto

Hyacinthe Jadin: Piano Sonata No. 2 in F-Sharp Minor, Op. 4: I. Allegro molto

Hyacinthe Jadin: Piano Sonata No. 2 in F-Sharp Minor, Op. 4: II. Menuet – Trio

Hyacinthe Jadin: Piano Sonata No. 2 in F-Sharp Minor, Op. 4: III. Finale. Allegro

Hyacinthe Jadin: Piano Sonata No. 3 in C-Sharp Minor, Op. 4: I. Allegro moderato

Hyacinthe Jadin: Piano Sonata No. 3 in C-Sharp Minor, Op. 4: II. Adagio

Hyacinthe Jadin: Piano Sonata No. 3 in C-Sharp Minor, Op. 4: III. Rondeau. Allegretto

Hyacinthe Jadin: Piano Sonata No. 1 in F Minor, Op. 5: I. Allegro moderato

Hyacinthe Jadin: Piano Sonata No. 1 in F Minor, Op. 5: II. Adagio

Hyacinthe Jadin: Piano Sonata No. 1 in F Minor, Op. 5: III. Finale. Allegro
Disk 2
Hyacinthe Jadin: Piano Sonata No. 2 in D Major, Op. 5: I. Andante

Hyacinthe Jadin: Piano Sonata No. 2 in D Major, Op. 5: II. Finale. Presto

Hyacinthe Jadin: Piano Sonata No. 3 in C Minor, Op. 5: I. Allegro maestoso

Hyacinthe Jadin: Piano Sonata No. 3 in C Minor, Op. 5: II. Andante

Hyacinthe Jadin: Piano Sonata No. 3 in C Minor, Op. 5: III. Allegro

Hyacinthe Jadin: Piano Sonata No. 1 in C Minor, Op. 5: I. Allegro moderato

Hyacinthe Jadin: Piano Sonata No. 1 in C Minor, Op. 5: II. Andante sostenuto

Hyacinthe Jadin: Piano Sonata No. 1 in C Minor, Op. 5: III. Finale. Allegro

Hyacinthe Jadin: Piano Sonata No. 2 in A Major, Op. 5: I. Andante

Hyacinthe Jadin: Piano Sonata No. 2 in A Major, Op. 5: II. Rondeau. Allegretto

Hyacinthe Jadin: Piano Sonata No. 3 in F Major, Op. 5: I. Allegro moderato

Hyacinthe Jadin: Piano Sonata No. 3 in F Major, Op. 5: II. Adagio

Hyacinthe Jadin: Piano Sonata No. 3 in F Major, Op. 5: III. Allegro assai