J.C. Bach: Sonatas for Harpsichord and Violin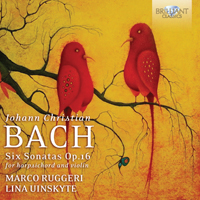 | | |
| --- | --- |
| Composer | Johann Christian Bach |
| Artist | Marco Ruggeri, Lina Uinskyte |
| Format | 1 CD |
| Cat. number | 94965 |
| EAN code | 5028421949659 |
| Release | January 2015 |
About this release
Johann Christian was one of the most successful of the famous sons of Johann Sebastian Bach. After arriving in London and becoming music master to Queen Charlotte, he forged a friendship with the young Mozart and composed a great deal of chamber music before focusing his career on Italian opera (in stark contrast to his siblings). The music recorded here – his Op.16 sonatas for harpsichord and violin – is often characterised by flowing, "singing" lines, derived in large part from his experience in the opera house and form a significant part of the large volume of chamber music he composed during his promising career.

Though containing just two movements, each sonata still displays an enormous amount of variety, with the first movement normally cast as a fast movement that is followed by a slower one in a more reflective or restrained style. Both regularly feature themes from popular songs, with frequent use of repetition. The balance between the instruments is of also of interest: the violin is on an equal footing with the harpsichord throughout, promoting a musical dialogue that is as much about technicality as it is about melodic development.

J.C. Bach's Sonatas are performed by the Uinskyte-Ruggeri Duo: founded in 2012, they focus on performing music from the Baroque era through to the 19th century. This is Marco Ruggeri's second disc for Brilliant Classics, following an album of organ music by the 19th-century composer Padre Davide Da Bergamo in November last year. Lithuanian violinist Lina Uinskyte makes her debut in this recording.

Johann Christian, youngest son of the great Johann Sebastian, is often called "The London Bach", as he spent most of his active life in the British capital, a teacher of the Royal family, friend of the young Mozart, and very successful composer of instrumental music and Opera in Italian style.
The six sonatas for harpsichord and violin (note the order of the instruments!) are written in (pre) Classical style, full of wit, instrumental flourish and belcanto-like melodies, no doubt inspired by the composer's operatic style.
played with charm, virtuosity and "Spielfreude" by the Lithuanian-Italian Duo Lina Uinskyte and Marco Ruggeri.
Booklet contains liner notes, biographies and information on the instruments.
Track list
Disk 1
Johann Christian Bach: Sonata No. 1 in D Major, W. B:10: I. Allegro assai

Johann Christian Bach: Sonata No. 1 in D Major, W. B:10: II. Andante grazioso

Johann Christian Bach: Sonata No. 2 in G Major, W. B:11: I. Allegretto

Johann Christian Bach: Sonata No. 2 in G Major, W. B:11: II. Andante grazioso

Johann Christian Bach: Sonata No. 3 in C Major, W. B:12: I. Allegro

Johann Christian Bach: Sonata No. 3 in C Major, W. B:12: II. Tempo di minuetto

Johann Christian Bach: Sonata No. 4 in A Major, W. B:13: I. Allegretto

Johann Christian Bach: Sonata No. 4 in A Major, W. B:13: II. Pastorale. Non tanto allegro

Johann Christian Bach: Sonata No. 5 in D Major, W. B:14: I. Allegro con spirit

Johann Christian Bach: Sonata No. 5 in D Major, W. B:14: II. Rondo. Allegretto

Johann Christian Bach: Sonata No. 6 in F Major, W. B:15a: I. Allegretto

Johann Christian Bach: Sonata No. 6 in F Major, W. B:15a: II. Allegretto