J.C.F. BACH: 3 Symphonies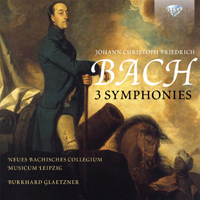 Composer
Johann Christoph Friedrich Bach
Artist
Neues Bachisches Collegium Musicum Leipzig
Glaetzner Burkhard conductor
Format
1 CD
Cat. number
94780
EAN code
5028421947808
Release
March 2015
About this release
Among those of Johann Sebastian Bach's sons who embarked on a musical career, Johann Christoph Friedrich Bach commanded the least attention, spending decades in relative obscurity at the court of Bückeburg, capital of the principality of Schaumburg-Lippe in Germany, where he played and composed chamber music for the pleasure of his sovereign and entourage. This is not to say that J.C.F. Bach's oeuvre is neither of historical interest nor aesthetic value, however; certainly it did not have a lasting effect on stylistic developments in the latter half of the 18th century, but it does reflect typical facets of that process, as demonstrated in the three symphonies included on this recording. WI/6 stems from the composer's early period, revealing the influence of the galant style whose slow movements (including this one) are notable for their poignant tenderness. Forward to WI/10, written around 1770–2, and we encounter a more sophisticated method of motivic treatment, with abrupt dynamic contrasts in the first movement and syncopated rhythms in the finale adding to the work's overall verve and momentum. On reaching Symphony WI/20, various stylistic novelties indicate Bach's assimilation of the prevailing Viennese style during his final years: a slow introduction, a four-movement pattern including a minuet, the large-scale design of the movements, the complete abandonment of the basso continuo, and the use of additional instruments i.e. bassoon and clarinets, all of which contribute to a work that is far more multidimensional and expressive by comparison, and which also reveals the particular influence of Haydn.

Founded in 1979 by members of the Leipzig Gewandhaus Orchestra, the Neues Bachisches Collegium Leipzig has made the family of Bach its primary focus, delivering assured and committed performances of this repertoire for over 30 years. Their performance of these three symphonies by J.C.F. Bach is no exception, tracing with appropriate delicacy and vigour, under the esteemed directorship of Burkhard Glaetzner (one of Germany's most esteemed oboists), the various career stages of a composer whose oeuvre remains sadly overshadowed by that of his more illustrious brothers Wilhelm Friedemann and Johann Christian.
Johann Christoph Friedrich Bach is certainly the least famous composing son of the great Johann Sebastian. He spent his life at the court of Bückeburg in Germany as court composer. His style may be loosely described as a fusion between his two brothers Carl Philipp Emanuel and Johann Christian: Galante Stil occasionally infused with daring harmonic and dynamic effects.
His symphonies pre-shadow those of Joseph Haydn, and offer delightful Early-Classical orchestral music of high quality and entertainment.
Performed with gusto and commitment by the former East German elite ensemble Neues Bachisches Collegium Musicum, conducted by oboist Burkhard Glaetzner.
A gem, licensed from the rich catalogue of Berlin Classics.

Other information:
Booklet includes comprehensive notes on the music.
Track list
Disk 1
Symphony in B-Flat Major, WI/20: I. Largo – Allegro

Symphony in B-Flat Major, WI/20: II. Andante con moto

Symphony in B-Flat Major, WI/20: III. Minuetto

Symphony in B-Flat Major, WI/20: IV. Rondo. Allegretto scherzando

Symphony in E-Flat Major, WI/10: I. Allegro

Symphony in E-Flat Major, WI/10: II. Andante assai

Symphony in E-Flat Major, WI/10: III. Allegro assai

Symphony in C Major, WI/6: I. Allegro di molto

Symphony in C Major, WI/6: II. Andante

Symphony in C Major, WI/6: III. Allegro assai