Johannes de Lublin Tablature: Keyboard Music from Renaissance Poland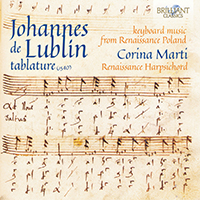 | | |
| --- | --- |
| Composer | Johannes de Lublin |
| Artist | Corina Marti renaissance harpsichord |
| Format | 1 CD |
| Cat. number | 95556 |
| EAN code | 5028421955568 |
| Release | August 2018 |
About this release
The 'tablature of Jan of Lublin', as this significant collection is commonly known, belonged to the monastery of Canons Regular in the Polish city of Krasìnik near Lublin, and was bound in 1540. The owner and primary scribe was this Jan, or Johannes, of whom very little is known or can be surmised, but the contents of his book are a treasure trove of compositions and musical instruction illustrating what keyboardists of the region in the 16th century would have learned and played, including counterpoint, composition, organ-tuning, liturgical music and — perhaps richest of all — intabulations (arrangements) for keyboard of polyphonic vocal music from across Europe and original compositions for keyboard including 'preambula' (improvisatory preludes) and dances under the generic title 'corea' or with more specific names, several of them Polish. These latter Polish dances give the very international Jan of Lublin collection strong ties to its Polish origins, shedding light on the local musical tradition and its vigorous artistic interaction with Greater Europe.

Internationally acclaimed harpsichord and recorder virtuoso Corina Marti has grouped selections from the Tablature into a recital programme in five sections, reflecting both the great variety and juxtaposition of various types of music in the volume, and the richness offered by this place and moment in music history. Marti's ongoing research into aspects of the repertoire and the reconstruction of late-medieval and early-renaissance keyboard instruments and recorders has contributed substantially to the present-day revival of these instruments.

The 1540 manuscript "Tablature of Jan de Lublin" is the largest collection of keyboard music of 16 century Europe. Its 260 paper folios contains more than 230 compositions, two theoretical treatises and over 250 music examples with a didactic purpose. It is notated in the "older" German organ tablature notation, a combination of music notes and letters.
The richness of the repertory is impressive, both in terms of musical genres and composers represented as well as the instrumental techniques employed. We find works of Polish, German, Italian and French origin, varying from Polish folk dances to tablatures of vocal works by Josquin, Brumel, de Sermisy, Walter and others. Corina Marti, plays an historical Renaissance harpsichord. She is a specialist in Early Music and a professor at the prestigious Schola Cantorum Basiliensis in Basel.
This unique recording was made possible with the support of the Adam Mickiewicz Institute in Poland.
Track list
Disk 1
Preambulum in G Major

Surrexit dominus valete luctus

Passamezzo antico/Proporcia Jeszcze Marczynye

Deus qui sedes super thronum

Zaklolam szÿa tharnem

Preambulum in E Major

Absolon

Corea

Poznanie

Francigenum

D'ung desplaisir

Corea

Corea

Preambulum in A Major per h

Date siceram merentibusnir

Preambulum super d

Bona

Vescholla

Ad novem saltus

Haÿduczkÿ

Vita in lingo moritur

Pressa

Preambulum in D Major

Schephczyk ÿdzÿe po ulÿczÿ schÿdelka noschacz

Corea

Preambulum super F Major

Ave jerarchia

Colenda severini

Anglicum

Preambulum in D Major

Dulce memorie

Plus mille regres

Aliud preambulum

Rex

Tribulatio et angustia

Corea italica

Conradus

Preambulum in C Major

Sicut lilium inter spinas