Jolivet: Complete Chamber Music with Piano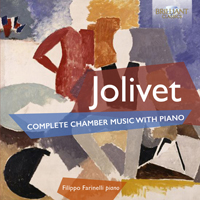 | | |
| --- | --- |
| Composer | André Jolivet |
| Artist | Filippo Farinelli piano |
| Format | 2 CD |
| Cat. number | 95275 |
| EAN code | 5028421952758 |
| Release | September 2017 |
About this release
A collection of effervescent French chamber music, generously compiled (almost 140 minutes), unrivalled in the current catalogue, in stylish new recordings, complemented by an extensive and authoritative booklet-note.

André Jolivet (1905-1974) is surely one of the most interesting yet neglected French composers of the last century. Outside the constraints of the Parisian conservatoire tradition, he developed an idiom way ahead of its time compared to many of his contemporaries; indeed, while Edgard Varese was ploughing his furrow, Jolivet was his only European pupil between 1929 and 1933.

However, Varese-like acerbity and austerity is out of place here. Jolivet was never less than a skilled melodist, and one who wrote for his chosen instruments rather than against them. Much that is here such as a sensuous Flute Sonata, a muscular Violin Sonata or a jocular Suite for oboe and piano is pitched, to ears unfamiliar with Jolivet, in an idiom somewhere between Poulenc, Messiaen and Dutilleux; but that's the voice of Jolivet, and closer acquaintance with this set will accustom listeners to it in all its unpredictable, quicksilver charm.

The Flute Sonata has received several recordings in the company of the likes of Poulenc and Koechlin, but there is much here that will be unfamiliar to even the most dedicated discophiles and followers of French musical fashions: an Ouverture en Rondeau for 4 ondes martenot, piano & percussion, for example, or the Petite Suite for string quintet, piano and percussion.

Few of the individual pieces or movements are of any great length – Jolivet knew the value of succinct expression like many French musicians of his generation, and had a horror of pomposity – but there is a ten-minute Nocturne for cello and piano, and a rhapsodic Chant de Linos for flute and piano of the same length.

The later music – the set is helpfully arranged in chronological order – is especially intriguing, once Jolivet had found for himself a new form of classicism aimed at synthesizing serial and freely atonal music together with modal developments. One fine example is the Hopi Snake Dance for two pianos.

An invaluable set, masterminded by the pianist Filippo Farinelli, who has previously accompanied distinguished colleagues in the complete songs of Jolivet (BC9220), Ravel (BC94743) and Dallapiccola (BC95202).

André Jolivet (1905-1974) is considered one of the most interesting French composers of the 20th century. His vast oeuvre includes nearly all musical genres. Actively open to all musical genres (he never had a proper conservatory education) he developed a personal style that was distinctly avant-garde.
This new recording spans Jolivet's entire lifetime, and presents his complete chamber music with piano in combination with violin, viola, cello, flute, oboe, saxophone, clarinet, trumpet, double-bass and Ondes Martenot. Fascinating, vibrant and colourful music!

Excellent performances by Italian soloists and pianist Filippo Farinelli, the driving force behind several Brilliant Classics projects: complete songs by Ravel, Jolivet and Dallapiccola, Koechlin Saxophone Music and others.
The extensive liner notes are written by a musicologist.
Listening
Track list
Disk 1
André Jolivet: Grave et gigue: I. Grave

André Jolivet: Grave et gigue: II. Gigue

André Jolivet: Air pour bercer

André Jolivet: Sonate for Violin & Piano: I. Ramassé

André Jolivet: Sonate for Violin & Piano: II. Librement

André Jolivet: Sonate for Violin & Piano: III. Bousculé

André Jolivet: Aubade

André Jolivet: Choral et Fugato: I. Choral

André Jolivet: Choral et Fugato: II. Fugato

André Jolivet: Chant d'oppression

André Jolivet: Trois poèmes: I. Ondes

André Jolivet: Trois poèmes: II. Sérimpie

André Jolivet: Trois poèmes: III. Chant d'oppression

André Jolivet: Ouverture en rondeau

André Jolivet: Nocturne
Disk 2
André Jolivet: Chant de linos

André Jolivet: Sérénade: I. Cantilène

André Jolivet: Sérénade: II. Caprice

André Jolivet: Sérénade: III. Intermède

André Jolivet: Sérénade: IV. Marche burlesque

André Jolivet: Petite suite: I. Ouverture

André Jolivet: Petite suite: II. Introduction et valse

André Jolivet: Petite suite: III. Contredance

André Jolivet: Hopi Snake Dance

André Jolivet: Air de bravoureq

André Jolivet: Fantaisie-Impromptuq

André Jolivet: Fantaisie-Caprice

André Jolivet: Cabrioles

André Jolivet: Chant pour les piroguiers de l'Orénoque

André Jolivet: Méditation for Clarinet & Piano

André Jolivet: Sonate: I. Fluide

André Jolivet: Sonate: II. Grave

André Jolivet: Sonate: III. Violent

André Jolivet: Patchinko