Jones: 6 Harpsichord Suites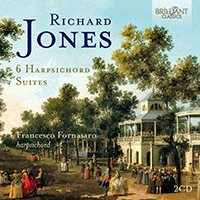 | | |
| --- | --- |
| Composer | Richard Jones |
| Artist | Francesco Fornasaro harpsichord |
| Format | 2 CD |
| Cat. number | 96311 |
| EAN code | 5028421963112 |
| Release | August 2022 |
About this release
New recordings of six superb Baroque suites by a London contemporary of Handel, graced a vision and ingenuity out of all proportion to his fame.

The music scene in London during the first half of the 18th century was entirely dominated by the presence of Handel, which was so overwhelming that it obscured most of the excellent musicians of the period. We know very little about Richard Jones, and nothing certain until he joined the Drury Lane orchestra as a violinist in the late 1720s, becoming its first violin and leader towards 1730. Very little of his music has survived beyond these suites: a cantata, and two sets of violin-centred chamber suites.

The six suites rival the keyboard music of Handel and Purcell for their variety and inventiveness. Jones does not follow the traditional order for suites of dances: The first set includes two toccatas, the second two gigues, the fifth two sarabandes, with a corrente placed at the end of the group, while the sixth features no fewer than three minuets, the last of which closes the series. The suites are also rich in harmony, with some bold inventions and plenty of vigorous rhythm that can be quite challenging from the technical point of view.

Apart from the more deliberately English character of the sixth and last suite with its prominent traces of British folk music, the collection reveals considerable Italian influence, whereas there is very little of the nascent galant style. Yet Richard Jones clearly had the intellectual freedom, eccentricity and independence to invest his music with an incredible variety of influences and references, ranging from the pathos and impetuous wildness of Vivaldi to the depth of Bach, the seductive grace of the French school, a touch of Handel's majestic solemnity, the melodious freshness of Purcell and the dramatic, sensual impact of opera.

As Francesco Fornasaro remarks in his booklet essay on the life and work of Jones: 'This is harpsichord music of the highest order: beautiful, poignant and intellectually satisfying.' Born in 1971, the Florentine musician studied harpsichord in Ferrara. In 2017 he won First Prize in the Concerto for Harpsichord and Orchestra category of the Wanda Landowska International Harpsichord Competition in Bari. The present release marks his debut on Brilliant Classics.

Richard Jones (1680?-1744) was an English composer and violinist of whom lamentably little is known. Jones' first publication appeared in 1720, a solo cantata While in a Lovely Rurall Seat. In 1732 he was associated with the Drury Lane Theater Orchestra in London, succeeding Stefano Carbonelli as the orchestra's leader. He was a stage composer at a time when Georg Frideric Handel's music dominated the British stage, and much of his music, or what of it survives, shows clear Italianate influence.
Like the details of his life, little of Jones's music survives. His pantomime stage works and ballad operas are all lost. His keyboard and violin suites however did survive and are noted for their wide, angular leaps and unconventional structure.
The 6 Harpsichord Suites (or Lessons), possible inspired by the great keyboard suites by Handel, are of a very high quality, beautifully written, original and enormously appealing, with inventive handling of sweeping melodies, unexpected cadenzas and frequent changes of direction. They are also rich in harmony, with some bold inventions and plenty of vigorous rhythm that can be quite challenging from a technical point of view. In other words, they are compositions that on occasion rival those of Purcell and Handel.
Francesco Fornasaro followed master classes with Luigi Ferdinando Tagliavini, Giulia Nuti, Bob van Asperen, Pierre Hantaï, Christophe Rousset, Skip Sempé, Menno van Delft, Francesco, while he further improved his skills in baroque ensemble music and baroque instrumental techniques and practices at the Maggio Fiorentino Formazione under the guidance of Alan Curtis, Federico Maria Sardelli and Federico Bardazzi.
Listening
Track list
Disk 1
Richard Jones: Suite No. 1 in D minor - First Set: I. Prelude

Richard Jones: Suite No. 1 in D minor - First Set: II. Vivace

Richard Jones: Suite No. 1 in D minor - First Set: III. Tocatt

Richard Jones: Suite No. 1 in D minor - First Set: IV. Sarabanda

Richard Jones: Suite No. 1 in D minor - First Set: V. Gavot

Richard Jones: Suite No. 1 in D minor - First Set: VI. Minuet

Richard Jones: Suite No. 1 in D minor - First Set: VII. Toccatta

Richard Jones: Suite No. 1 in D minor - First Set: VIII. Giga

Richard Jones: Suite No. 2 in A Major - Second Set: I. Prelude

Richard Jones: Suite No. 2 in A Major - Second Set II. Paspie

Richard Jones: Suite No. 2 in A Major - Second Set III. Allemanda

Richard Jones: Suite No. 2 in A Major - Second Set IV. Minuet

Richard Jones: Suite No. 2 in A Major - Second Set V. Giga

Richard Jones: Suite No. 2 in A Major - Second Set VI. Sarabanda

Richard Jones: Suite No. 2 in A Major - Second Set VII. Giga

Richard Jones: Suite No. 3 in B-Flat - Third Set: I. Prelude (Allegro – Largo – Allegro – Largo)

Richard Jones: Suite No. 3 in B-Flat - Third Set: II. Sarabanda

Richard Jones: Suite No. 3 in B-Flat - Third Set: III. Allegro

Richard Jones: Suite No. 3 in B-Flat - Third Set: IV. Minuet

Richard Jones: Suite No. 3 in B-Flat - Third Set: V. Boree

Richard Jones: Suite No. 3 in B-Flat - Third Set: VI. Largo

Richard Jones: Suite No. 3 in B-Flat - Third Set: VII. Giga
Disk 2
Richard Jones: Suite No. 4 in A Minor - Fourth Set: I. Largo

Richard Jones: Suite No. 4 in A Minor - Fourth Set: II. Allemanda

Richard Jones: Suite No. 4 in A Minor - Fourth Set: III. Sarabanda

Richard Jones: Suite No. 4 in A Minor - Fourth Set: IV. Minuet

Richard Jones: Suite No. 4 in A Minor - Fourth Set: V. Boree

Richard Jones: Suite No. 4 in A Minor - Fourth Set: VI. Giga

Richard Jones: Suite No. 5 in B Minor - Fifth Set: I. Prelude (Largo e staccato)

Richard Jones: Suite No. 5 in B Minor - Fifth Set: II. Allemanda (Vivace)

Richard Jones: Suite No. 5 in B Minor - Fifth Set: III. Corrente

Richard Jones: Suite No. 5 in B Minor - Fifth Set: IV. Sarabanda

Richard Jones: Suite No. 5 in B Minor - Fifth Set: V. Vivace

Richard Jones: Suite No. 5 in B Minor - Fifth Set: VI. Sarabanda

Richard Jones: Suite No. 5 in B Minor - Fifth Set: VII. Boree

Richard Jones: Suite No. 5 in B Minor - Fifth Set: VIII. Giga

Richard Jones: Suite No. 6 in Various Keys - Sixth Set: I. Allemende

Richard Jones: Suite No. 6 in Various Keys - Sixth Set: II. Sarabanda

Richard Jones: Suite No. 6 in Various Keys - Sixth Set: III. Brisk Air

Richard Jones: Suite No. 6 in Various Keys - Sixth Set: IV. Minuet

Richard Jones: Suite No. 6 in Various Keys - Sixth Set: V. March

Richard Jones: Suite No. 6 in Various Keys - Sixth Set: VI. Scotch Air

Richard Jones: Suite No. 6 in Various Keys - Sixth Set: VII. Hornpipe

Richard Jones: Suite No. 6 in Various Keys - Sixth Set: VIII. Corente

Richard Jones: Suite No. 6 in Various Keys - Sixth Set: IX. Minuet

Richard Jones: Suite No. 6 in Various Keys - Sixth Set: X. Gavote

Richard Jones: Suite No. 6 in Various Keys - Sixth Set: XI. Slow Air

Richard Jones: Suite No. 6 in Various Keys - Sixth Set: XII. Minuet